The disinformation deluge continues as Trump reacts to the revelation of Joint Chiefs head, Mark Milley reportedly alarmed that Trump was trying to engineer a coup on 6 January. Typically Trump counter-attacks like today's: "Milley …choked like a dog" — if only to draw attention from the investigatory net being drawn tighter, and now Ivanka wants less attention.
"According to records filed last week, Trump's eldest son, Donald Trump Jr., is now listed as executive vice president, secretary, director, treasurer and vice president of Trump Payroll. Son Eric Trump is also credited as president, chairman and director on the records, the Journal reported."
"While Donald Trump is obviously the first name that comes to mind when envisioning a scenario in which a Trump family member is sentenced to time in prison, according to numerous experts, his adult children should be extremely concerned as well, starting with his favorite offspring: Ivanka Trump," Levin writes. And the Vanity Fair columnist goes on to point out what former federal prosecutor Cynthia Alksne had to say about Ivanka Trump when she appeared on MSNBC on Monday, July 5.

According to Alksne, Weisselberg's arrest is merely an "opening salvo" in Vance's investigation.

Alksne told MSNBC's Alicia Menendez, "Prosecutors went to an amazing amount of effort to show Weisselberg 'we have everything we need.' And they're really not only pressuring him to flip, but the amount of detail in this indictment tells me that they're trying to tell other people you have got to flip — because 'we have everything. We have the double books. We know what you told your tax accountants was a lie. We know that we're gonna be able to prove these cases.' So, I think…. first, it's Weisselberg and (then), there are a lot of other people mentioned, 'Individual Number One' or 'Person X signed' or 'Person Y signed.' Those people who are mentioned in the indictment, I would expect they're next — and then, it builds."
"To concerned members of Congress—including Speaker Nancy Pelosi and Senate Majority Leader Mitch McConnell—and also emissaries from the incoming Biden Administration, Milley also put out the word: Trump might attempt a coup"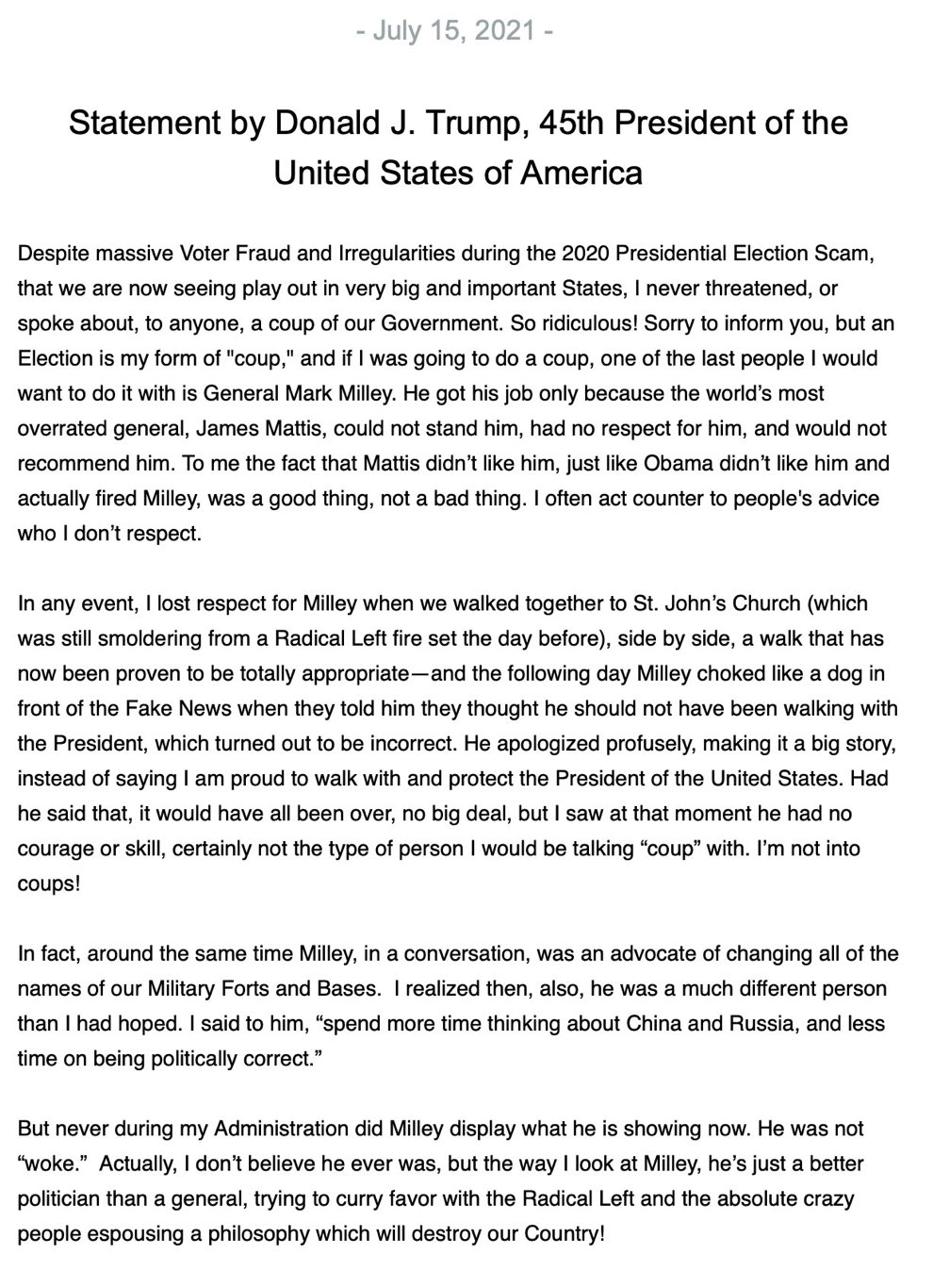 This is a Creative Commons article. The original version of this article appeared here.