Individual-1's unhingery continues.  The gaslighting of the whole country continues as Trump tries to make us believe nonsense.  The following lunacy is proof of that…
The obsession of @realDonaldTrump with building his vanity wall has no relation to reality:

-Violent crime is down in the US based on the latest FBI data
-Property crime is also down
-Immigrants commit less crime
-Border crossings are down based on DHS data#FactsMatter pic.twitter.com/ryO3TgimrR

— Ted Lieu (@tedlieu) January 6, 2019
More rambling idiocy.
---
"Mr. Trump also tried unsuccessfully to appeal to Pelosi's Roman Catholic faith in arguing for wall funding.
"The Vatican has walls. The Vatican has walls surrounding the city,"… "You like the Vatican, Nancy?"
"Let's change the subject, sir," Pelosi replied."
THE PRESIDENT: I'm going to Camp David. We'll be discussing many topics: North Korea; the China trade deal, which is coming along very well. Both of those subjects coming along very, very well. We'll obviously be discussing the wall, which is desperately needed, even if you read some of the papers that don't report accurately, of which there are many. But a couple in particular, they say that the surge to come into our country has never been stronger. And it's very unfair to people that want to come in legally. But the surge has never been stronger. And we have to build a wall, or we have to build a barrier.
The barrier, or the wall, can be of steel instead of concrete, if that helps people. It may be better. But I'm willing to do that so our great steel companies — which are now back in business — they were very, very — they were doing very poorly when I took office, and now they're doing very well. A lot of steel workers working that never had a chance of getting a job in the steel industry again. Our steel industry was dying, and now it's very vibrant.
I intend to call the head of United States Steel and a couple of other of our great steel companies to have them come up with a plate or a design of a beautiful steel product, which we now make here, and we'll use that as our barrier.
So we're trying to do everything possible to get money to our incredible people, but many of those incredible people agree with me and they say, "Make sure you win this battle." This is a very important battle to win, from the standpoint of safety, number one; defining our country and who we are; also from the standpoint of dollars. This wall will pay for itself many times during the course of a year. The money we're talking about is very small compared to the return. You'll receive a return many times during the course of the year. That's the kind of numbers we're talking about.
But most importantly, it's about safety; it's about security for our country. It's about stopping human traffickers. It's about stopping drugs. So we have to have it. Got to have it. But we have no choice. It's not a question. You think I like doing this? I don't like doing this. But we have no choice. We have to have it.
[…]
THE PRESIDENT: So, we've been in touch with a lot of people, and I informed my folks to say that we'll build a steel barrier. Steel. It'll be made out of steel. It'll be less obtrusive, and it'll be stronger. But it'll be less obtrusive, stronger, and we're able to use our great companies to make it, by using steel.
So we're going to be doing a steel barrier, and that gives us great strength at the border.
Q (Inaudible) DACA at all?
THE PRESIDENT: I would consider DACA, but I think we'd complicate it. I'd rather have the Supreme Court rule and then work with the Democrats on DACA. I want to help with DACA, but I'd rather have — because, you know, it's going to be before the Supreme Court very soon. And rather than doing something with DACA — now, frankly, I'd rather work with the Democrats. Let the Supreme Court rule first.
Q (Inaudible) calling it a national emergency. (Inaudible)?
THE PRESIDENT: No, we're looking at a national emergency, because we have a national emergency. Just read the papers. We have a crisis at the border of drugs, of human beings being trafficked all over the world. They're coming through. And we have an absolute crisis, and of criminals and gang members coming through. It is national security. It's a national emergency.
Q (Inaudible.)
THE PRESIDENT: We'll be letting you know fairly soon.
[…]
Q If you were to declare a national emergency, how would you pay for the wall? Where would the money come from?
THE PRESIDENT: Well, we have a lot of different ways. I'm not going to get into that. I'm just saying, we are looking at it very strongly, but hopefully we can do it this way. And as I told you, it's going to be a steel border, and that's going to give us great strength.
Q Why do you think the Democrats would agree to a steel border?
THE PRESIDENT: They don't like concrete, so we'll give them steel. Steel is fine. Steel is actually — steel is actually more expensive than concrete, but it will look beautiful and it's very strong. It's actually stronger.
This seems like a conflict of interest to me.@waltshaub? What do you think? https://t.co/LF45RiWWu8

— Rachel McGonagill (@RachelMcGonagi1) January 7, 2019
and Bannon was in the mix: https://t.co/iwq2xBrhPd

— Joe Sudbay (@JoeSudbay) January 5, 2019
.@jaketapper: Which former presidents told President Trump that they should have built a wall along the US-Mexico border previously?

Acting White House chief of staff Mick Mulvaney: "I have no idea. I have not asked the President that question." #CNNSOTU pic.twitter.com/7cJiXovG7X

— State of the Union (@CNNSotu) January 6, 2019
"It's killing us," said the chair of EBW Electronics, Pat LeBlanc, a Republican who voted for Trump, talking about Trump's tariffs.

He expects Trump's tariffs will chop his 2019 profits in half. "I just feel so betrayed."

Production could move to Mexico.https://t.co/Kv1DvvCeve

— Kyle Griffin (@kylegriffin1) January 6, 2019
The problem is not calling this President 'Motherfucker'.

The problem is calling this Motherfucker 'President'.#ImpeachTheMF #RashidaTlaib

— Donald Trump's Mom ❄ (@DonaldTrumpsMo1) January 5, 2019
Dear @SecNielsen: Remember all those terrorists from Mexico & Latin America in the terrorist attacks on 9/11; the San Bernardino attack; the Oklahoma City bombing; the Atlanta Olympic Park bombing; and the Boston Marathon bombing? Me neither.

Stop lying. The Wall is stupid. https://t.co/tVOtWGcmi6

— Ted Lieu (@tedlieu) January 6, 2019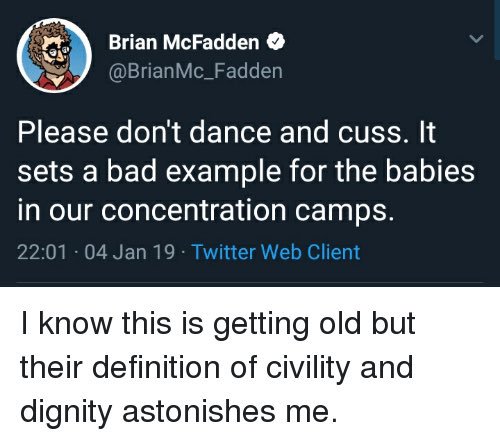 Adam Schiff: "I'm in a unique position to say this considering the President made my last name a profanity – this President is not in a position to talk about the use of language. Nobody has done more to debase the political sphere… than Donald Trump." https://t.co/bJa1fK7EZL pic.twitter.com/I20T2WnxJe

— The Hill (@thehill) January 7, 2019
This is a Creative Commons article. The original version of this article appeared here.