Daniel Dale starts his job for CNN on fire, but not in the Black Hills, noting that the Hill can't really call Individual-1 on his interview lies because they don't want to jeopardize access.
President Donald Trump was asked on Tuesday whether his face should appear on Mount Rushmore along with other major American presidents.

"If I answer that question yes, I will end up with such bad publicity," Trump told The Hill, before pivoting to an incoherent rant about fireworks.
'He should be hospitalized': Internet stunned after Trump goes off on completely incoherent Mt Rushmore rant https://t.co/PDIDew8hxq

— Raw Story (@RawStory) June 25, 2019
Trump keeps repeating the same lies, including the alleged rape at Bergdorf Goodman.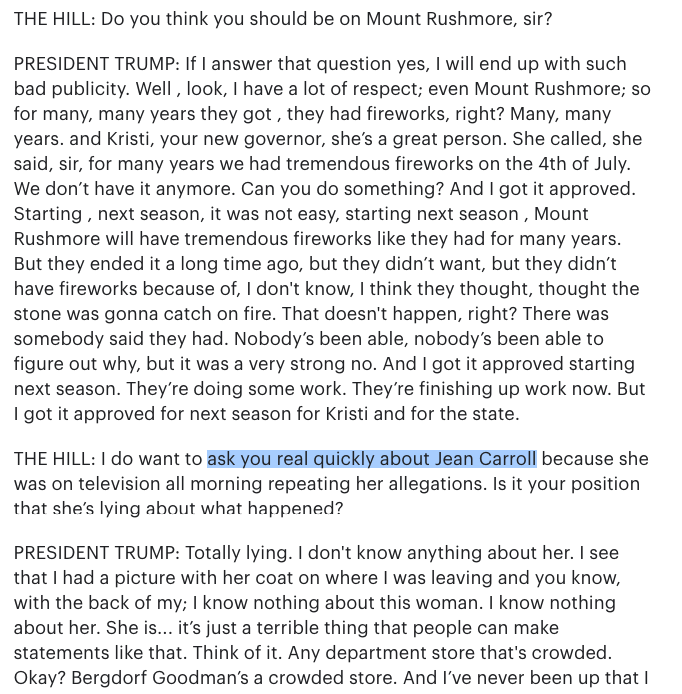 THE HILL: I do want to ask you real quickly about Jean Carroll because she was on television all morning repeating her allegations. Is it your position that she's lying about what happened?
PRESIDENT TRUMP: Totally lying. I don't know anything about her. I see that I had a picture with her coat on where I was leaving and you know, with the back of my; I know nothing about this woman. I know nothing about her. She is… it's just a terrible thing that people can make statements like that. Think of it. Any department store that's crowded. Okay? Bergdorf Goodman's a crowded store. And I've never been up that I remember ever on that floor. They sell women's dresses on that floor. Okay? But Bergdorf Goodman is..and this is, like, twenty-five years ago, but this store is packed. It's on Fifth Avenue and 57th Street. And she made this charge up. And by the way, she's made it up about , or she's said it about other people too. I'm not the only one. She said it about other people. I'll say it with great respect, number one, she's not my type. Number two, it never happened. It never happened. Okay? I hope you can be strong. But I think it's a crazy thing when, when people are allowed to make false accusations like that. I really do. And, and for twenty-five years she never said anything. She never said for twenty-five years. And then she said, where are the sales girls that walked, worked…where are the people on the floor? All the people there and they had nobody behind the counter, which is supposed to be right there? There was nobody working behind, the store's packed. It's a disgrace these false, a, a false accusation like that is a disgrace.
[The President Goes Off-The-Record]
Speaking of Iran, Trump told the Hill that John Kerry "talks to them all the time." A source close to Kerry told CNN that Kerry hasn't spoken to the Iranians in over a year, since Trump announced his withdrawal from the nuclear deal in May 2018.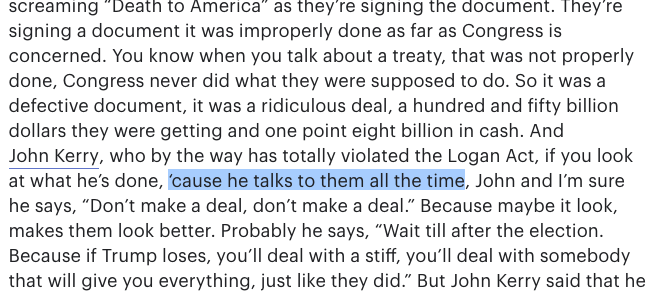 Trump goes on tirade to deny latest assault allegation: Women "paid money" to make false claims. https://t.co/DqEBWBx5P5

— Slate (@Slate) June 25, 2019