Combat continues with few breakthroughs. The major Russian offensive has yet to begin. While there are estimates for Russian combat power as reduced, it remains formidable as new antipersonnel munitions have been deployed. Weapons transfers to Ukraine continue. Russia has yet to attack those logistics. Disinformation continues.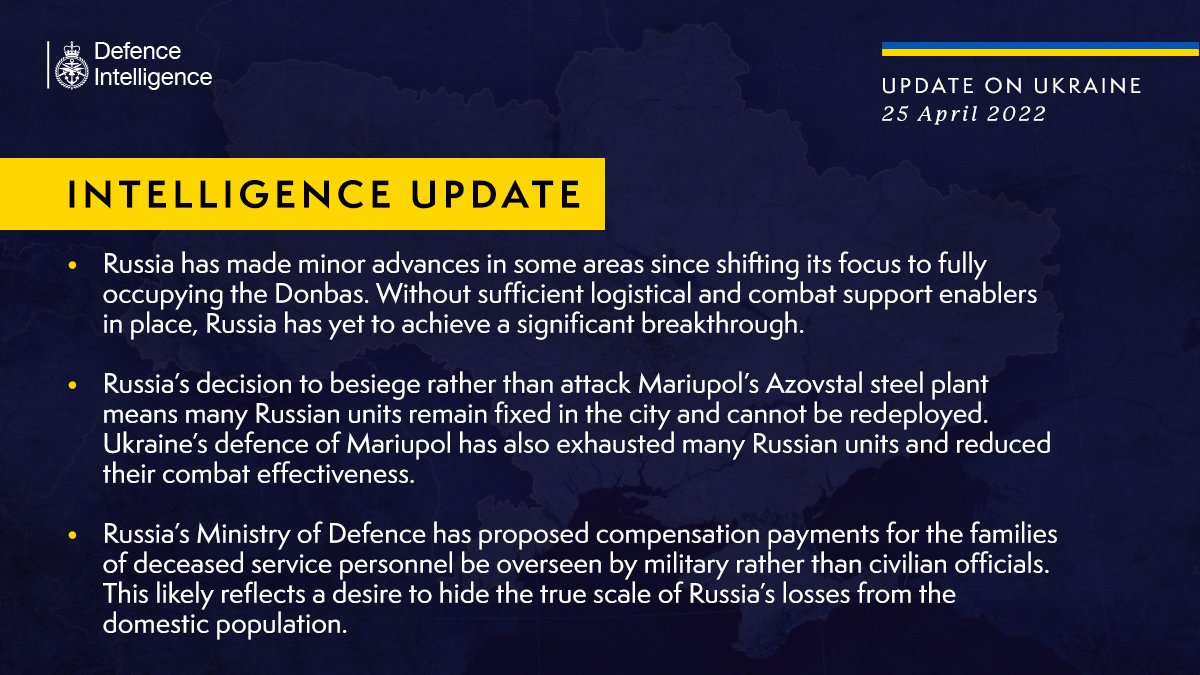 A senior Russian military commander has said the goal of Russia's new offensive is to seize control of southern

Ukraine

and form a land bridge to Crimea, indicating that Russia plans a permanent occupation of Ukrainian territory taken in the war.

Rustam Minnekayev, acting commander of the central military district, also told members of a defence industry forum on Friday that control over southern Ukraine would give Russia access to Transnistria, a pro-Russian breakaway region of Moldova, indicating that Russia may attack the port city of Odesa or launch an economic blockade of the area.

The remarks directly contradict earlier claims from Vladimir Putin that

Russia

was not planning to occupy Ukrainian cities permanently and suggests the Kremlin is changing tack after its failed offensive toward Kyiv, which appeared to seek regime change.

The statement was the first by a high-ranking official about the Russian military's goals to occupy territory as it manoeuvres for an anticipated "battle for Donbas" in Ukraine's east.

"Since the beginning of the second phase of the special operation … one of the tasks of the Russian army is to establish full control over Donbas and southern Ukraine. This will provide a land corridor to Crimea, as well as affecting vital objects of the Ukrainian economy, Black Sea ports through which agricultural and metallurgical products are supplied to [other] countries," Minnekayev said on Friday at the annual meeting of the Union of Defence Industry Enterprises of Russia's Sverdlovsk region.

Crimea was annexed by Russia in 2014, a move not recognised by the international community.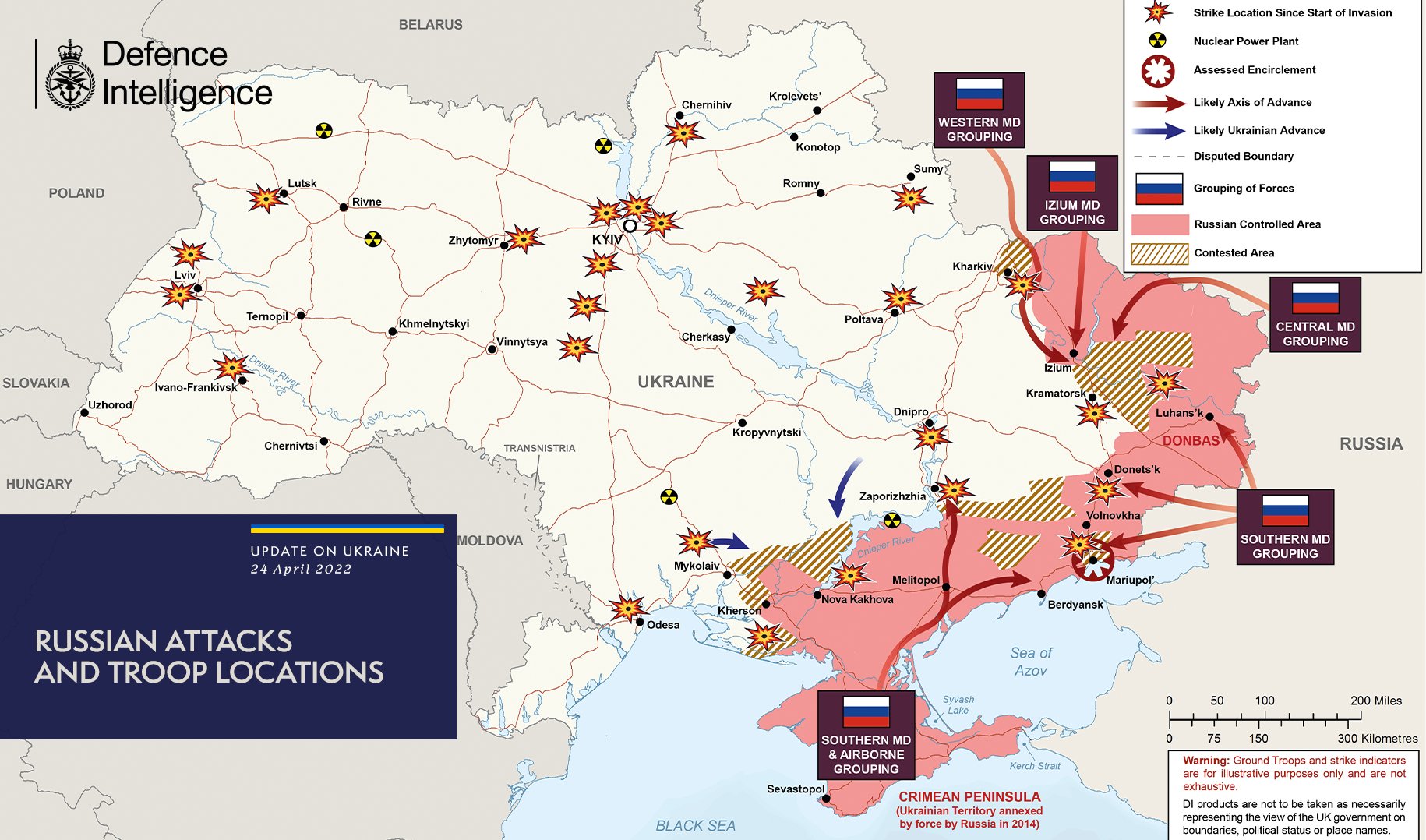 Russian forces continued to pressure Ukrainian defenders in the Azovstal facility in Mariupol.
Ukrainian sources report that Russian troops are preparing to conduct renewed assaults on Azovstal that would likely prove costly—possibly to meet a Kremlin-imposed deadline to clear Mariupol—but ISW cannot independently confirm these reports.
Russian forces secured limited gains northwest of Severodonetsk but remain unlikely to be able to launch massed offensive operations.
Additional Russian forces are deploying to reinforce unsuccessful attacks on the Izyum front.
Ukrainian civilians in occupied Kharkiv Oblast are reportedly organizing volunteer movements to resist Russian occupation measures, similar to previously documented actions in southern Ukraine.


---

ISW has updated its assessment of the four primary efforts Russian forces are engaged in at this time:

Main effort—Eastern Ukraine (comprised of two subordinate supporting efforts);
Supporting effort 1—Kharkiv and Izyum;
Supporting effort 2—Southern axis;
Supporting effort 3—Sumy and northeastern Ukraine.

Main Effort—Eastern Ukraine

Subordinate Main Effort—Mariupol (Russian objective: Capture Mariupol and reduce the Ukrainian defenders)

Russian forces continued to bombard Ukrainian defenders in the Azovstal Steel Plant with artillery and air strikes and may be preparing for renewed assaults on the facility.[1] The deputy commander of the Azov Regiment stated on April 24 that Russian Naval Infantry are preparing to launch an assault on Azovstal, and Ukrainian Presidential Adviser Oleksiy Arestovych similarly stated Russian forces are concentrating around Azovstal for an assault.[2] ISW cannot independently confirm Russian preparations for renewed assaults against Azovstal, which would likely sustain high casualties. Russian commanders likely still seek to starve out the remaining Ukrainian defenders but may be compelled to launch a hasty assault on the facility to meet a Kremlin-imposed deadline to fully clear Mariupol. Pro-Russian telegram channels released footage of Pacific Fleet Naval Infantry troops and armor reportedly leaving Mariupol to "go further for new victories," though ISW cannot confirm details on the specific composition and destination of Russian forces departing Mariupol.[3]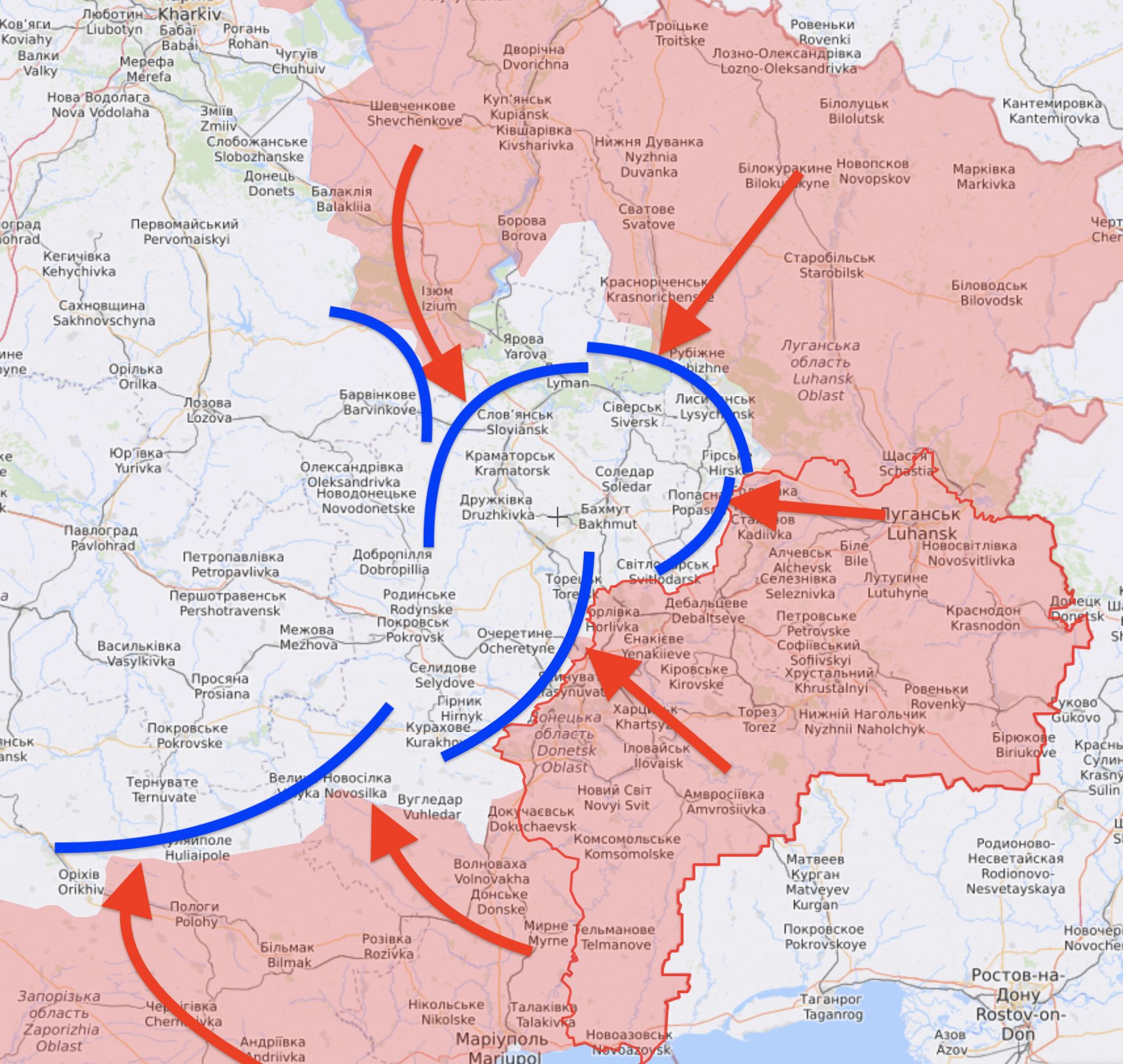 The outrage in western countries sparked by Putin's 24 February invasion is starting to fade. Likewise the burst of optimism that followed Ukraine's success in repelling the Russian advance around Kyiv. Now, as Moscow begins a huge,

slow-motion offensive

in the east, concern grows that this conflict has no end-point and that the enormous economic and human damage that results may be permanent – and global.

[…]

The price of failure – the true cost of a Putin victory – could be staggering. It is potentially unsupportable for fractious western democracies and poorer countries alike, beset by simultaneous post-pandemic security, energy, food, inflation and climate crises. Yet out of myopic self-interest over issues such as Russian oil and gas imports, and from fear of wider escalation, western leaders duck the tough choices that could ensure Ukraine's survival and help mitigate such ills.

[…]

David Malpass, head of the World Bank, said a "human catastrophe" loomed as an unprecedented, estimated 37% rise in food prices, caused by war-related disruption to supplies, pushed millions into poverty, increased malnutrition, and reduced funding for education and healthcare for the least well-off.

More than 5 million people have fled Ukraine in two months, and more will follow, exacerbating an international migration emergency that extends from Afghanistan to the Sahel. In drought-hit east Africa, the World Food Programme says 20 million people may face starvation this year. Putin's war did not create the drought, but the UN warns it could hurt efforts to reduce global heating, thereby triggering further displacement and forced migration.

The broader, negative political impact of the war, should it rage on indefinitely, is almost incalculable. The UN's future as an authoritative global forum, lawmaker and peacekeeper is in jeopardy, as more than 200 former officials warned Guterres last week. At risk, too, is the credibility of the international court of justice, whose injunction to withdraw was scorned by Putin, and the entire system of war crimes prosecutions.

In terms of democratic norms and human rights, the full or partial subjugation of Ukraine would spell disaster for the international rules-based order – and a triumph for autocrats everywhere. What message would it send, for example, to China over Taiwan, or indeed to Putin as he covets the vulnerable Baltic republics? Islamist terrorists who now furtively plot to exploit the west's Ukraine distraction would relish such a victory for violence.

Failure to stop the war, rescue Ukraine and punish Russia's rogue regime to the fullest extent possible would come at an especially high price for Europe and the EU. In prospect is a second cold war with permanent Nato bases on Russia's borders, massively increased defence spending, an accelerating nuclear arms race, unceasing cyber and information warfare, endemic energy shortages, rocketing living costs, and more French-style, Russian-backed rightwing populist extremism.

[…]

Let's get real. For all its heroism and sacrifice, Ukraine may lose this fight. Dreadful though it sounds, Putin could win. If the west so abandons its principles and values to let that happen, the long-term price, for everyone, will be a whole new world of pain.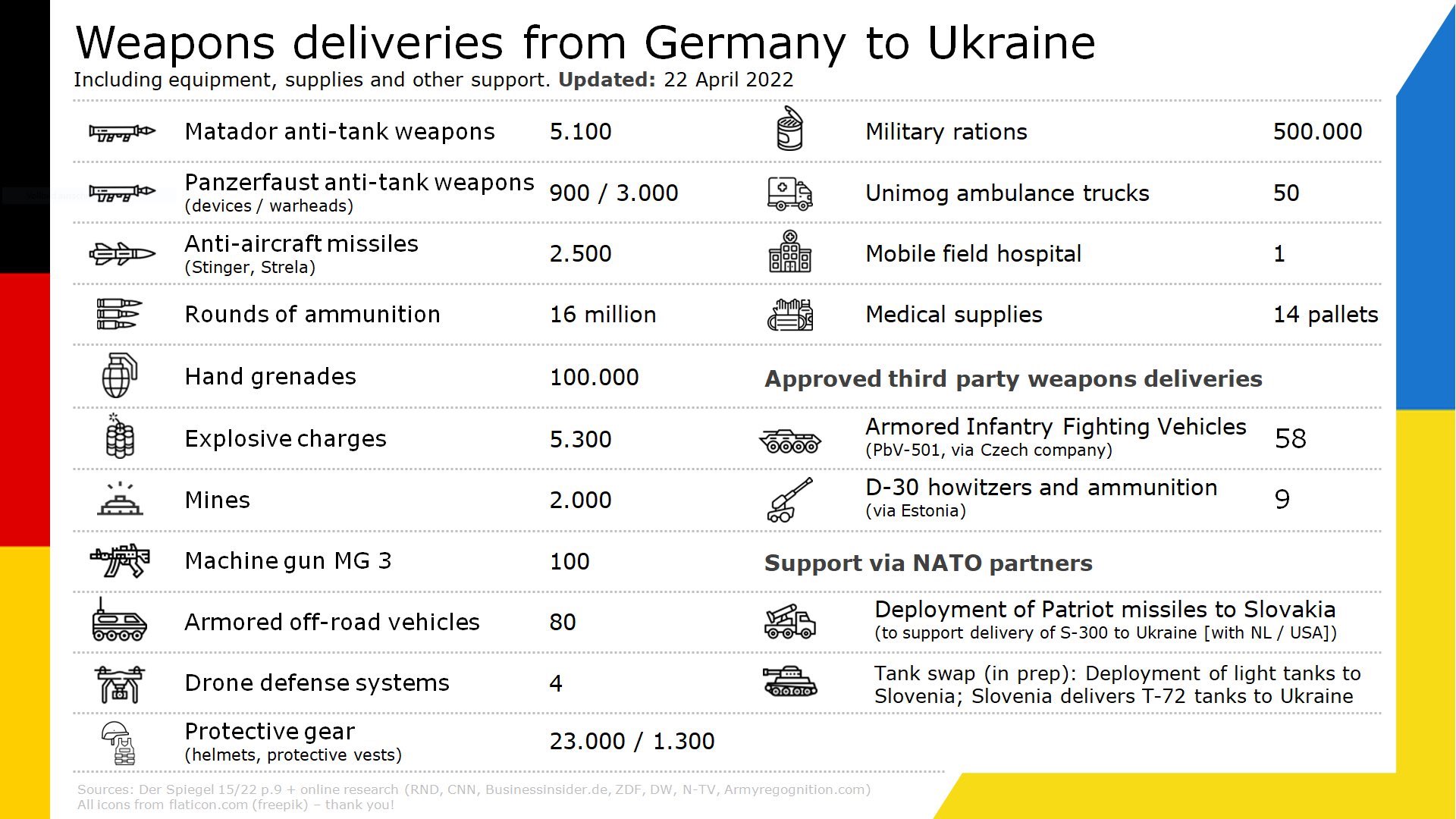 The Russian claim for destroyed Ukrainian helicopters was added to this week and remains well above 100% of the known helicopter fleet of Ukraine before the war.

I have had requests to include UAV and truck losses in this data. I do not have reliable data on reserves of those categories of equipment, other than reports of numbers of TB drones. Here are some reference points.

• • •
This is a Creative Commons article. The original version of this article appeared here.