There may be an oncoming Ukrainian offensive despite the inability of the Russian troops to execute encirclements. As usual long-distance artillery fires substitute for ground offense. Severodonetsk remains a locus for intensified activity. A meta-discourse about the NY Times editorial position on the progress of the war has been criticized by some Ukrainian analysts for not being "mission" committed. War remains the "extension of politics by other means" in the minds of the international relations (IR) community.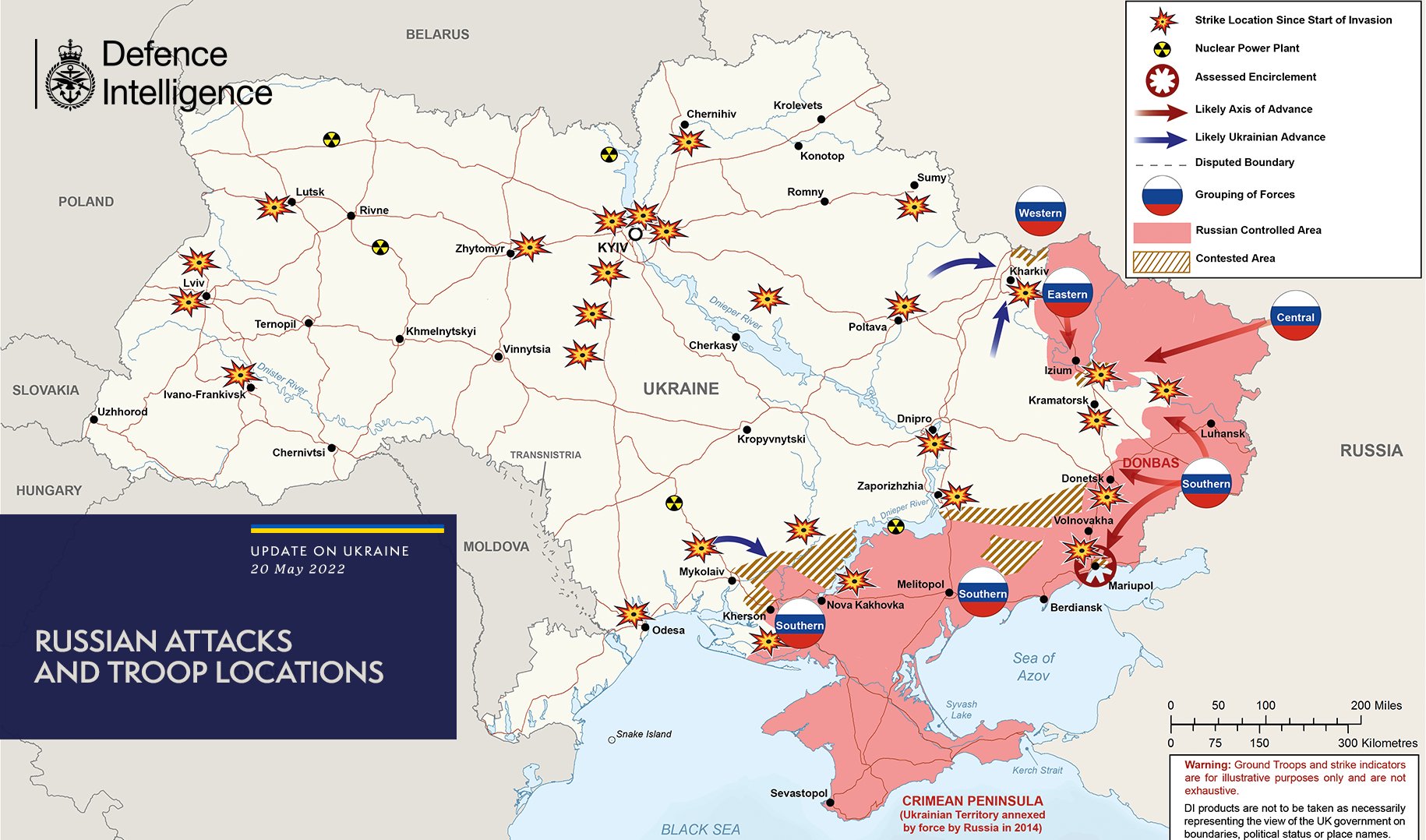 Key Takeaways

Russian forces may have made marginal gains to the north, west, and south of Popasna in order to continue their offensive on Severodonetsk from the south.
Russian sources may be overstating the number of Ukrainian defenders who have been evacuated from Azovstal to either maximize the number of Russian prisoners of war who may be exchanged for Ukrainian soldiers or to avoid the embarrassment of admitting they have been locked into a months-long siege against only "hundreds" of Ukrainian soldiers.
Russian troops reportedly regained certain positions taken by the Ukrainian counteroffensive north of Kharkiv City.
Russian forces are likely preparing for a major Ukrainian counteroffensive and protracted conflict on the Southern Axis.

Main effort—Eastern Ukraine (comprised of one subordinate and three supporting efforts);

Subordinate main effort- Encirclement of Ukrainian troops in the cauldron between Izyum and Donetsk and Luhansk Oblasts

Supporting effort 1—Mariupol;
Supporting effort 2—Kharkiv City;
Supporting effort 3—Southern axis.

Russian forces will likely complete their withdrawal from the vicinity of Kharkiv City but attempt to hold a line west of Vovchansk to defend their GLOCs from Belgorod to Izyum. It is unclear if they will succeed.
The Russians will continue efforts to encircle Severodonetsk and Lysychansk at least from the south, possibly by focusing on cutting off the last highway connecting Severodonetsk-Lysychansk with the rest of Ukraine.
Russian forces are likely preparing for Ukrainian counteroffensives and settling in for protracted operations in Southern Ukraine.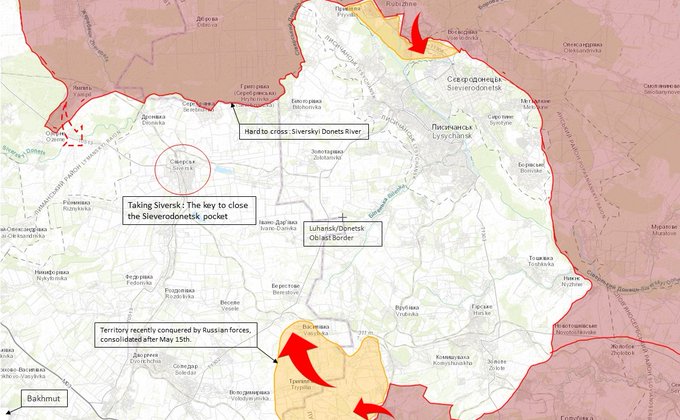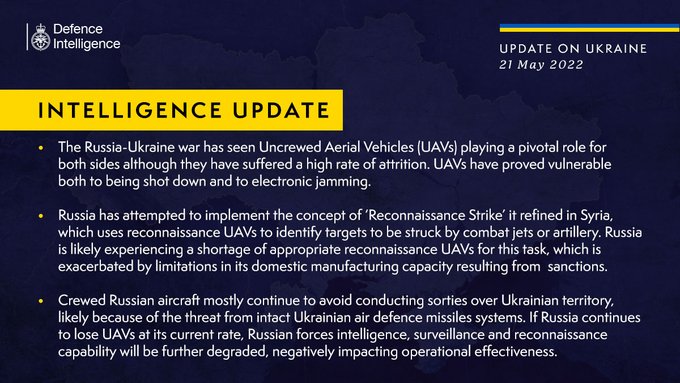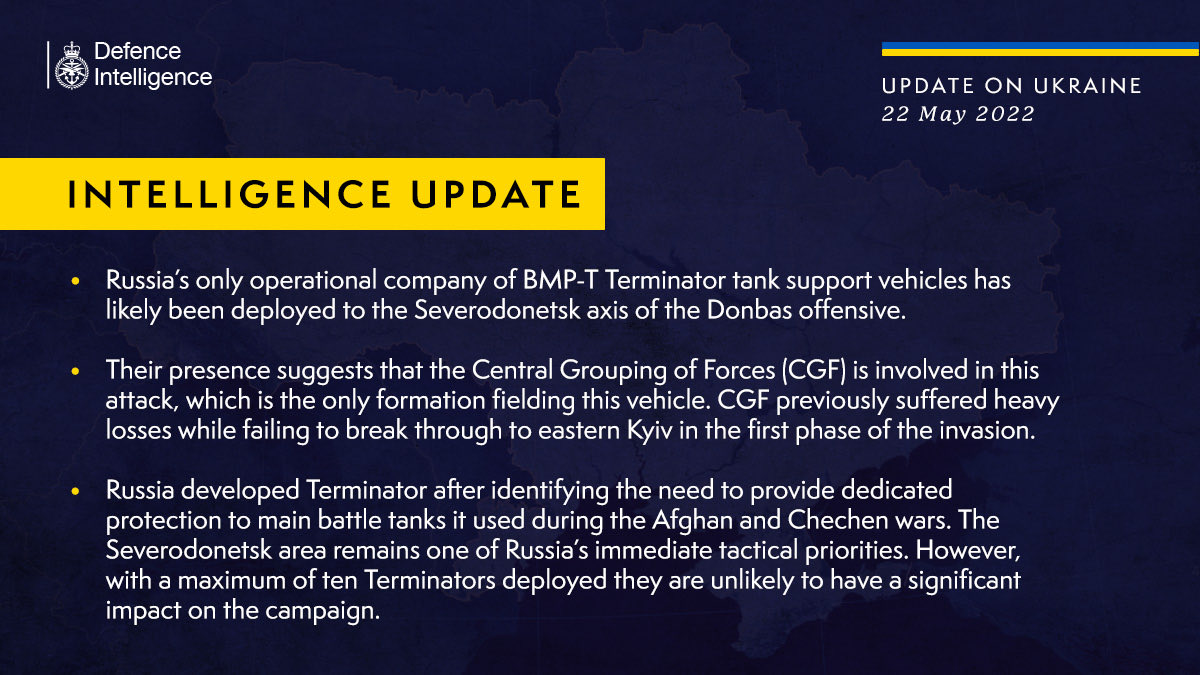 Russian forces are focusing on digging in and reinforcing defensive positions in Kharkiv and along the Southern Axis in preparation for Ukrainian counteroffensives, while the majority of active offensive operations remain confined to Izyum-Donetsk City arc and especially the Popasna-Severodonetsk area. The Ukrainian General Staff reported that Russian forces are creating secondary defensive lines on the Southern Axis, indicating that the Russian grouping in this area may be preparing for a major Ukrainian counter-offensive and a protracted conflict.[i] Russian forces reportedly are holding defensive positions north of Kharkiv City following the success of the Ukrainian counteroffensive since May 5 and have conducted limited spoiling attacks either to give Russian forces time to complete their redeployment back to Russia in good order or to allow reinforcements to arrive to defend territory in Kharkiv Oblast. Significant Russian offensive operations are confined to the area of Severodonetsk. Russian troops have made marginal gains to the north, west, and south of the city, especially around Popasna, in order to attempt to take control of Severodonetsk.

Donbas

Russian forces conducted unspecified offensive operations in the direction of Slovyansk but did not make any confirmed advances on May 20.[ii] The Ukrainian General Staff reported that Russian troops are attempting to erect a pontoon bridge over the Severskyi Donets River in the vicinity of Yaremivka, about 25 kilometers southeast of Izyum in the direction of Slovyansk.[iii] Russian forces additionally conducted artillery strikes on Dovhenke and Dolyna, both southeast of Izyum heading towards Slovyansk.[iv] understandingwar.org/…

Russian forces reportedly intensified efforts to break through Ukrainian defenses around Popasna in order to push towards Severodonetsk from the south on May 20. Pro-Russian news sources reported that Russian forces made advances through Ukrainian lines of defense in three directions. Russian Airborne (VDV) forces reportedly took control of Volodymirivka and Lypove, and broke through Ukrainian defenses in Komyshuvakha, all north of Popasna.[v] Troops of the Russian "Wagner" Private Military Company reportedly took control of Trypillya and Vyskrivka to the west of Popasna.[vi] Ukrainian sources noted that offensive operations are on-going in Vyskrivka.[vii] Russian forces additionally reportedly took control of Troitske, south of Popasna.[viii] Such reports are consistent with Ukrainian General Staff statements that the Russian grouping around Popasna is trying to take new frontiers in the area.[ix] NASA's Fire Information for Resource Management (FIRMS) data, however, does not show a concentration of fires in this area, which may suggest that the Russian sources are exaggerating the scale or significance of the attacks, although the absence of evidence is not evidence of absence in this case.[x] The purported encirclement of the Popasna area may be an effort to break through Ukrainian defenses in order to provide support for the on-going battle for Severodonetsk, where Russian troops are making marginal gains and reportedly took control of Shchedryshcheve and Syrotne, just north of Severodonetsk.[xi]

understandingwar.org/…

Russian forces reportedly made marginal gains during ground attacks in Donetsk Oblast on May 20. Pro-Russian Telegram channels stated that Russian forces are trying to encircle a Ukrainian grouping around Svyatohirsk and are storming Yarova, both west of Lyman and within 10 kilometers of the border with Kharkiv Oblast.[xii] The Ukrainian General Staff reported that Russian forces are continuing offensive operations around Lyman and will likely continue to push west to meet Russian forces in Southern Kharkiv Oblast.[xiii] Russian forces are additionally conducting unsuccessful assault operations around Donetsk City in the vicinity of Avdiivka and Novobakhmutivka.[xiv]

Scott Boston, a former U.S. Army officer who studies the Ukraine war for Rand Corp., said it appears there are massive morale problems within the Russian military, undermining Moscow's goals. He cited the refusal of some units to carry out orders, as well as Russia's failure to adequately equip and feed its forces.

"Once it has been abundantly demonstrated that they don't give a crap about their people, they get it," Boston said of Russian soldiers. "It's hard not to notice."

Russia has seized only a couple kilometers per day in Donbas in recent weeks, according to the Pentagon. At that rate, Boston surmised, the offensive could continue for a year and "there will still be a lot of Ukraine left," even as Russian military fatalities continue to mount.

"That's just not a serious proposition," Boston said.

Russian leaders may realize their military campaign is floundering but still reluctant to acknowledge they are losing the war, he added.

Earlier this month, dozens of Russian combat vehicles were destroyed by Ukrainian forces as the Russians attempted to cross the Siverskyi Donets River in Donbas. The attack is believed to have killed hundreds of Russian troops, and appeared to highlight their continued failings to carry out basic combat maneuvers.

Rob Lee, a Russian military expert and a senior fellow with the Foreign Policy Research Institute, said Russian troops have been bedeviled both by their own tactical blunders and the Ukrainian's potent capabilities that have contributed to routs like the deadly crossing near Severodonetsk.

River crossings require favorable terrain and construction of pontoon bridges by military engineers. They are inherently dangerous, Lee said, and the Ukrainian military probably anticipated likely crossing points and logged their coordinates for future attacks. Their surveillance drones allowed artillery units to observe where rounds were falling and then guided them onto Russian personnel.

A grave mistake, Lee said, was the failure of Russian commanders to send smaller numbers of troops across the river. Instead, they bunched them together. The mistake cost the 74th Motorized Rifle Brigade dearly, according to an analysis from the Institute of the Study of War, with an estimated 485 casualties and the loss of 80 pieces of equipment.

"It's an indication there are leadership problems still," Lee said of the botched attempt to encircle Ukrainian forces nearby.

It's hard to say how long Russia may keep its offensive going, said Boston, the Rand Corp. analyst. Even after the deaths of thousands of Russian soldiers, he said, Russia could continue to lob artillery rounds from a distance for some time.

Still, the trajectory of the conflict perplexes him. Russia defeated Georgian forces in a five-day war in 2008, but the conflict exposed failures within the Russian military, including an inability to quickly adapt when something goes wrong. Moscow set out to reform its military after that conflict, Boston said, and demonstrated improvement in others.

"You just get this feeling like they've abandoned everything they've tried to learn over the last 10 years and reverted to an older style that they're more comfortable with," Boston said. "Frankly, the Red Army in 1944 was more capable of fire and maneuver than a lot of what we've seen from this Russian military, and I don't understand why."

Defense think tanks see this paradox — in spite of all those numbers voiced and money spent, Russian capabilities are actually very limited. But many, including political analysts, still exist within the paradigm they were in at the beginning of the (full-out) war three months ago. They thought Russia is a superpower.

They're still living in the past. Back in the day, the official opinion did not give Ukraine many chances. There has been a big change of heart. But now, someone like the New York Times editorial board seems to have this outdated understanding of who we are facing. There won't be a nuclear war, no conflict acceleration, or escalation because Russia has no strength for that.

We'd recommend that the New York Times editorial board actually read the New York Times newspaper. The famous Timothy Snyder recently had an article comparing (Putin's Russia) to fascism. He has strong evidence saying that modern Russian ideology is very similar to the fascist ideology.

Avril Haines, the director of national intelligence, warned the Senate Armed Services Committee recently that the next few months may be volatile. The conflict between Ukraine and Russia could take "a more unpredictable and potentially escalatory trajectory," she said, with the increased likelihood that Russia could threaten to use nuclear weapons.

These are extraordinary costs and serious dangers, and yet there are many questions that President Biden has yet to answer for the American public with regard to the continued involvement of the United States in this conflict.

In March, this board argued that the message from the United States and its allies to Ukrainians and Russians alike must be: No matter how long it takes, Ukraine will be free. Ukraine deserves support against Russia's unprovoked aggression, and the United States must lead its NATO allies in demonstrating to Vladimir Putin that the Atlantic alliance is willing and able to resist his revanchist ambitions.

That goal cannot shift, but in the end, it is still not in America's best interest to plunge into an all-out war with Russia, even if a negotiated peace may require Ukraine to make some hard decisions. And the U.S. aims and strategy in this war have become harder to discern, as the parameters of the mission appear to have changed.

Is the United States, for example, trying to help bring an end to this conflict, through a settlement that would allow for a sovereign Ukraine and some kind of relationship between the United States and Russia? Or is the United States now trying to weaken Russia permanently? Has the administration's goal shifted to destabilizing Vladimir Putin or having him removed? Does the United States intend to hold Mr. Putin accountable as a war criminal? Or is the goal to try to avoid a wider war — and if so, how does crowing about providing U.S. intelligence to kill Russians and sink one of their ships achieve this?

[…]

But as the war continues, Mr. Biden should also make clear to President Volodymyr Zelensky and his people that there is a limit to how far the United States and NATO will go to confront Russia, and limits to the arms, money and political support they can muster. It is imperative that the Ukrainian government's decisions be based on a realistic assessment of its means and how much more destruction Ukraine can sustain.

Confronting this reality may be painful, but it is not appeasement. This is what governments are duty bound to do, not chase after an illusory "win." Russia will be feeling the pain of isolation and debilitating economic sanctions for years to come, and Mr. Putin will go down in history as a butcher. The challenge now is to shake off the euphoria, stop the taunting and focus on defining and completing the mission. America's support for Ukraine is a test of its place in the world in the 21st century, and Mr. Biden has an opportunity and an obligation to help define what that will be.

The conclusion they drew after

@ODNIgov

testimony (growing dangers from protracted war)… appeasement? Seems to me that Russia has reduced its appetite at every defeat & arming Ukraine would be better than delivering, through negotiations what couldn't be obtained through force.

The board tries to rationalize a break from it's March advocacy for a free Ukraine, saying U.S. aims have become hard to discern. Seems to me that "degrading" Russia's ability to war, as stated by

@SecDef

, is pretty clear & moving in the right direct.

The article contends that the U.S. & the West have played major role in the war. We have not. Also, we have not provided critical real-time intelligence to target anything/anyone. And, until recently, we have not provided more than light weapons.

For most of this war, Ukraine has achieved near mythical feats, holding off, then defeating the Russian military around Kyiv. Now, in the Donbas campaign, Ukraine has thus-far halted Russia's more focused & dangerous offensive, liberating significant ground around Kharkiv.

Russia may achieve fleeting victories in a narrow portion of the eastern campaign, but even here, Russia has bitten off more than it can chew and will cede ground as Ukraine shifts to the offensive.

The U.S. & West have no leverage to get Russia to compromise, so the board argues the negligible leverage the West does have, should be applied to coerce Ukraine. In reality, it's far more likely that Russia & Ukraine will discount us… the issue will be settled on battlefield.

Most dangerously, we will continue to do just enough to allow ourselves to believe we are doing enough

& miss more opportunities to end this war quickly. Consequently, the war will drag-on, increasing the probability of spillover to military confrontation between Russia & NATO.

Russia is losing this war. I know no serious military analyst with experience in the region who believes otherwise. Moreover, it now seems possible Ukraine may liberate the territories seized since February & look to free the territories occupied since 2014.

But that may not be the end of this war. Russia may still choose to pursue a punitive campaign. Thus, Ukraine may cross the border into Russia to wreck Russian airfields launching planes and hunt-down ballistic missile systems launching rockets on Ukrainian cities.

That is a far more dangerous scenario than arming Ukraine with the missiles and unmanned aircraft necessary to strike Russian militarily targets from the Ukraine side of the border.

Finally, Ukraine's fight has single-handedly preserved the post-WWII order that enabled U.S. prosperity. It's shocking to see the board advocate for granting Russia a win based on fundamentally flawed assessments.

• • •
A recent article The Postcolonial Moment in Russia's War Against Ukraine, by Maria Mälksoo, describes some of the new perspectives needed for the current war.
The emphatically prescribing and proscribing memory laws have been a prominent symptom of Russia's increasing attempts to police and punish acts countering its own state-sanctioned version of "historical truth" and memory extraterritorially.43

In this essay, I outline the contours of a multi-layered postcolonial moment constituted by Russia's war against Ukraine. For one, it is a moment revealing the distinctly Eurocentric character of theorizing in International Relations (IR) when it comes to the discipline's relative ignorance of Eastern European insights and the validity of their experiences throughout IR's formal existence since the aftermath of the First World War.4 Along with the Russian leadership, the strength and scope of the Ukrainian resistance has taken the world by surprise – pointing at a general lack of understanding in IR about "why the weak resist and the forms their resistance takes."5 Such an oversight indicates the practical price of intellectual indolence in appreciating the (supposedly) lesser actors in world politics and failing to substantively populate these spaces in our mental maps.6

Secondly, the war has curiously exposed some ingenious argumentative alliances between offensive realists, who claim for the "law of anarchy" leaving some states less sovereign than others, and their agency in international politics accordingly more bound,7 and pacifists of various stripes,8 who are wary of Ukrainians' rallying around the flag to be creating new waves of nationalism.9 Combined, in arguing for a quick ceasefire and a Russia-sensitive settlement to end the war, the unlikely fellow travellers symptomatically deny the agency of Ukraine in but subtly distinct ways.10 Besides the generally strong and emotive Western support to Ukraine, the calls for Ukraine's neutrality11 and a hasty peace in fear of Putin's nuclear escalation have provided a fig leaf for the staple geopolitical "buffer zone" – argumentation, effectively negating the political right to sovereign choices of the Ukrainian nation and state. Insinuations of the dangers of Ukrainian "nationalism"12 are another variation of the same theme. They are also a kneejerk symptom of the yet-to-be decolonized thinking pattern about Eastern Europe as a region which sovereign space of maneuver supposedly always comes determined by the more powerful, or allegedly more responsible and rational others.

Yet, and thirdly, the war is already proving to be a decolonizing moment of sorts: indeed, a game changer for the Central and East European (CEE) states more generally in their vocal countering of Russia's attempted denial of Ukraine's (and by extension, Russia's former imperial subjugates') sovereign political agency. The emboldened CEE states who have taken a moral and practical lead in supporting Ukraine's cause – and thus also reasserting their own political agency, together with Ukraine's in the battlefield, indicate a novel dynamic in intra-European politics where the tables of who is doing the talking and who is listening are being gradually turned with this war.13 The increased cultural capital of CEE member states in the European Union will be among the major political implications for the renewed European polity as it emerges out of this war.
This is a Creative Commons article. The original version of this article appeared here.