All about the leverage, as Ergodan seeks his own kinds of concessions from Saudi Arabia, as well as from the US. CIA director Haspel has been sent to Turkey.
Gina Haspel flew into Ankara overnight – a sign of panic from Trump admin that MbS, who is the keystone of Trump's Middle East policy, is about to be implicated. Has she been able to talk Erdogan down? https://t.co/V5YrDpEn5e

— Bethan McKernan (@mck_beth) October 23, 2018
Erdogan will be addressing the Turkish parliament at (0945 GMT, 0545 EST just got delayed by an hour). The timing of his speech was planned to coincide with a speech that MbS was to give in Riyadh (put just pulled out) is indicative of the geopolitical brinksmanship at work.
So what can Washington offer Ankara? They want sanctions lifted, US-backed Kurdish militias in Syria curbed, and Fethullah Gülen extradited. The Turkish foreign minister, Mevlüt Çavuşoğlu, said this morning that US sanctions on two Turkish ministers would be lifted. That's probably because Turkey released detained American pastor Andrew Brunson two weeks ago – a sign there's a thaw in relations there.
ISTANBUL — President Recep Tayyip Erdogan was expected to divulge details of Turkey's investigation into the death of Saudi journalist Jamal Khashoggi for the first time on Tuesday, in a highly anticipated speech he had said would reveal the "naked truth" about Khashoggi's fate.
But Turkish officials, from the start, have said Khashoggi was killed in a premeditated fashion by a team of Saudi operatives who were dispatched to Istanbul from Riyadh, the Saudi capital, and that his body was later dismembered. Over the past three weeks, Turkish officials have dribbled out details of their investigation to the news media that are intended to bolster their case as well as to force a confession — and possibly other concessions — from the Saudi leadership, analysts said.
[…]
The Khashoggi case has also embarrassed the Trump administration, which regards the crown prince as one of its closest Arab allies and Saudi Arabia as a cornerstone of a U.S. strategy to counter Iran. CIA Director Gina Haspel headed to Turkey Monday, where she is expected to assess the strength of the evidence that Turkish officials have been drip-feeding the media for weeks .
A stream of Turkish video leaks that surfaced on Monday appeared to depict the Saudis trying to cover their tracks after Khashoggi's death, including images said to be of men at the consulate burning documents and a body double wearing Khashoggi's clothes, to make it appear the journalist had walked out of the consulate as the Saudis claimed.
The leaks also seemed intended to whip up a sense of anticipation ahead of the speech by Erdogan, who has chided the Saudis in recent weeks for not cooperating with the Turkish investigation but stopped short of blaming the Saudi government for Khashoggi's death.
Turkey's foreign minister has said his country would cooperate with international bodies if they launched an independent probe into the killing of Khashoggi.
Mevlut Cavusoglu told the state-run Anadolu Agency that Turkey has not shared evidence concerning his death at the Saudi consulate with any country but added there may have been "an exchange of views between intelligence organisations".
"If a request for an international investigation is made … we would cooperate," Mr Cavusoglu said, hours before Turkey's president was expected to announce details of his country's investigation into the killing.
Turkish newspaper Sabah and other pro-government news media are reporting a consular attache who arrived in Istanbul a day before Khashoggi's death was the "brains" behind the operation, Borzou Daragahi, our international correspondent, writes from Istanbul.
He is named Ahmed Abdullah al-Muzaini and was on official consular duty but Turkish officials say he was answering to Ahmed Assiri, the deputy head of Saudi intelligence who was recently deposed.

Mr Muzaini went to Riyadh a day after Khashoggi first went to the consulate on 28 September, returning 2 October.

He left for Riyadh at 9pm on the day Khashoggi's murder.
Turkey has more journalists in jail than any other country in the world, but it has seized on the murder of Jamal Khashoggi to present itself as a defender of journalistic freedom. https://t.co/ZauxVsX5kK

— Laila Lalami (@LailaLalami) October 22, 2018
Five things we're looking for today
For three weeks, people have demanded access to the evidence collected by Turkish investigators – and slowly drip fed, day by day, in leaks to the media – showing what happened to Khashoggi after he entered the consulate on 2 October. Today, they may get it.
Here are five things we will be looking for in Erdogan's speech and as the day moves forward:
1) Was there an interrogation that went wrong, as the Saudis claim? Or was Khashoggi brutally set upon as the Turks say?
2) Was this a premeditated crime or a kidnapping attempt that went awry?
3) If it was a kidnapping that went wrong, why did the Saudis behave the way they did after he died?
4) Was there any communication between Saudi Crown Prince Mohammed bin Salman (MBS) and the team of Saudis in Turkey during the operation? We know that seven of the men belong to MBS's personal security and protection detail. How high up the chain of command did this operation go?
5) What will US President Donald Trump's reaction be? Trump said over the weekend that he was "not satisfied" with Saudi Arabia's account of what happened. What effect will Erodgan's speech have on Trump and American politicians?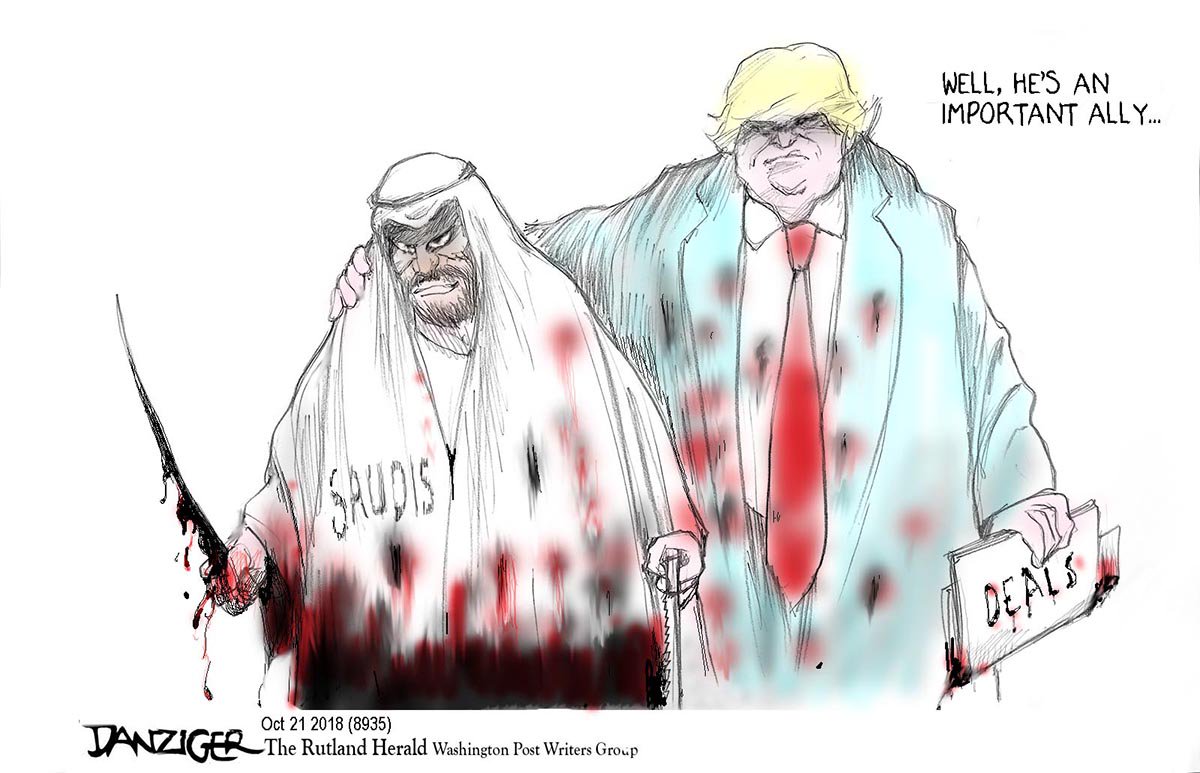 Starting to get why operation needed a team of 15:

Actor to portray Khashoggi.

Comms guy to call MBS every 20 minutes.

Wrestler to apply chokehold.

Bonesaw technician.

Forensics expert to erase evidence.

Headphones specialist.

Driver to abandon car.

And so on…

— David Lepeska (@dlepeska) October 22, 2018
Does Trump know the historical baggage associated with this word, or is he ignorant? Honest question. https://t.co/a6WC0nxrcX

— Michael McFaul (@McFaul) October 23, 2018