Apparently James Mattis is ungrateful and PBO is at fault because people are being mean to Individual-1. When have we seen this kind of tweet before?
Trump just cannot "man-up" after capitulating to Erdogan and Putin by withdrawing US troops from Syria, apparently without consulting anyone in the US government.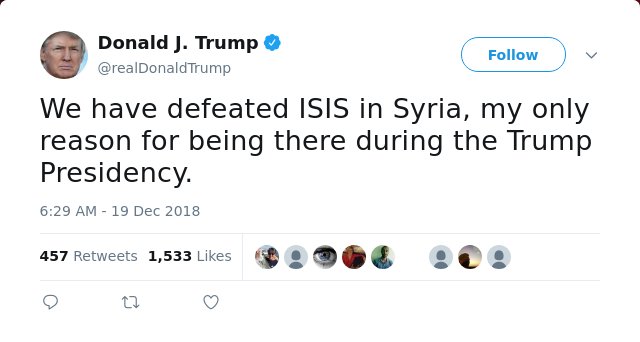 Trump's watching more TV with time on his hands before bed, hence the official statements delivered by Twitter.
And he's bothered that a George W. Bush appointee and veteran of the sorry Iraqi transition, Brett McGurk, decided to resign.
Now Trump wants to blame PBO for some reason related to the #TrumpRetreat from Syria because he thinks it'll distract from #TrumpShutdown.
The reality is that the GW Bush neocon project of deBathifying Iraq failed and created ISIS so that Trump's claim of defeating them actually will get even more attention with Brett McGurk's resignation atop the clear and certain message sent by James Mattis.
In January 2004, McGurk returned to public service as a Legal Advisor to both the Coalition Provisional Authority (CPA) and the United States Ambassador in Baghdad. During his tenure in Baghdad, McGurk helped draft Iraq's interim constitution, the Transitional Administrative Law, and oversaw the legal transition from the CPA to an Interim Iraqi Government led by Prime Minister Ayad Allawi. In 2005, he was transferred to the National Security Council, where he served as Director for Iraq, and later as Special Assistant to the President and Senior Director for Iraq and Afghanistan. In 2006, McGurk became an early advocate for a fundamental change in Iraq policy and helped develop what is now known as the surge, which began in January 2007. In his book Decision Points, President George W. Bush refers to McGurk as part of his "personal band of warriors" that led to a new strategy and reset the trajectory of the war.[10] President Bush later asked McGurk to lead negotiations with Ambassador Ryan Crocker to establish a Strategic Framework Agreement and Security Agreement with the Government of Iraq, thereby ensuring continuity in policy beyond the end of his administration.[11] In 2009, McGurk became one of only three political appointees to survive the transition from George W. Bush to Barack Obama, serving as a Senior Advisor to both the President and the United States Ambassador to Iraq.[12]
The fact that he does not know McGurk says it all… https://t.co/KuDS07i9eV

— Karen Tumulty (@ktumulty) December 23, 2018
Trump "doesn't know" Brett McGurk like he doesn't know Brett Kavanaugh, Paul Manafort, and Matt Whitaker.
(2017) Turkey called on President Donald Trump to get rid of Brett McGurk, the U.S. envoy for the global coalition to counter Islamic State, over his backing for Kurdish groups it views as its top national security threat.
U.S. support for YPG fighters battling Islamic State in Syria has riled Turkey, which sees the group as an extension of the autonomy-seeking Kurdish PKK group that has fought the Turkish military since the 1980s. Turkish President Recep Tayyip Erdogan used his meeting with Trump in Washington on Tuesday to personally urge the U.S. leader to rethink the alliance with the Kurdish fighters.