Yesterday, PABOTUS tried to get the #StopTheCoup trending, only to be met with #ThePresidentIsACrybaby.
Donald Trump kicked off his Saturday morning on Twitter with a simple attempt to promote the hashtag #StopTheCoup but didn't get many backers.

But he did get a lot of derision and explanations about what a "coup" really is — along with inspiring the hashtag: #ThePresidentIsACrybaby.

As one commenter noted, "Holding the president* accountable for his actions isn't a coup… it's their job. "
#ThePresidentIsACrybaby also a liar, a racist, a rapist sexual predator, insane, treasonous, stupid, hateful, petty, delusional, insecure, ugly, genocidal, a #nazi fascist, a business failure, a crook & all around terrible person. Being a crybaby, kind of minor flaw by comparison

— Stephen Sipila (@StephenSipila) October 19, 2019
Actually, there is a coup going on, only it's not coming from outside the Trump administration, but as in all horror stories, it's coming from within, led by Trump & his lackeys & henchmen, like Bill Barr, Nick Mulvaney, & Rudy Guiliani, who are shredding the Constitution.

— richard j. brenner (@rjb14) October 19, 2019
You're going to be tried for #CrimesAgainstHumanity in the Hague for facilitating the #EthnicCleansing of our allies, the Kurds. Impeachment is the least of your worries.@statedept @senateGOP @SenatorRomney @WhiteHouse

— James Marchand (@MarchandMusic) October 19, 2019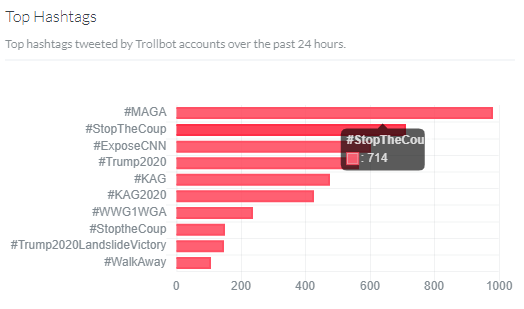 Russia is so confident now of their complete control over Trump they're not even trying to hide it. The GOP and those who vote for Trump must never be forgiven for this betrayal to our country.
#Russia's state TV: Dep. Dean of World Politics at Moscow's State University:
"Unfortunately, Trump didn't reach the level of Abraham Lincoln & didn't drive the U.S. to civil war. That's sad. Hopefully, he'll become Herbert Hoover and at least drive them into a Great Depression." pic.twitter.com/rc5I9UYXxZ

— Julia Davis (@JuliaDavisNews) February 11, 2018
Russian talking heads:
"I look at Trump and think: 'May God grant him good health—and another term.' This is a great situation for Russia…For America, this isn't a very good president."
"It looks like we'll have to elect your president—again." https://t.co/ozbznWGSjQ

— Julia Davis (@JuliaDavisNews) October 20, 2019
Sure hope the Dems run a good campaign because sure as sh*t the Russians and Zuckerberg will be doing their best to rig it for Trump.
Don't forget that one of the talking points pushed by Russia's troll farm was that there would be a civil war if Democrats tried to impeach Trump. An interesting coinkydink, right?

From the criminal complaint filed in federal court: https://t.co/yX98qVTLjF https://t.co/1WiVXin6fs pic.twitter.com/W2BF3RWb6x

— Asha Rangappa (@AshaRangappa_) September 30, 2019