Trump is only now realizing that 20 killed and 26 wounded by one of his Trumpists is bad for Indivdual-1. Look for some pseudo-presser event perhaps in front of the helicopter before he returns from his million dollar golf weekend in New Jersey.
….Melania and I send our heartfelt thoughts and prayers to the great people of Texas.

— Donald J. Trump (@realDonaldTrump) August 4, 2019
Incredibly powerful statement from El Paso County Sheriff Richard Wiles. pic.twitter.com/Ro1A2DSFkW

— Bob Moore (@BobMooreNews) August 4, 2019
NEW: El Paso suspect told investigators he wanted to shoot as many Mexicans as possible, sources tell @AaronKatersky and @JoshMargolin. https://t.co/iFcnRHWpmo

— ABC News (@ABC) August 4, 2019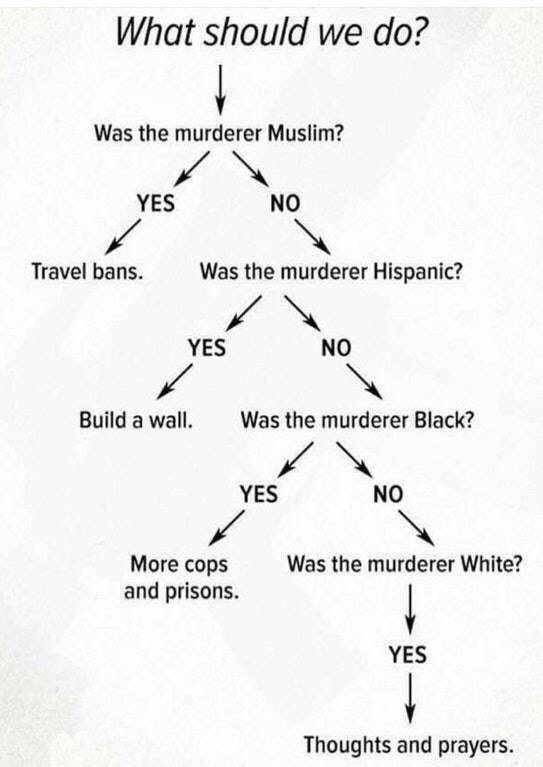 Asked if Trump shares any blame for the El Paso shooting Beto O'Rourke says "yes." "He is a racist and he stokes racism in this country." Full video: https://t.co/7XylxcukRl pic.twitter.com/JEdN0i8BjR

— MSNBC (@MSNBC) August 4, 2019
???? wonder why this would matter for the senior Republican Senator from Texas? ¯_(ツ)_/¯ #ElPaso https://t.co/4rhMbaP5rl

— Eric Aguirre (@aguirre_eric) August 4, 2019
If the 8chan document is confirmed, El Paso will be the third mass shooting announced on 8chan in advance in less than six months, targeting Muslims, Jews, and Latinos respectively.

On 8chan right now, the suspect is being cheered as "our guy"

— Julia Carrie Wong (@juliacarriew) August 4, 2019
Worth noting that Trump retweeted Katie Hopkins twice just hours before the shooting in El Paso. Hopkins, a vile bigot, has called refugees & migrants "cockroaches" who were "feral humans" that were "spreading like the norovirus."

— Brian Klaas (@brianklaas) August 4, 2019
Thank you ????

— Devin Nunes' cow ???? (@DevinCow) August 4, 2019
---
This is a Creative Commons article. The original version of this article appeared here.