The Trumps involved in a pyramid scheme?
Say it ain't so, it's not like he created a fake university… oh wait.
It's not like they've been involved in money laundering, bribery, payoffs, tax evasion or even… lying.
And Trump even pimped the scheme on Celebrity Apprentice.
A civil RICO suit has been brought against The Trump Organization, Donald Trump, Donald Trump Jr., Eric Trump and Ivanka Trump in United States District Court for their participation in a pyramid scheme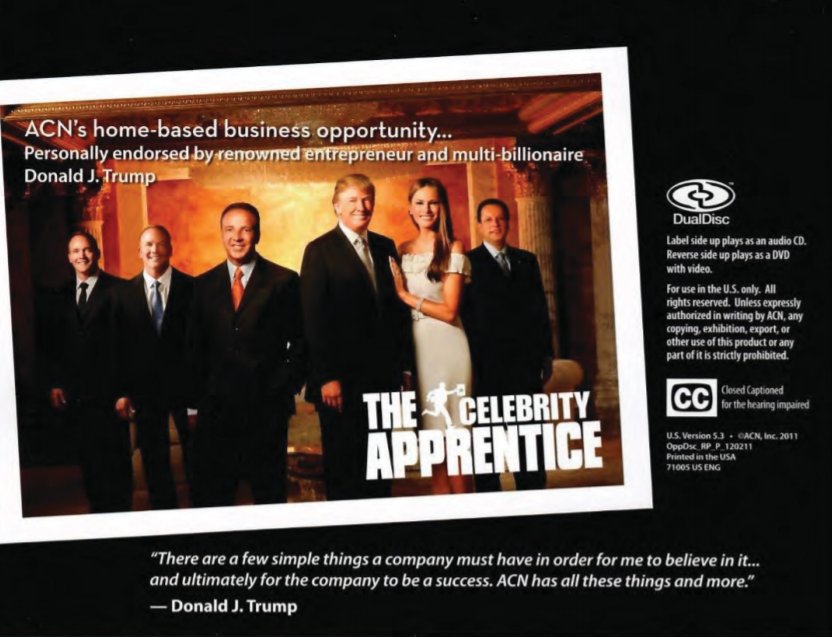 Probably goes without saying but the pyramid scheme Trump was promoting was not a good investment. Montana reported that in one year its residents paid ACN $234,812 in fees and earned $16,615 in commission
Haberman frames it as a possible partisan ploy, even as so many people got bilked in a MLM scheme including vitamins and investment seminars.
A new lawsuit accuses President Trump, his company and three of his children of using the Trump name to entice vulnerable people to invest in sham business opportunities.
Filed in federal court in Manhattan on Monday, the lawsuit comes just days before the midterm elections, raising questions about whether its timing is politically motivated. It is being underwritten by a nonprofit whose chairman has been a donor to Democratic candidates.
The allegations take aim at the heart of Mr. Trump's personal narrative that he is a successful deal-maker who built a durable business, charging he and his family lent their name to a series of scams.
The 160-page complaint alleges that Mr. Trump and his family received secret payments from three business entities in exchange for promoting them as legitimate opportunities, when in reality they were get-rich-quick schemes that harmed investors, many of whom were unsophisticated and struggling financially.
Those business entities were ACN, a telecommunications marketing company that paid Mr. Trump millions of dollars to endorse its products; the Trump Network, a vitamin marketing enterprise; and the Trump Institute, which the suit said offered "extravagantly priced multiday training seminars" on Mr. Trump's real estate "secrets."
This is a Creative Commons article. The original version of this article appeared here.