Combat continues as major breakthroughs have yet to occur in the areas of operation. The east has attacks, counter-attacks, and probing for encirclement. Weapons shipments continue. Disinformation abounds as Russia spins the recent test of a new ICBM.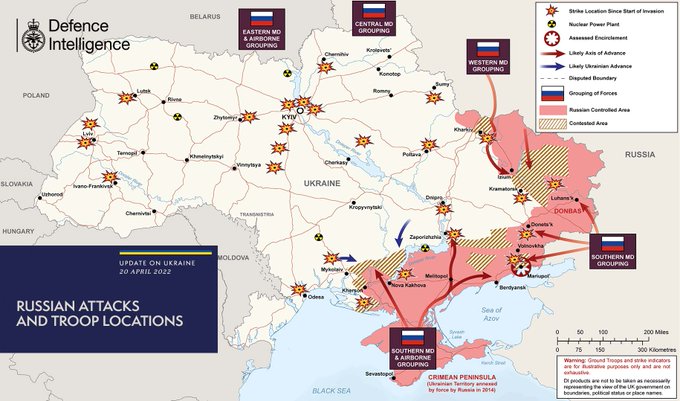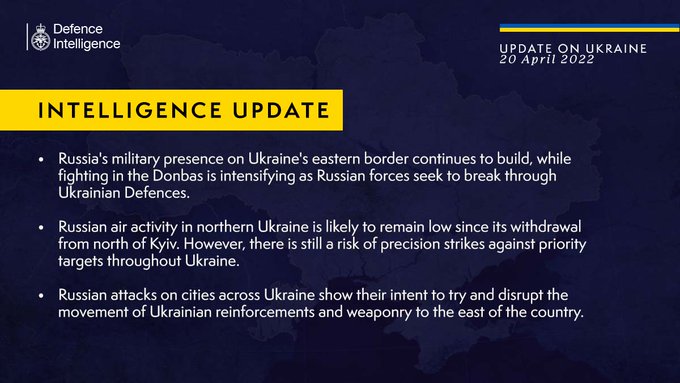 Russian forces made minor advances in the ongoing offensive in eastern Ukraine on April 19, seizing several small towns and advancing into the key frontline towns of Rubizhne and Popasna. Russian forces continued major assaults with heavy air and artillery support but are continuing to build the logistics and command-and-control capabilities necessary for a larger offensive. Russian forces have not achieved any major breakthroughs, nor have they demonstrated any new capability to conduct multiple successful, simultaneous advances. Russian forces additionally made grinding progress against remaining Ukrainian defenders in Mariupol's Azovstal Steel Works and announced plans for a May 9 Victory Day parade in the city – indicating Russian forces will declare victory in Mariupol by that date at the latest.

Key Takeaways

Russia's offensive in eastern Ukraine secured minor gains in the last 24 hours, taking parts of the key frontline towns of Rubizhne and Popasna.
Ukrainian forces reported the presence of small numbers of Syrian or Libyan mercenaries fighting in Popasna (eastern Ukraine), likely individual recruits fighting under the umbrella of the Wagner Group rather than larger units.
Russian forces made incremental advances in Mariupol and continued to set conditions to declare victory in the city by –at the latest – May 9.
Russian forces made minor advances around Izyum but have not secured any major breakthroughs.

• • •

Subordinate main effort – Mariupol (Russian objective: Capture Mariupol and reduce the Ukrainian defenders)
Russian forces made marginal gains in assaults against the Azovstal Steel Plant on April 20.[3] Video footage depicted Russian Naval Infantry and other mechanized units fighting on the outskirts of the plant.[4] Russian aircraft continued to heavily target the Azovstal plant.[5] Pro-Russian Telegram channels claimed that DNR militia and potentially Russian Special Operations forces are "clearing" the Azovstal Plant of Ukrainian sources, but we cannot confirm if Russian forces have been able to take portions of the plant itself.[6] Notably, DNR-appointed occupation authorities of Mariupol announced on April 20 that Russian and DNR forces will hold a "Victory Day" parade in Mariupol on May 9.[7] Russian forces may undertake hasty and poorly-organized offensive actions to clear Azovstal before this date. www.understandingwar.org/…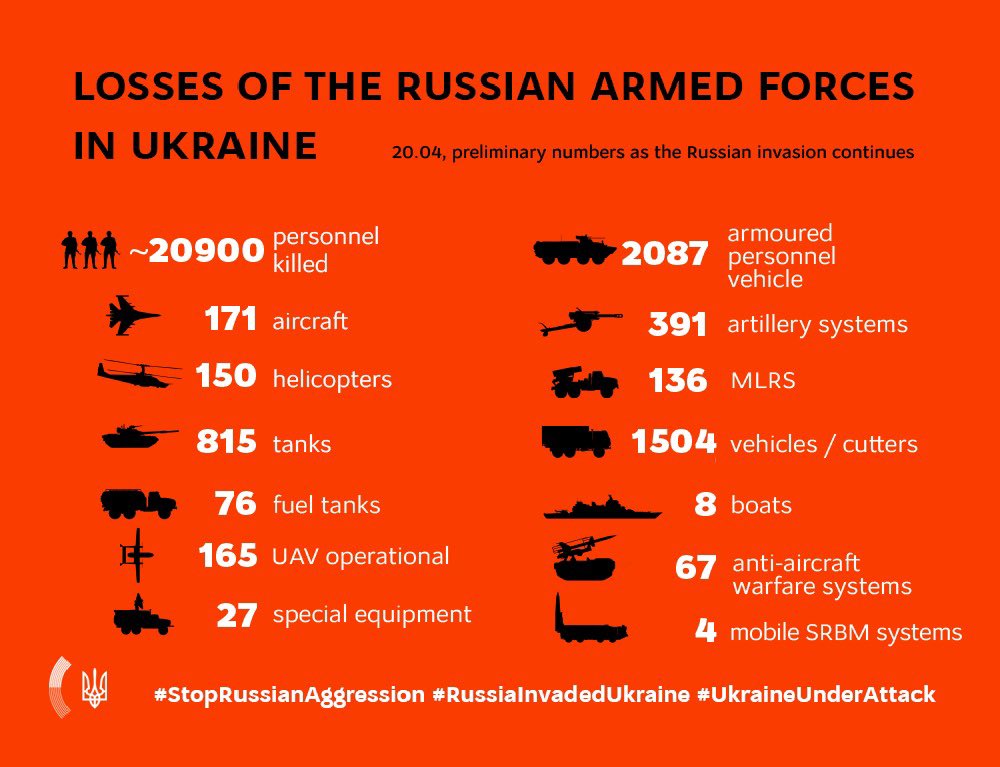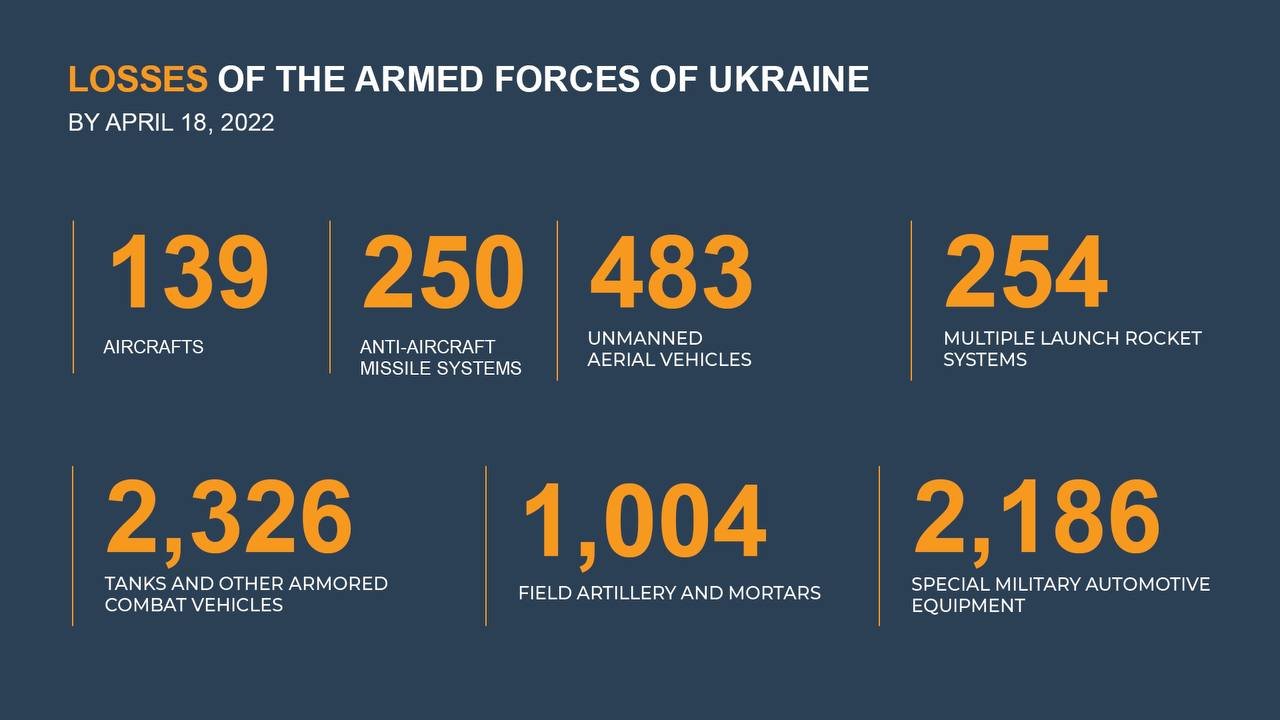 There are huge water shortages in #Mykolaiv. Here, a crowd of people lines up for water from a truck in the parking lot of a supermarket.

The locals here tell me they remain defiant.
This lady's T-shirt says: "We dont give a fuck about tanks and APC, we are from #Mykolaiv, we are volunteers."

Over the past few weeks Russia has struck civilian targets with huge ordnance. This crater is made by a #Russia parachute bomb that struck a child rehabilitation centre.

The ruins of the Hotel Ingul in #Mykolaiv. Another civilian building destroyed far from any military targets I can see.

Interviewing the mayor of 

#Mykolaiv

. "I move constantly. don't sleep in the same place two nights in a row. All I need is my gun and a place to wash."

Mayor of #Mykolayiv: "In the beginning I'd get messages from Russians telling me to surrender or face the fate of #Mariupol. I told them: either go home and live or come here and die. Welcome to hell, motherfuckers."

"The Russians don't understand that we live in a democracy. One man can't decide for everyone. Even if I wanted to surrender, which I would not do. The people would never accept."

"Look, we are fighting for our families and our land: we are overmotivated. The Russians are fighting only to die on the orders of Putin, the 21st century Hitler. They are undermotivated."

"This is a clash not between #Ukraine & #Russia but between civilisations. One that wants to cure cancer & go into space & the other only interested restoring a Soviet past."

"Watch #Russia propaganda & understand that everything is backwards: they fight fascism by bringing fascism; they liberate by enslaving. When they say #Ukraine is planning a chemical weapons attack you know that's what they are planning."

I left #Mykolaiv to go to the villages on the frontlines of the war. Here destruction is everywhere. But life jas to go. Incredibly this store, in a bombed out building, is still open.

Here the war is almost constant. This village has been shelled twice today. Destruction is everywhere.

Amid the ruins of a bombed out building an old woman seems to have lost her mind. "Everything is CHAOS" she screams before breaking into song.

Here, by the front, one understands – beyond the rhetoric – the wanton & incontinent violence #Russia unleashing. Everywhere you look is destruction. The sound of shelling rumbles overhead.

• • •

First, here is a map to appreciate the sheer scale of the thing.
It involves at least 4 different axes of advance spread across 2 Russian military districts and now involves elements of at least 4 Russian armies, 2 "separatist" corps and a tank division.

The scale and complexity is unseen since, well, WW2.

Operation Uranus featured 11 Soviet armies (even though the headcount involved was an order of magnitude larger).

The Russian Army has not ever performed or trained for operations this large and complex.
The Georgia war was fought with just one (58th) army, the 2014-2015 Donbas operations were of similar scale if not smaller.

Russian exercises rarely involve more than one military district (2-4 armies in each). Vostok-2018, the largest exercise since the Cold War, pitched two military districts (Central and Eastern) against each other, but a multi-district coordination was never practiced.

Typically Russian exercises involve a strategic defense followed by a frontal counterattack, not large WW2-style encirclements that the Russians seem to be shooting for.
Add to this that many exercises are highly choreographed, as many things in the Russian military.

General Dvornikov, rumored to be Russia's overall field commander, does not have more experience with this than anyone else.
He is seen as successful in establishing army-air-naval interoperability in Syria, but he only ever had a local corps under his command.

Smarter people than me have wondered how Dvornikov will structure his command. The options that he has is either overburdening his Southern Military District HQ or creating a new command structure from scratch (which would require expensive communications)

tl;dr: the Russian army has neither the experience nor readily available capability of conducting such a mega-offensive as we seen unfolding right now.
They may still pull it off, but this and other issues will translate into blunders and higher casualties.
/end

• • •
This is a Creative Commons article. The original version of this article appeared here.