Twenty-five people have been killed by the most destructive wildfires in California history. Firefighters, law enforcement and search and rescue teams are continuing to search for the missing and assess the destruction, while firefighters are valiantly attempting to contain the fires. A new episode of hot, bone-dry winds, intensifying this morning, will make firefighting across California extremely dangerous today.  Extremely critical fire weather conditions are forecast for the next 3 days in southern California. The threat of new fires will be very high from southern California to northern Baja California for the next 5 days. Firefighters from California, Arizona and western states are mobilizing to reinforce the exhausted firefighters who were first to respond to these deadly fires.
Likewise, neighboring police and sheriff's officers are reinforcing local law enforcement officials who have protected lives and maintained a semblance of order under catastrophic conditions. All of the first responders, from firefighters, law officers, EMTs, and animal welfare specialists have been heroes who would humbly say that they were just doing their jobs. These fires have endangered the lives of people from all walks of life, from the most famous Hollywood stars to disabled ninety-year-old women unable to get out. The fires have claimed all kinds of residences, from trailer parks to nursing homes, to the most opulent Malibu mansions. Under the worst conditions senior firefighters with a lifetime of experience have ever seen, first responders have been there to save the rich, the poor, the elderly, the young, people of all races, colors, creeds, and political persuasions; and animals of all sorts, from tiny kittens to full-grown giraffes. They deserve our praise and honor.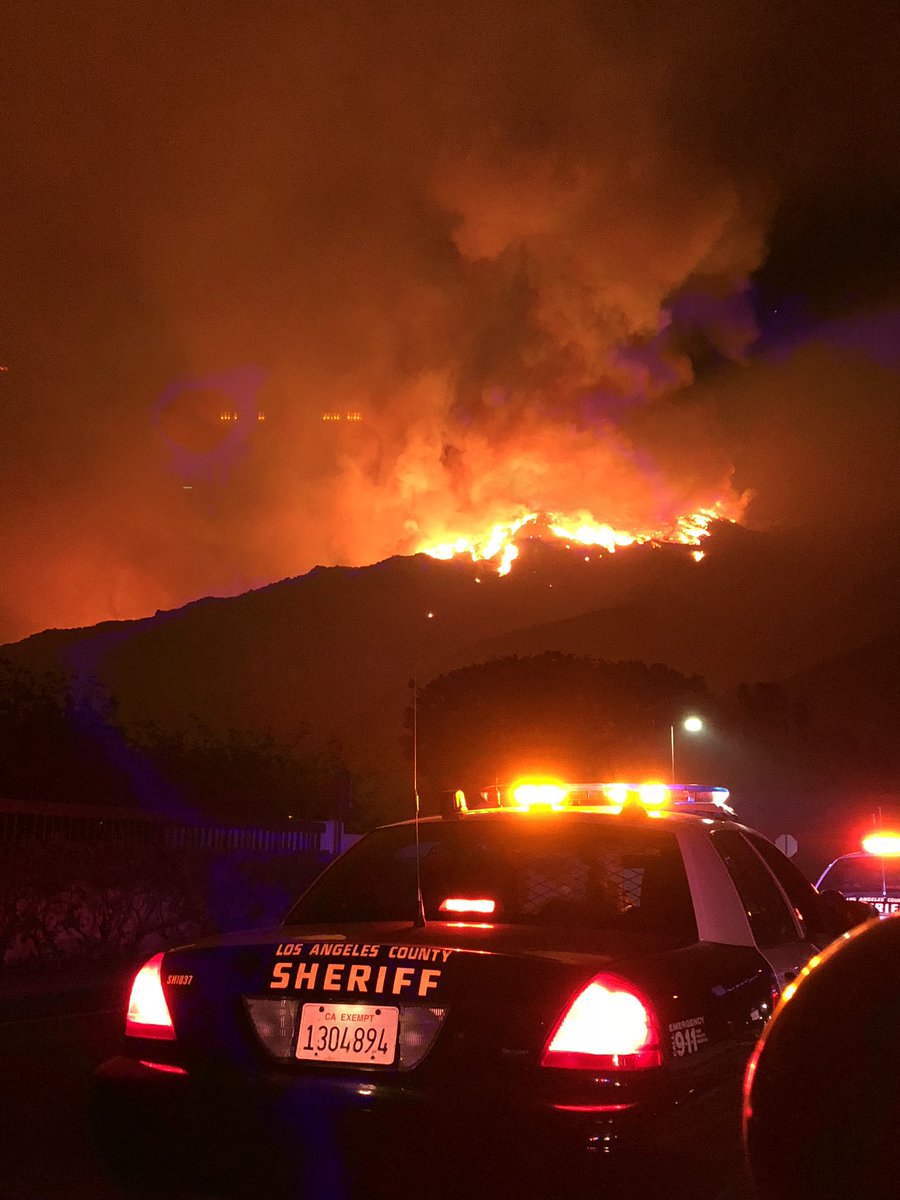 That was why it was so shockingly inappropriate when Donald Trump threatened to cut support for fighting California's fires. Our firefighters and law enforcement officers have risked their lives to protect us while their own properties were at risk of destruction.
Placer County deputies saved multiple dogs and animals from the #CampFire. Photo in the link. https://t.co/3S4HieMyyP

— Action News Now (@ActionNewsNow) November 11, 2018
Top firefighters slammed Trump for his petulance, ignorance and insensitivity.
Meanwhile, the top executive of the union that represents California's firefighters responded at length to Donald Trump's criticism on Saturday with a condemnation of the President's tweet about "poor" forest management.

"The president's message attacking California and threatening to withhold aid to the victims of the cataclysmic fires is Ill-informed, ill-timed and demeaning to those who are suffering as well as the men and women on the front lines," stated California Professional Firefighters President Brian K. Rice.

"At a time when our every effort should be focused on vanquishing the destructive fires and helping the victims, the president has chosen instead to issue an uninformed political threat aimed squarely at the innocent victims of these cataclysmic fires," Rice added. "At this moment, thousands of our brother and sister firefighters are putting their lives on the line to protect the lives and property of thousands. Some of them are doing so even as their own homes lay in ruins. In my view, this shameful attack on California is an attack on all our courageous men and women on the front lines."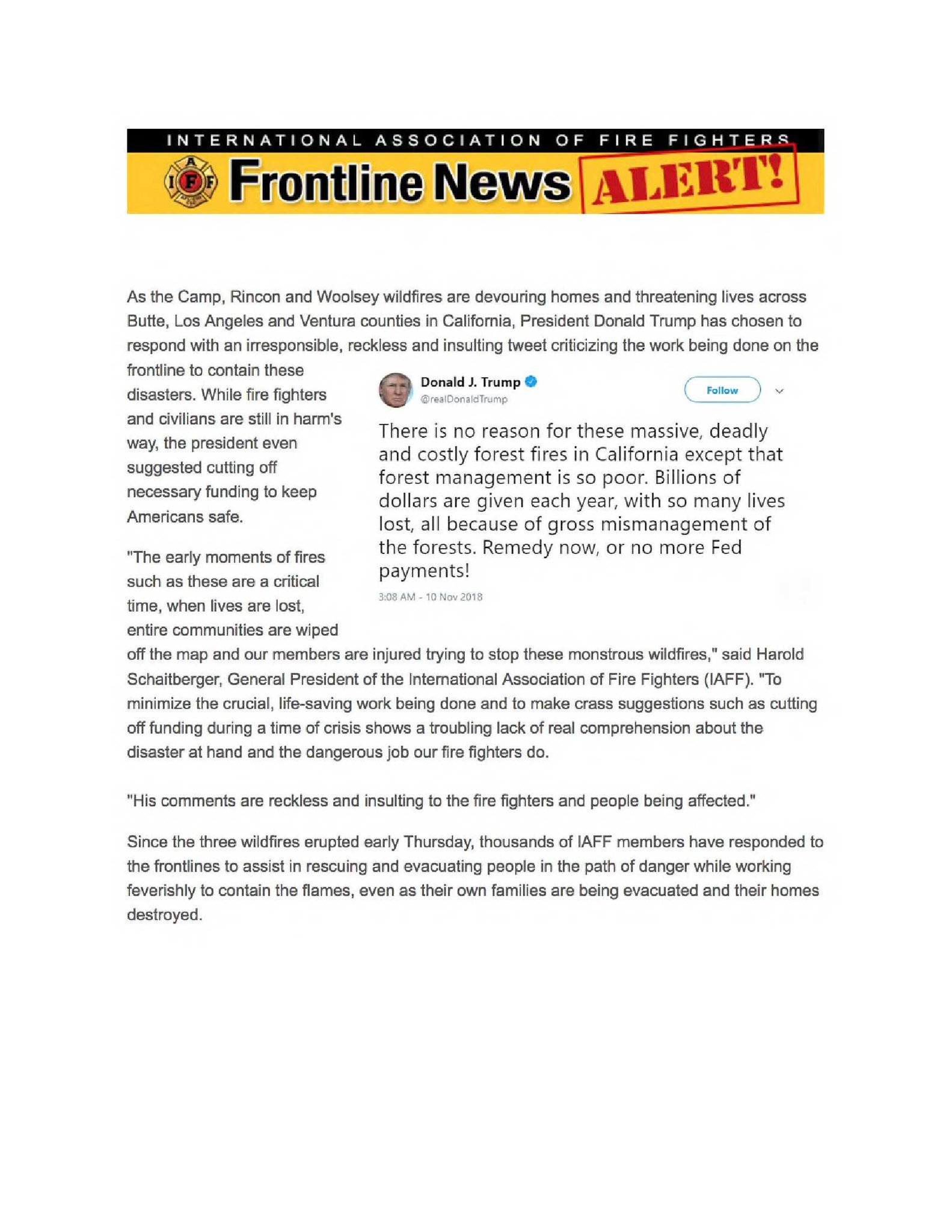 Mr. President, with all due respect, you are wrong. The fires in So. Cal are urban interface fires and have NOTHING to do with forest management. Come to SoCal and learn the facts & help the victims. Scott Austin, Pres IAFF 809. @IAFFNewsDesk https://t.co/d3jY0SeosF

— Pasadena Fire Assn. (@PFA809) November 10, 2018
LA County Fire Chief says worst fire conditions and most "extreme fire behavior" firefighters have ever seen in their careers #WoolseyFire

— Gabrielle Canon (@GabrielleCanon) November 10, 2018
Californians are trying many ways to reduce wildfire hazards. One of the most effective ways to reduce the fuel load in the rugged chaparral in southern California is by goat grazing. Goats can't stop fires, but controlled grazing can remove underbrush and reduce the intensity and risk of fire.
Rep. Ted Lieu was on the scene at a shelter for evacuees at Pacific Palisades high school to support efforts by the Red Cross and the local community to aid wildfire victims.
Thank you to the @RedCross for their great work in helping evacuees of the #CaliforniaWildfires. I visited the shelter at Palisades Charter High School this morning and the community support from businesses, nonprofits and residents has been extraordinary. pic.twitter.com/2OPDLoy6qq

— Ted Lieu (@tedlieu) November 10, 2018
Dear @realDonaldTrump: What is wrong with you? Disaster victims deserve help & sympathy.

Oh, and guess who owns much of the forest land in CA? Your federal agencies. CA only owns 2%. Guess who cut funding to forest management in the budget? YOU DID.#SaturdayMorning Thoughts https://t.co/Es9oAOhQQc

— Ted Lieu (@tedlieu) November 10, 2018
Horses are finally safe. My children are safe. My home is in jeopardy but… everything with a heartbeat is safe. Thank you all for your concern.

To those who insisted on still being hurtful because our political affiliation is different, you are what is wrong with the country.

— Alyssa Milano (@Alyssa_Milano) November 9, 2018
Wishing everyone in Los Angeles and surrounding areas all the best during this time of chaos and distress. We are strong in California, on and off the field and will make it through as we have done before.#CaliforniaWildfires pic.twitter.com/hlRde0dVJB

— SAVEYOUTHFOOTBALLCA (@saveyouthfbca) November 10, 2018