START YOUR WEEK SMARTFDA holds key meeting on Covid vaccine for younger kids. President Biden heads to Europe. Atlanta Braves and Houston Astros meet in World Series.
Opinion by Richard Galant, CNN
Updated 7:58 AM ET, Sun October 24, 2021
The rise, fall, and return of Steve Bannon 02:38
Sign up to get our new weekly column as a newsletter. We're looking back at the strongest, smartest opinion takes of the week from CNN and other outlets.
(CNN)Steve Bannon has had his hand in a lot of things. He served in the US Navy for seven years before he went on to join the investment bank Goldman Sachs, the right-wing media outlet Breitbart, the 2016 Trump campaign and the White House — until former President Donald Trump fired him in 2017.In the 1990s, as part of a new investment bank named after him, Bannon even wound up with an ownership stake in "Seinfeld," gaining a sliver of the show's gargantuan royalties.Following his stint as a White House strategist, Bannon ran into legal trouble when he joined an organization that raised millions for the stated purpose of building a wall along the southern US border; federal prosecutors charged him and three others with defrauding the donors. But Trump ended up pardoning Bannon in his last hours as president.
Now the Justice Department has another chance to consider Bannon's fate. Attorney General Merrick Garland will decide whether to prosecute Bannon after the House voted Thursday to hold him in criminal contempt of Congress.
Bannon has refused to cooperate with the House select committee investigating the January 6 attack on the US Capitol, citing Trump's controversial claim of "executive privilege."
As Frida Ghitis noted, Republican Rep. Liz Cheney asked why Trump and Bannon are hiding behind such a dubious shield. "In Cheney's analysis, the executive privilege claim by Bannon and Trump, seems 'to reveal one thing: They suggest that President Trump was personally involved in the planning and execution of January 6th.' Cheney's piercing words…are a reminder that it's crucial to find out what exactly Trump's role was during the events of that day. And Bannon very likely knows a lot about that." Ghitis observed that Bannon said on his "War Room" podcast January 5: "All hell is going to break loose tomorrow."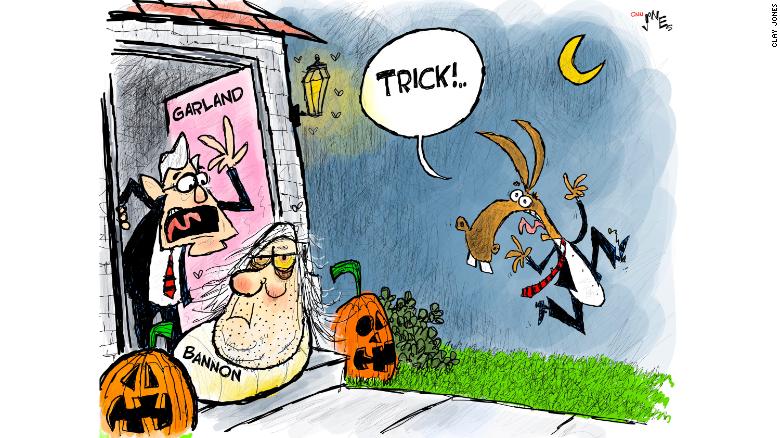 As Democrats look back at the events of January, they're also looking ahead to the midterm elections next year — and the 2024 presidential race, in which Trump, at this very early stage, is the apparent frontrunner for the GOP nomination.
"Want to save our democracy from Trumpism? One approach is to follow the blueprint that led to last week's surprising defeat of Czech Republic Prime Minister Andrej Babis, who's also known as the Czech Donald Trump," wrote Dean Obeidallah.Enter email to sign up for the CNN Opinion newsletter.close dialog
Sign up for the latest thoughts and analysis on today's news headlines, political op-eds, and social commentary.."How did the people of the Czech Republic edge out Babis? Through various political parties putting their ideological differences aside to form an alliance with one goal: getting him out of office. That meant a more conservative party had to team up with an anti-establishment party that supported gay marriage and other progressive causes they actually opposed."