Imagine if Mike Flynn and Steve Bannon got fired for conspiring to kill a US journalist, and Jared Kushner was tasked by Trump to run the investigation, or rather conduct a review of intelligence operations.
It would be a tortured comparison, but then that's what Saudi Arabia claims happened to Jamal Khashoggi in Istanbul —  a seven-minute fistfight with 15 guys and some post-death abattoir work thrown in. And heads will roll but are they the right ones, or just the incompetent ones who got caught.
Imagine Fox News falling in behind this as it smears Khashoggi, forgetting about some selectively inconvenient facts, much like it fell in behind the Brett Kavanaugh stories. Who will be the Sideshow Ed of this heinous crime, sowing doubt, even as the comparison is literal torture?
Saudi Arabia said on Saturday that Jamal Khashoggi died in a fight in the kingdom's consulate in Istanbul and announced the firing of two senior officials close to Crown Prince Mohammed bin Salman as Riyadh sought to defuse an international crisis over the journalist's death.
King Salman, the Saudi monarch, issued two royal decrees sacking Ahmed Assiri, the deputy intelligence chief, and Saud al-Qahtani, a royal court adviser. Both Mr. Assiri and Mr. Qahtani are considered to be close confidants of Prince Mohammed, the king's son and the oil-rich nation's de facto leader.
The attorney-general said preliminary investigations showed "discussions between [Khashoggi] and people who met him during his visit to the kingdom's consulate in Istanbul led to a fight", which resulted in his death.
Authorities arrested 18 unidentified Saudis in the case and will continue to investigate until they have all the facts and all those responsible are held accountable, the attorney-general said.
"The kingdom has taken the necessary procedures to find out the truth," an unnamed Saudi official was quoted as saying by the state news agency, adding that the country's leadership stressed "the importance of knowing the truth clearly and announcing it transparently, whatever it is".
Realpolitik will set in soon, and as Jared is reported to hope, the whole thing will blow over, and the brutality of the Saudis remains as important as their financial stakes for previous US administrations.
However the next days play out, few experts predicted a rupture in Saudi-U.S. relations. There may be pauses, several said, such as temporary holds on some arms purchases, the imposition of minor economic sanctions or suspension of some technology transfers.
"If a major rethinking of the U.S.-Saudi relationship didn't happen after 9/11, didn't happen after the Iraq war, didn't happen after the [Saudi-led war and] Yemen humanitarian disaster, then it won't happen now," Ibish said. (Hussein Ibish, a senior fellow at the Arab Gulf States Institute in Washington, a nonpartisan think tank)
[…]
Late Friday, White House Press Secretary Sarah Huckabee Sanders issued a statement acknowledging Riyadh's actions and expressing sorrow over Khashoggi's death. The night before, Trump had stirred outrage in some circles by praising a Montana congressman who threw a journalist to the floor last year.
[…]
It's not yet clear how Trump will leverage a willingness to hold Riyadh accountable as he also touts America's decades-old ties to Saudi Arabia, and the kingdom's support for U.S. efforts against Islamic State, Iran, and other regional adversaries.
Riyadh has helped pay for Trump's push to constrain Iran, which it sees as an enemy, and plays a key role in the gathering of U.S. counter-terrorism intelligence across the Muslim world.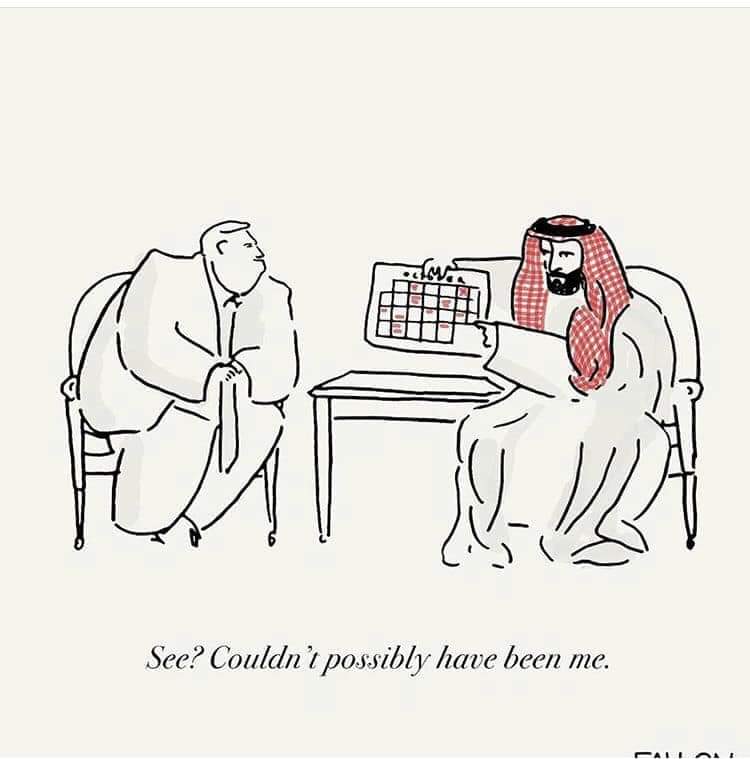 Imagine believing a Saudi Arabian kill squad accidentally killed a journalist with a bone saw following a fist fight and NOT believing a Georgetown dude-bro wasn't capable of sexual assault.

— Miles Kahn (@mileskahn) October 20, 2018
Smearing Dr. Ford. Smearing Jamal Khashoggi. State-sanctioned propaganda pushers. https://t.co/AaBqxVxo1P

— Barbara Malmet (@B52Malmet) October 20, 2018
Sen. Patrick Leahy, a Vermont Democrat, told CNN Friday that the Saudi regime is a "criminal enterprise" and that "anything that we've heard so far has not been the truth from the Saudis. They just lie."

He suggested that the US could "cut back on some of their banking, their visas, certainly we have the ability to block arms sales," which are crucial to Saudi Arabia's ongoing war in Yemen. "We should have done that after they lied to us about the civilian casualties in Yemen," Leahy added. Others have suggested halting US military refueling of Saudi planes that are bombing Yemen.

James Carafano, a director at the Heritage Foundation, says that the best course of action is to stop discussing possible punishments and penalties, let things calm and turn things over to investigators.

"The smartest course of action for the US should be to put the emphasis on the investigation," Carafano said. "They should have sent the FBI director, not the Secretary of State to Turkey and Saudi," he added, referring to a trip Pompeo took earlier this week.

"The strategic relationship with Saudi Arabia and Turkey is too important to risk what we might do when we don't know," Carafano said. "Speculating doesn't further US policy … it's absolutely inappropriate. The other reason to focus on an investigation is that Congress can act on this."
This is a Creative Commons article. The original version of this article appeared here.