Gordon Sondland is learning the hard way what dozens before him discovered after working for Donald Trump: You are expendable and when it comes to protecting Donald Trump's personal power, you will be thrown overboard in the most publicly humiliating way possible. And now, to borrow a phrase from longtime Trump associate Roger Stone, it is Sondland's time in the barrel. The hotel operator donated $1 million to Trump's inauguration and in return was given the sweet, much sought-after position of U.S. ambassador to the European Union.
Sondland was so trusted by Donald Trump that the pair reportedly spoke directly a number of times. He was also deeply involved in the corrupt discussions urging Ukraine to dig for political dirt on the Bidens, despite the fact Ukraine is not even in the EU. After career State Department diplomats began protesting the bribery plan, Sondland tried to cover for Trump. During text messages with Bill Taylor, a senior diplomat in the U.S.'s Ukraine embassy, Sondland said, "Bill, I believe you are incorrect about President Trump's intentions. The President has been crystal clear no quid pro quo's of any kind." 
During the impeachment inquiry, Sondland initially stood by those statements. But he later backtracked after multiple impeachment witnesses contradicted his account and Sondland was forced to "update" his testimony, admitting that yes, financial aid to Ukraine was held back for Donald Trump's personal political ambitions. 
Exactly one month to the day after Donald Trump described Gordon Sondland as "a really good man and great American," he's changed his mind, telling reporters at the White House that he "hardly knew the gentleman."
OUCH. That sound you just heard was the sound of Sondland being thrown under the MAGA bus.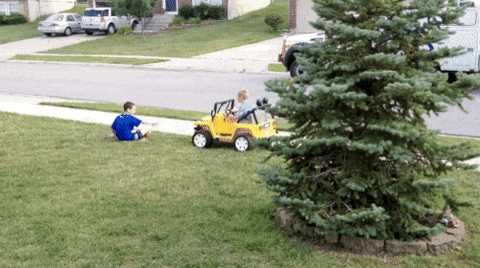 In the three years Donald Trump has been in office, we've seen this pattern play out time and time again: Jeff Sessions, Sean Spicer, John Kelly, Jim Mattis, Mick Mulvaney, and on and on. Everyone is fair game and everyone who doesn't share Donald Trump's name and DNA eventually ends up under the bus. Today it is Gordon Sondland. Tomorrow it will be Rudy Giuliani and Mick Mulvaney, something my colleague Mark Sumner says Republicans are already telegraphing as their next line of defense.
While this Sondland breakup is both ugly and predictable, the Giuliani breakup is going to be a real wild card. These two pillars of corruption go back a long, long time and when that house comes crashing down, look out.