Rearing an ugly head again during a #TrumpSh*tdown
This is your periodic reminder that a bipartisan group of senators successfully negotiated an agreement to avoid a shutdown and Donald Trump blew it up because he is racist against people from "shithole" countries.

— Ian Millhiser (@imillhiser) January 20, 2018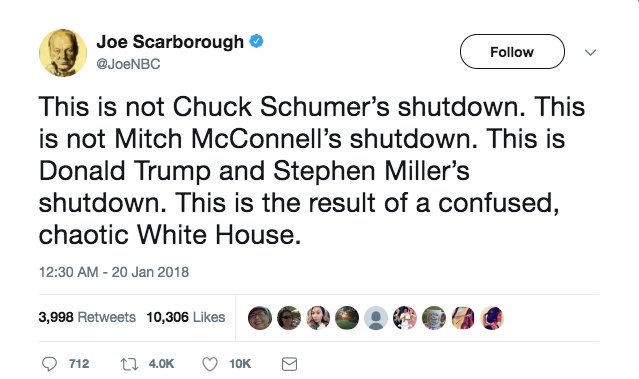 The White House officially cancelled Trump's trip to Florida that was scheduled for Friday afternoon, and he spent the day attempting to help congressional leaders reach a deal to forestall a shutdown.
Administration officials who briefed reporters on the logistics of the impending shutdown on Friday said the expiration of government funding would not necessarily impede the president's travel plans to Mar-a-Lago or elsewhere. In particular, one official said, Trump will still be free to attend the World Economic Forum in Davos next week, though the White House did not say whether the shutdown would affect Trump's plans to attend the glamorous gathering of globalists.
But sources didn't report Davos coming up on Friday. For the president, it seems, the weekend's party at his Florida estate was the more pressing engagement.
<div class="dk-editor-embed center-block" data-twitter-content="
Deployed troops will not be able to view this weekend's playoff games because the armed services network is down due to the shutdown, the Pentagon tells @barbarastarrcnn

— Jake Tapper (@jaketapper) January 20, 2018
">
Deployed troops will not be able to view this weekend's playoff games because the armed services network is down due to the shutdown, the Pentagon tells @barbarastarrcnn

— Jake Tapper (@jaketapper) January 20, 2018