Because "no Russian collusion" Trump wanted the NSA to produce counter-propaganda in 2017 and the NSA thought the request was so strange that they documented it. So much effort by someone who claims so often to be not complicit.
WASHINGTON (AP) — Two months before special counsel Robert Mueller was appointed in the spring of 2017, President Donald Trump picked up the phone and called the head of the largest U.S. intelligence agency. Trump told Mike Rogers, director of the National Security Agency, that news stories alleging that Trump's 2016 White House campaign had ties to Russia were false and the president asked whether Rogers could do anything to counter them.
Rogers and his deputy Richard Ledgett, who was present for the call, were taken aback.
Afterward, Ledgett wrote a memo about the conversation and Trump's request. He and Rogers signed it and stashed it in a safe. Ledgett said it was the "most unusual thing he had experienced in 40 years of government service."
Trump's outreach to Rogers, who retired last year, and other top intelligence officials stands in sharp contrast to his public, combative stance toward his intelligence agencies. At the time of the call, Trump was just some 60 days into his presidency, but he already had managed to alienate large parts of the intelligence apparatus with comments denigrating the profession.
Because he's just an "angry and frustrated" guy…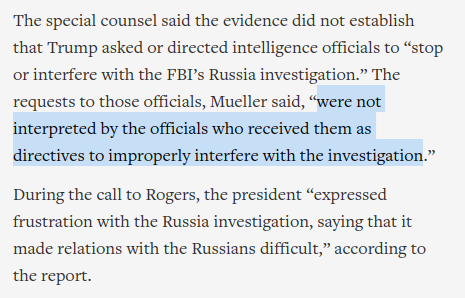 May 22, 2017 · President Donald Trump asked two of the government's top intelligence chiefs to publicly deny evidence of cooperation between his campaign and Russia during the 2016 election, 
Re. interpretation of Trump's request: Back in June 2017, both NSA Dir. Mike Rogers & DNI Dan Coats said they hadn't *felt* pressured to end/intervene in the Russia probe, but refused to say if Trump had *asked* them to do so.https://t.co/iUwwTJJgeB pic.twitter.com/x7GstE2pyY

— Caroline Orr (@RVAwonk) April 21, 2019
Mueller Report addresses one enduring mystery — WHY all the lies if no Trump-Russia conspiracy?

Mueller says the evidence shows Trump took efforts at obstruction because he feared a "thorough" probe "would uncover facts" about Trump that he "could have understood to be crimes."

— Ari Melber (@AriMelber) April 19, 2019
I really feel like Dems are making the "impeachment question" complicated, when it's simple:
"We will hold hearings on what Trump did wrong–including things Mueller didn't even consider (like corruption). At the end of the hearings, we will decide what punishment we support."

— Ronald Klain (@RonaldKlain) April 22, 2019
This is a Creative Commons article. The original version of this article appeared here.