So much winning. Yet, if this is what our *resident reveals out in the open, there MUST be bubbling below the surface.  And yes, when 2/3 of your wives were immigrants, no wonder "Trump took heat from Melania and Ivanka over racist chants at rally".
Fellas are you sick of catching hell from the wife after you do fascism? You know how sometimes you watch too much TV and then start a program of ethnic cleansing so Lou Dobbs will say your name more and then girls get mad about it? https://t.co/MZyFqeirWB

— David Roth (@david_j_roth) July 20, 2019
Will the work wife turn against Individual-1.
New evidence suggests the former White House aide might have perjured herself https://t.co/WEfcZKHcHa

— VANITY FAIR (@VanityFair) July 20, 2019
Or will the work husband give him up.
Trump-Jeffrey Epstein video from 1992 shows them partying together at Mar-a-Lago – The Washington Post https://t.co/Mwvi2B5XNx

— julie k. brown (@jkbjournalist) July 17, 2019
Maybe his dealer will give him up.
Update: Donald Trump • Dilated Pupils Alert • 1992 Party w/ Jeffrey Epstein • pub. 17 July 2019 • Pupils dilated ~ 8.5 mm (right eye) & ~ 9.0 mm (left eye) diameter • Screen grab 0:13 from video: https://t.co/bmjyVkJQJx #DonaldTrump #LargePupils #DilatedPupils #PupilAlert pic.twitter.com/nMW8n9OPZd

— Dr. Jack Brown (@DrGJackBrown) July 18, 2019
Or perhaps the plagiarist from his Nobel nomination will give him up.
Nadia Murad tells President Trump her mother & six brothers were killed. He responds, "where are they now?" She again says they were killed. He turns away & grunts.

His final response is not "I'm sorry" or encouragement, he asks how he can win the Nobel.pic.twitter.com/ohu5qFjSrl

— Rev. Travis Akers (@travisakers) July 19, 2019
THIS is how you talk about a #RacistPresident. pic.twitter.com/xhWj9r0vab

— Peter Daou (@peterdaou) July 20, 2019
A Trump Plan Would Throw 55,000 Children Out of Their Homes | His compassion knows no bounds! https://t.co/8dbZSOpIlX

— Rick Cooley (@rcooley123) July 20, 2019
Fact check: Trump made 20 false claims at his North Carolina rally this week

— Mike Walker (@New_Narrative) July 20, 2019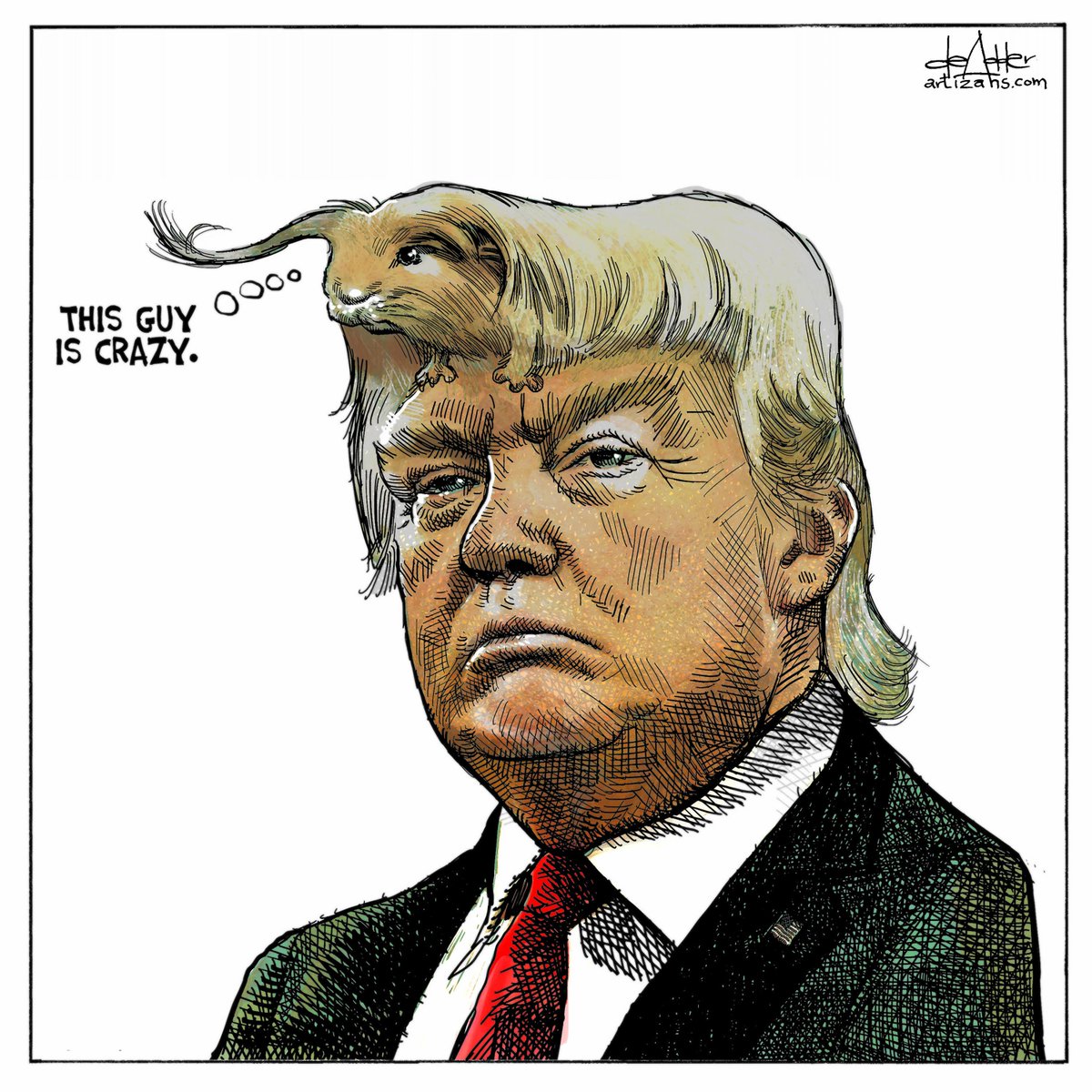 Those who voted for Donald Trump in 2016 will eventually have to ask themselves whether it is possible to go on believing that he is a man of sufficient character to hold the Presidency, David Remnick writes. https://t.co/2uuodB4bZw

— The New Yorker (@NewYorker) July 20, 2019
---
this is an interesting thread