Cases go back to the lower court, so the Trump tax returns issue will not get seen before the election, because it goes to the Grand Jury in Vance.
In the case of the House with Mazars, it also goes back to the lower court on the issues of subpoenas, still blocking House committees from getting Trump financial records at least now and until the election.
Punt by SCOTUS. Trump gets to run out the clock relative to disclosures before the election. OTOH, truth will out since he won't be IMPOTUS-for-life and the records will get to the Grand Jury eventually.
U.S. SUPREME COURT RULES FOR NEW YORK GRAND JURY OVER BID TO OBTAIN TRUMP'S FINANCIAL RECORDS, INCLUDING TAX RETURNS

— Kyle Griffin (@kylegriffin1) July 9, 2020
Here is the 7-2 opinion from Chief Justice Roberts in Trump v. Vance. Dissents from Thomas and Alito. https://t.co/VRXBMFeTAE

— SCOTUSblog (@SCOTUSblog) July 9, 2020
2. Breaking: In a 7-2 decision, SCOTUS sends the case involving Trump's accountants and Deutsche bank (for Trump's tax returns and financial records) back to the lower courts to deal with separation of powers concerns.

Again, Kavanaugh and Gorsuch joined the majority on this

— Yashar Ali 🐘 (@yashar) July 9, 2020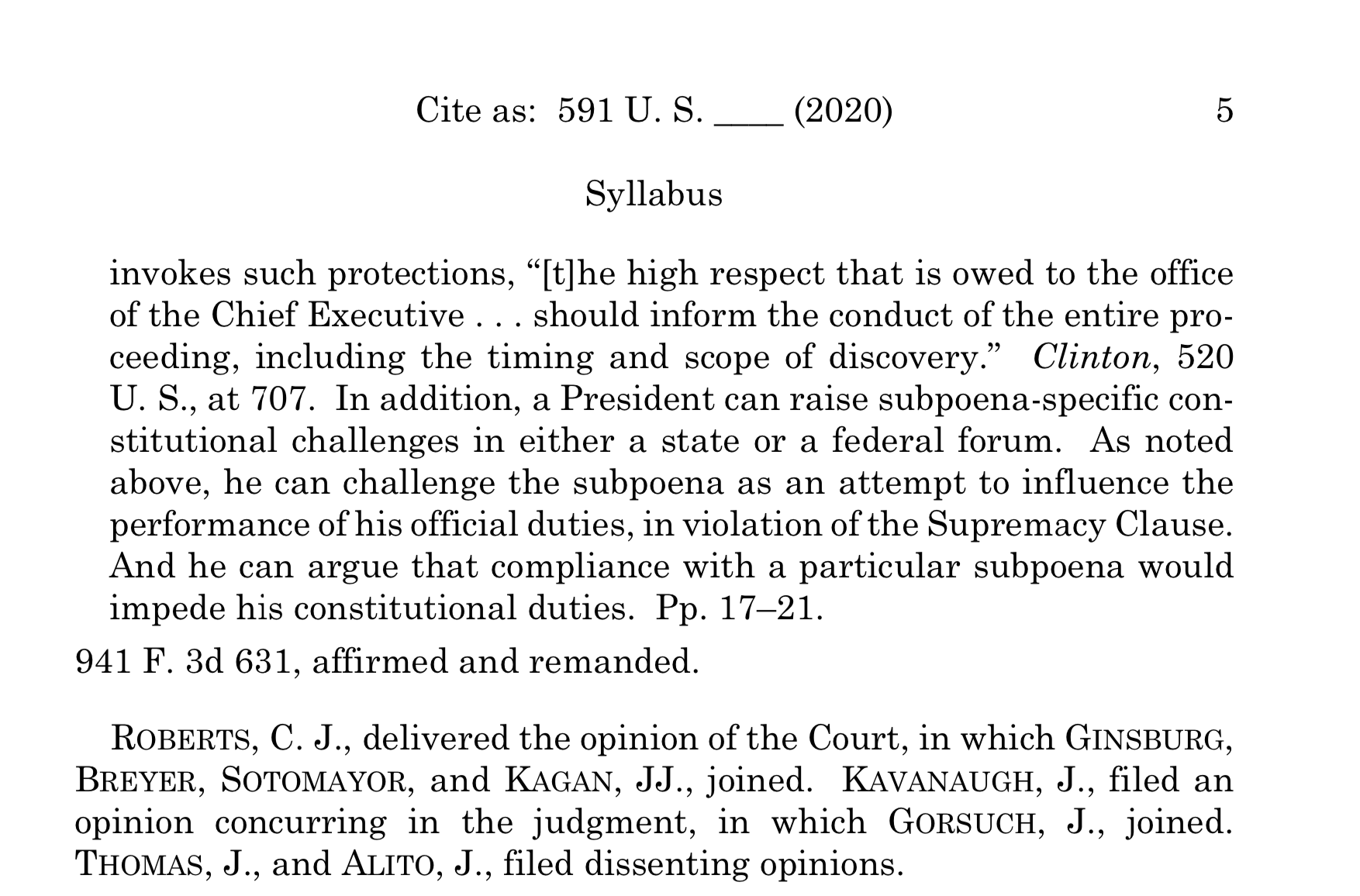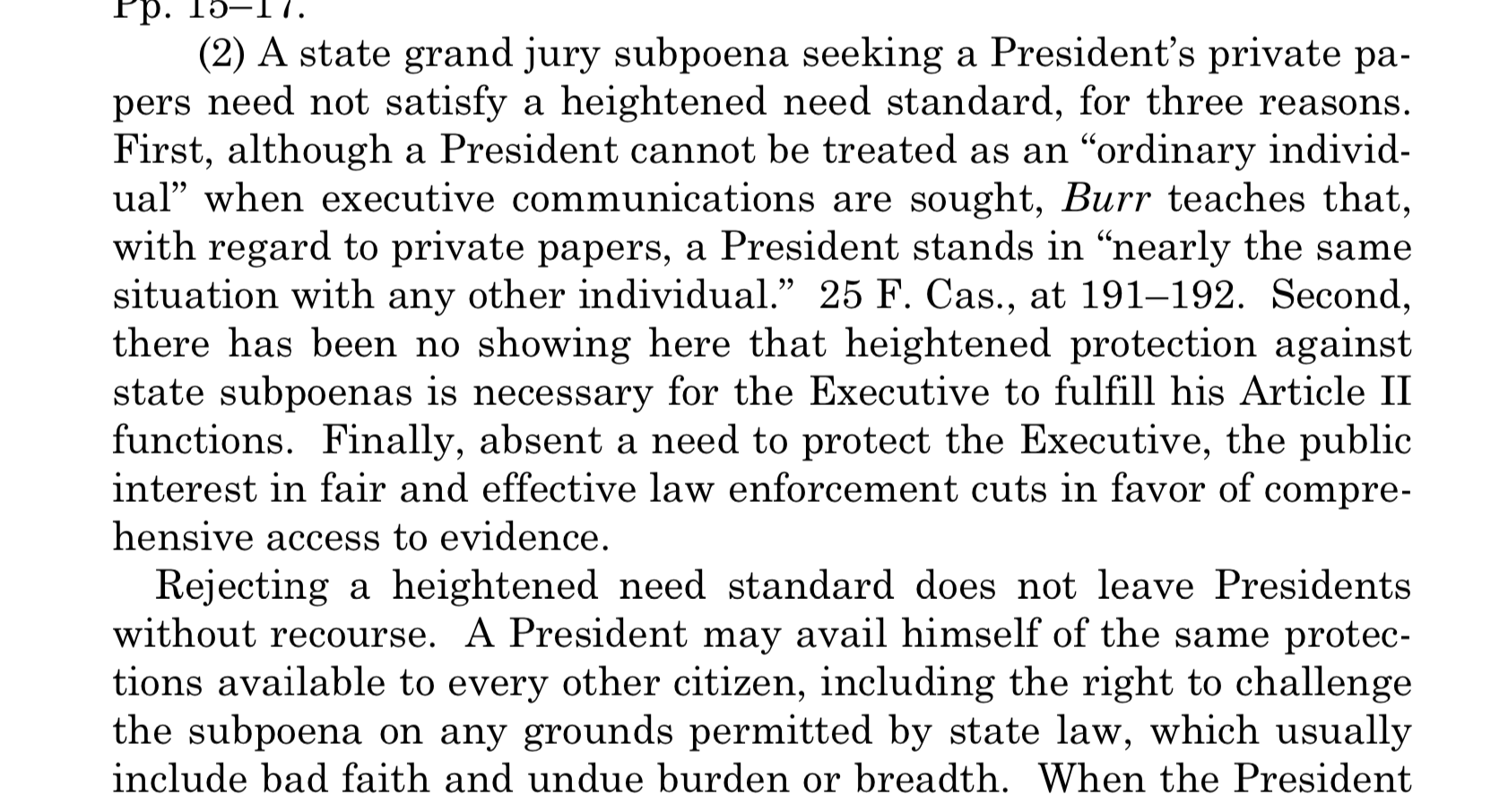 Today's big Supreme Court rulings in a nutshell:

– No President is above the law.

– No President is wholly shielded from state & congressional investigators.

– Courts can & must step in & resolve these disputes, just as the Supreme Court did today.

— Joshua A. Geltzer (@jgeltzer) July 9, 2020
Supreme Court won't allow Congress to get Trump tax and financial records, for now. The ruling returns the case to lower courts. https://t.co/Ph8bVC3D7B

— The Associated Press (@AP) July 9, 2020
So Deutsche Bank and your Russian friends made you appear rich again. You're going to prison, Traitor.

— Andrew C Laufer, Esq (@lauferlaw) July 9, 2020
GIANT FUCKOPOTAMUS!

— The Hoarse Whisperer (@HoarseWisperer) July 9, 2020
46 years ago this month, the Supreme Court unanimously ruled against Richard Nixon's attempt to block subpoenas for records held by the President. 3 of the Justices on the Court were appointed by Nixon,but all ruled against him. At 10, SCOTUS is expected to decide a similar Q…

— Neal Katyal (@neal_katyal) July 9, 2020
Whining begins.
No court has ever held that a president was "immune" to a grand jury subpoena or Congressional subpoena.

Your lawyers raised absurd arguments that were soundly rejected by seven out of the nine Supreme Court justices, including two justices you appointed.

— Renato Mariotti (@renato_mariotti) July 9, 2020
Your presidency is pic.twitter.com/2zoGwJJuDN

— The Lincoln Project (@ProjectLincoln) July 9, 2020
Noah, there is much more to it than that. The Court set out standards in both Vance & Mazars that uphold the rule of law and will allow this information to be gathered first in Vance & more slowly in Mazars.

Trump will face prosecution & justice in or (hopefully) out of office. https://t.co/TlNvLpO2X6

— Norm Eisen (@NormEisen) July 9, 2020
Profoundly important 7-2 victory in Vance v. Trump: No absolute immunity from state and local grand jury subpoenas for Trump's financial records to investigate his crimes as a private citizen. Being president doesn't confer the kind of categorical shield Trump claimed.

— Laurence Tribe (@tribelaw) July 9, 2020
"But that argument runs up against the 200 years of precedent establishing that Presidents, and their official communications, are subject to judicial process, see Burr, 25 F. Cas. 34, even when the President is under investigation, Nixon, at 706."
– Supreme Court today https://t.co/XEa0wgh1CS

— Neal Katyal (@neal_katyal) July 9, 2020
---
Unhingery continues
---
---