Forty-two nation-states called on Russian forces to withdraw from the Zaporizhzhia Nuclear Power Plant in Enerhodar, just two to four hours before another strike hit Enerhodar. The Russian military has lost so many troops that in some cases units have tried to force captured Ukrainians to fight as well as offering civilian Russian prisoners freedom for military service.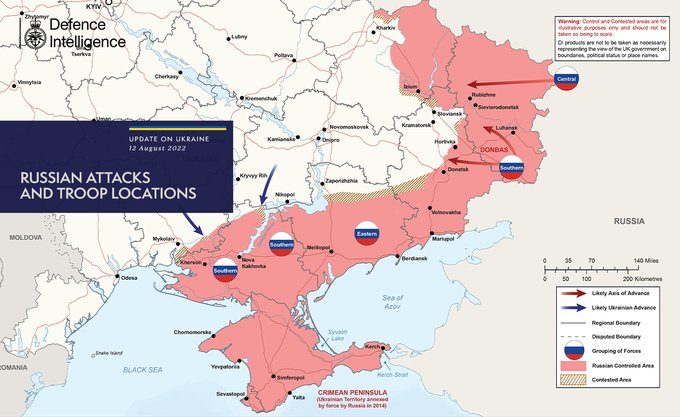 Russian and proxy troops in Ukraine are operating in roughly six force groupings.
Russian forces conducted ground attacks north of Kharkiv City, northwest of Slovyansk, east of Siversk, and made unspecified gains around Bakhmut.
Ukrainian forces reportedly struck a Wagner force concentration in Popasna, Luhansk Oblast, inflicting casualties.
Ukrainian forces struck the Antonivsky road bridge, likely keeping all three road bridges to and on the right bank of the Dnipro inoperable to heavy equipment.
Russian military recruitment and enlistment centers continue to face challenges in incentivizing Russians to sign military service contracts.
Russian occupation authorities continued rubleization measures and civilian data collection in occupied territories to set conditions for annexation referenda.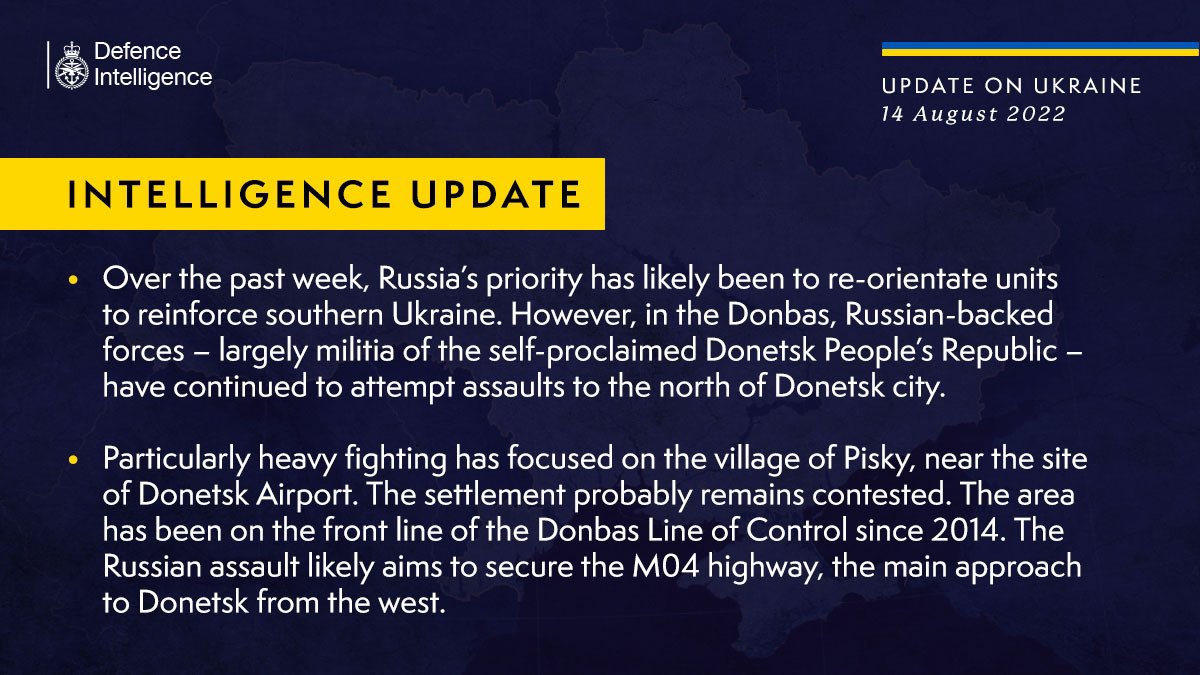 The military investments made over the past six months are accepted with gratitude, but leaders in the region believe the alliance must become more aggressive in the long term. They are mindful of the resistance from some corners of Congress to moving more U.S. personnel to Europe during a time of rising tensions with China, but most insist that having a greater American footprint in Europe is necessary to keeping Moscow at bay.

Even more vital, Baltic and Eastern European officials say, is a turbocharging of defense production lines to accelerate fulfillment of long-standing orders for weapons that these front-line countries say they require.

"HIMARS, Reapers, counter-battery radars: these are what we will need most in terms of military lethal power that is imminently needed to deter Russia," Kusti Salm, secretary general of the Estonian Defense Ministry, said in an interview. He was referring to high-mobility artillery rocket systems, drones capable of conducting surveillance and precision strikes, and technology used to detect incoming fire.

"We are on the brink of taking risks," Salm said. "Very heavy risks of our own national security tapping into some of our reserves. … And I know that there are other allies doing the same. So the only solution is rapidly ramping up the manufacturing power, and making sure the policy framework and policy financing signal support for this."

www.understandingwar.org/…

Supporting Effort #2—Southern Axis (Russian objective: Defend Kherson and Zaporizhia Oblasts against Ukrainian counterattacks)

Forty-two states, including all European Union members, released a joint statement calling on Russia to immediately withdraw from the Zaporizhzhia Nuclear Power Plant (NPP) in occupied Enerhodar, Zaporizhia Oblast around 0500-0600 ET on August 14, just two to four hours before further strikes hit the city. Ukrainian government sources reported that Russian forces fired six rounds at Enerhodar at 1500-1530 Ukrainian time (0800-0830 ET) on August 14, killing an employee of the NPP.[49] Russian sources accused Ukrainian forces of striking the NPP with foreign-manufactured kamikaze drones, GMLRS rockets, and NATO artillery systems.[50] ISW reported on August 13 that geolocated footage shows a Russian Pion 203mm artillery system operating roughly 11km from the Zaporizhzhia NPP.[51]

Driving the news: Days of heavy shelling in the area around Europe's largest nuclear power station intensified Sunday — as Russian and Ukrainian officials continue to blame each other for the strikes that have forced hundreds of civilians to flee in the past week.

Energoatom, Ukraine's nuclear power operator,

reported

Sunday that at least six Russian strikes on the nearby city of Enerhodar had killed one person and injured another. Russia's military currently occupies Enerhodar.

The big picture: United Nations chief António Guterres has called for a demilitarized zone at the plant in southern Ukraine.

Ukrainian forces again struck the Antonivsky road bridge near Kherson City overnight on August 13-14, likely ensuring that all three road bridges into central Kherson Oblast remain unusable.[52] Ukrainian government sources confirmed that Ukrainian forces struck the Antonivsky road bridge and stated that military convoys cannot cross the bridge.[53] Ukraine's Southern Operational Command stated that Ukrainian forces are continuing to target Russian ground lines of communication (GLOCs).[54] Footage of the strikes shows explosions from the Antonivsky Bridge as the missiles likely struck Russian military equipment, ammunition, or fuel transports on the bridge.[55] Ukrainian First Deputy Head of Kherson Oblast Rada (parliament) Yuriy Sobolevskyi claimed that a significant portion of the Russian military command left Kherson City, likely to avoid being trapped in Kherson City if Ukrainian strikes cut off all GLOCs connecting the right bank of the Dnipro River to the Russian rear.[56]

Russian forces did not make any confirmed territorial gains on the Southern Axis on August 14. Ukraine's Southern Operational Command reported that two Russian airborne detachments of an unspecified echelon attempted a failed ground assault towards Lozove, Kherson Oblast.[57] Ukraine's Southern Operational Command also reported that Ukrainian forces conducted successful missile strikes on Russian ammunition depots in Muzykivka and Nova Kakhovka, Kherson Oblast.[58] An explosion occurred in the port of Berdyansk, Zaporizhia Oblast.[59] Zaporizhia occupation official Vladimir Rogov claimed that a failure in fire safety protocols resulted in the explosion.[60] Ukrainian forces have previously struck the port of Berdyansk and partisans have been active in Berdyansk in recent weeks.[61] Russian forces intensified airstrikes along the line of contact in Kherson Oblast, including striking Bila Krynytsa, Velyke Artakove, and Bilohirka, Kherson Oblast.[62] Russian forces fired on Nikopol, Maharets, and Kryvyi Rih district, Dnipropetrovsk Oblast, damaging civilian and critical infrastructure.[63] Russian forces struck residential areas and port infrastructure of Mykolaiv City with GMLRS rounds and continued shelling along the entire line of contact.[64]

www.understandingwar.org/…

Russian and proxy troops in Ukraine are likely operating in roughly six groups of forces oriented on Kharkiv City and northeastern Kharkiv Oblast; along the Izyum-Slovyansk line; the Siversk-Lysychansk area; Bakhmut; the Avdiivka-Donetsk City area; and Southern Ukraine. The Kharkiv City and Siversk-Lysychansk groups are likely built around cores drawn from the Western and Central Military Districts respectively. The Izyum-Slovyansk axis is increasingly manned by recently formed volunteer battalions that likely have very low combat power. Wagner Group private military company (PMC) soldiers are in the lead around Bakhmut, while forces drawn from the Donetsk People's Republic (DNR) predominate in the Avdiivka-Donetsk City area. Troops from the Southern Military District (SMD) likely formed the original core of forces in Kherson and Zaporizhzhia Oblasts but have been reinforced with troops of the Eastern Military District, Airborne Forces, and Rosgvardia. None of these groupings is homogeneous—elements of various military districts, proxy forces, volunteer units, and other formations are scattered throughout the theater.

These dispositions suggest that Moscow is prioritizing the advance around Bakhmut and, possibly, toward Siversk with its Russian forces while seeking to draw on the enthusiasm of DNR forces to seize ground they have failed to take since 2014 on the Avdiivka axis. The high concentration of volunteer battalions around Izyum and Slovyansk suggests that that area is not a focus of Russian attention and may be vulnerable to Ukrainian counterattacks. The congeries of forces in and around Kherson Oblast may pose significant challenges to Russian command and control, especially if Ukrainian forces press a counteroffensive there.

www.understandingwar.org/…

Subordinate Main Effort—Southern Kharkiv, Donetsk, Luhansk Oblasts (Russian objective: Encircle Ukrainian forces in Eastern Ukraine and capture the entirety of Donetsk and Luhansk oblasts, the claimed territory of Russia's proxies in Donbas)

Russian forces conducted a limited ground attack northwest of Slovyansk on August 14. The Ukrainian General Staff reported that Russian troops tried to break through Ukrainian defensive lines in Dolyna, about 20km northwest of Slovyansk along the E40 Izyum-Slovyansk highway.[25] Russian forces continued artillery strikes between Izyum and Slovyansk, particularly along the Kharkiv-Donetsk Oblast border near Krasnopillya, Dibrovne, Kurulka, and Bohorodychne.[26]

Russian forces conducted several ground attacks around Siversk on August 14. The Ukrainian General Staff stated that Russian troops conducted reconnaissance-in-force operations near Serebryanka (11km northeast of Siversk) and Vesele (21km southeast of Siversk).[27] Russian forces additionally attempted to advance from Spirne and Ivano-Darivka, 20km and 15km southeast of Siversk, respectively.[28] Russian Telegram channels claimed that Russian forces have seized checkpoints in Spirne and now control the settlement, but ISW cannot independently confirm these claims at this time.[29]

Several Russian and Ukrainian sources claimed that Ukrainian forces conducted a strike (potentially with HIMARS) on a force concentration of the Wagner Group private military company (PMC) in Popasna (east of the Siversk-Bakhmut line) on August 14.[30] Russian Telegram channels reported that the Wagner Group suffered losses as a result of the strike.[31] The Wagner Group has been active in operations in the Popasna-Bakhmut area specifically and has likely contributed to Russian combat capabilities in this area, as ISW has previously reported.[32]

Russian forces continued ground attacks east and south of Bakhmut and made partial gains in this area on August 14. The Ukrainian General Staff stated that Russian forces had "partial success" in the direction of Bakhmut, but offered no specifics.[33] Russian forces reportedly fought around Soledar and Yakovlivka, both within 15km northeast of Bakhmut along the T1302 Bakhmut-Lysychansk highway.[34] Russian forces also continued fighting southeast of Bakhmut around Vershyna (15km southeast of Bakhmut), Kodema (20km southeast of Bakhmut), and Zaitseve (10km southeast of Bakhmut).[35] Russian sources claimed that Russian troops are advancing from positions in Vershyna towards the outskirts of Zaitseve and will continue to push north towards Bakhmut from Zaitseve.[36]

Russian forces conducted ground attacks north and northwest of Donetsk City on August 14. The Ukrainian General Staff reported that Ukrainian troops repelled a Russian attack on Krasnohorivka, about 20km north of the outskirts of Donetsk City.[37] Ukraine's Eastern Command Spokesperson Serihy Cherevatyi notably contested the Russian Ministry of Defense's August 13 claim that Russian troops had taken full control of Pisky.[38] Cherevatyi stated that Russian forces are still actively fighting in Pisky and towards Pervomaiske (about 10km northwest of Pisky along the E50 highway), but that Ukrainian troops retain control of the town.[39] Cherevatyi's assertion is supported by geolocated footage of a Russian strike on a building in Pisky, which suggests that the Russians are still targeting Ukrainian troops within the settlement rather than fully controlling it.[40] Russian sources also claimed that Donetsk People's Republic (DNR) troops have begun fighting towards Nevelske, just 1km west of Pisky.[41] While Russian forces likely have not cleared the entirety of Pisky, they are likely consolidating their positions in order to launch further attacks westward.

Russian forces conducted limited ground attacks southwest of Donetsk City on August 14. The Ukrainian General Staff reported that Russian forces attacked Pavlivka, Vremivka, and Prechystivka, all settlements within about 25km of the Zaporizhia-Donetsk Oblast border.[42] Russian troops continued air and artillery strikes in the area between Donetsk City and the southwestern oblast border.[43]

"The Russian Army is seriously depleted," said Seth G. Jones, the director of the international security program at the Center for Strategic and International Studies. "That has implications on their ability to fight an effective ground campaign in Ukraine."

As the Russian military suffers steep casualties, American and European officials said, it has struggled to bring reservists and new recruits into the fight.

Russia has already committed nearly 85 percent of its fielded army to the war, drawing on troops from the country's far east and deployments around the world, defense officials say. Before invading Ukraine in February, the Russian military had about 900,000 active-duty troops.

"The Russians probably don't have enough effective combat forces to fully take Donetsk," Mr. Jones said in an interview.

Moscow has also recruited Chechen troops and fighters from Syria, whose president is allied with Mr. Putin. By relying on these fighters, officials said, Mr. Putin has avoided a domestic outcry over casualties and the need, so far, to call a general mobilization, which is akin to a draft.

"They increased the age for recruitments in Russia and have been doing other things to sweeten the pot" for volunteers, said Evelyn Farkas, the director of the McCain Institute and a senior Pentagon official for Ukraine in the Obama administration. "They're pulling people from all over."

But, Ms. Farkas added: "Unless they have a mass mobilization, which I don't see them being able to do at this point politically, they're going to be at a loss."

After seizing Luhansk, Russia said it was pausing the campaign in the east to regroup and rearm. But it continued to shell cities and towns in the region, and its troops continued to fight. Meanwhile, Ukrainian troops went on the offensive in towns in Donetsk, taking back slivers of land there.

As fighting intensified in southern Ukraine, a series of explosions on Tuesday rocked a Russian air base in Crimea, a peninsula in the south that Russia illegally annexed in 2014. Satellite images show at least eight wrecked warplanes at the site of the explosion.

Ukraine has not officially asserted responsibility for the explosions, but a senior Ukrainian military official said the country's special forces and local partisan resistance fighters loyal to the government were behind the attack.

With Ukraine on the offensive to regain territory in the south, officials say Mr. Putin may have to shift more troops there.

The Russian military has lost so many troops that in some cases units have tried to force captured Ukrainians to fight, according to retired Gen. Philip M. Breedlove, who was NATO's supreme allied commander for Europe when Russia annexed Crimea.

"They have a tremendous problem of manpower and an even tougher problem that the manpower they have is not well trained," General Breedlove said in an interview. "Their best units have already been bloodied."

Pentagon officials say that it becomes increasingly difficult for Russian units to press on when they are sustaining high casualty rates.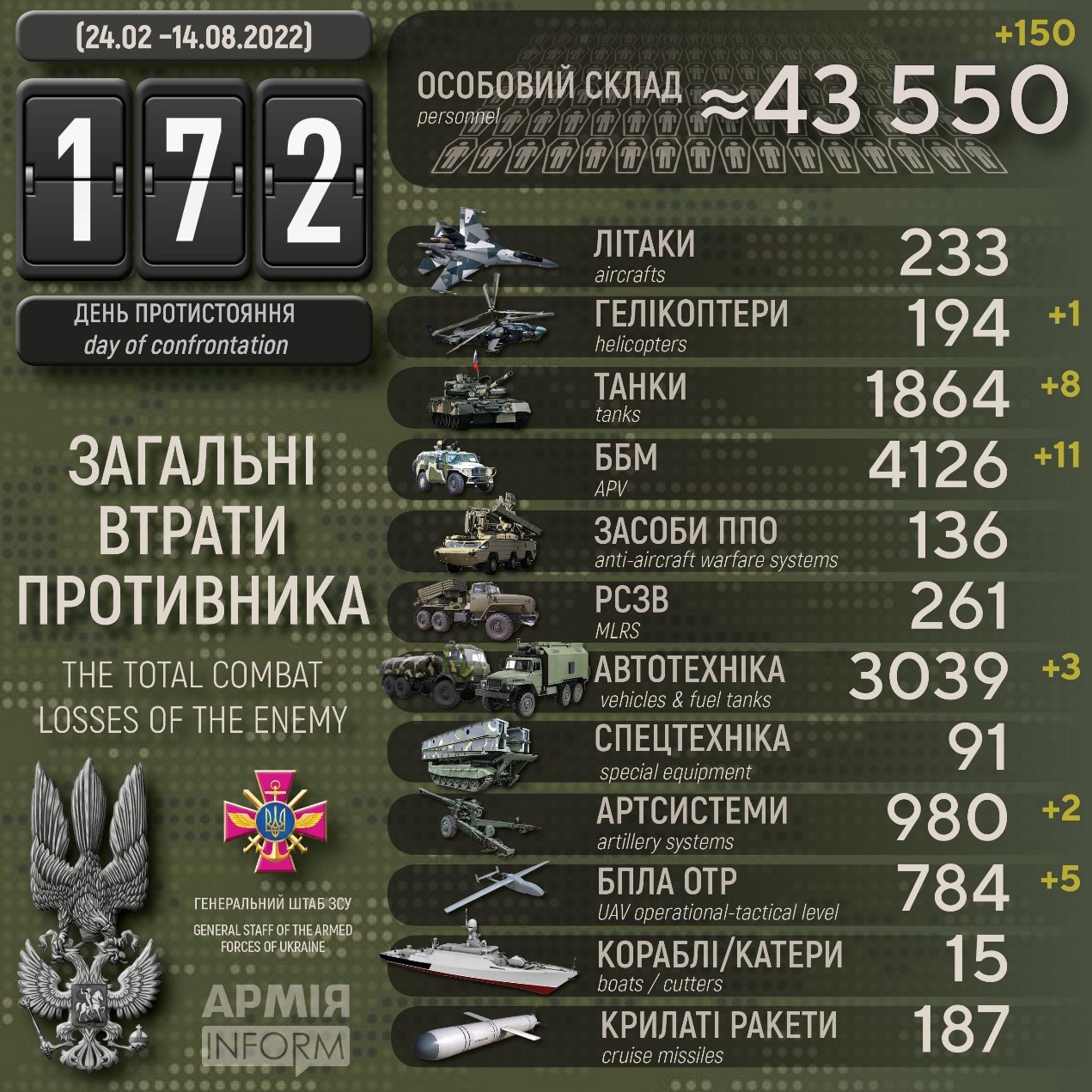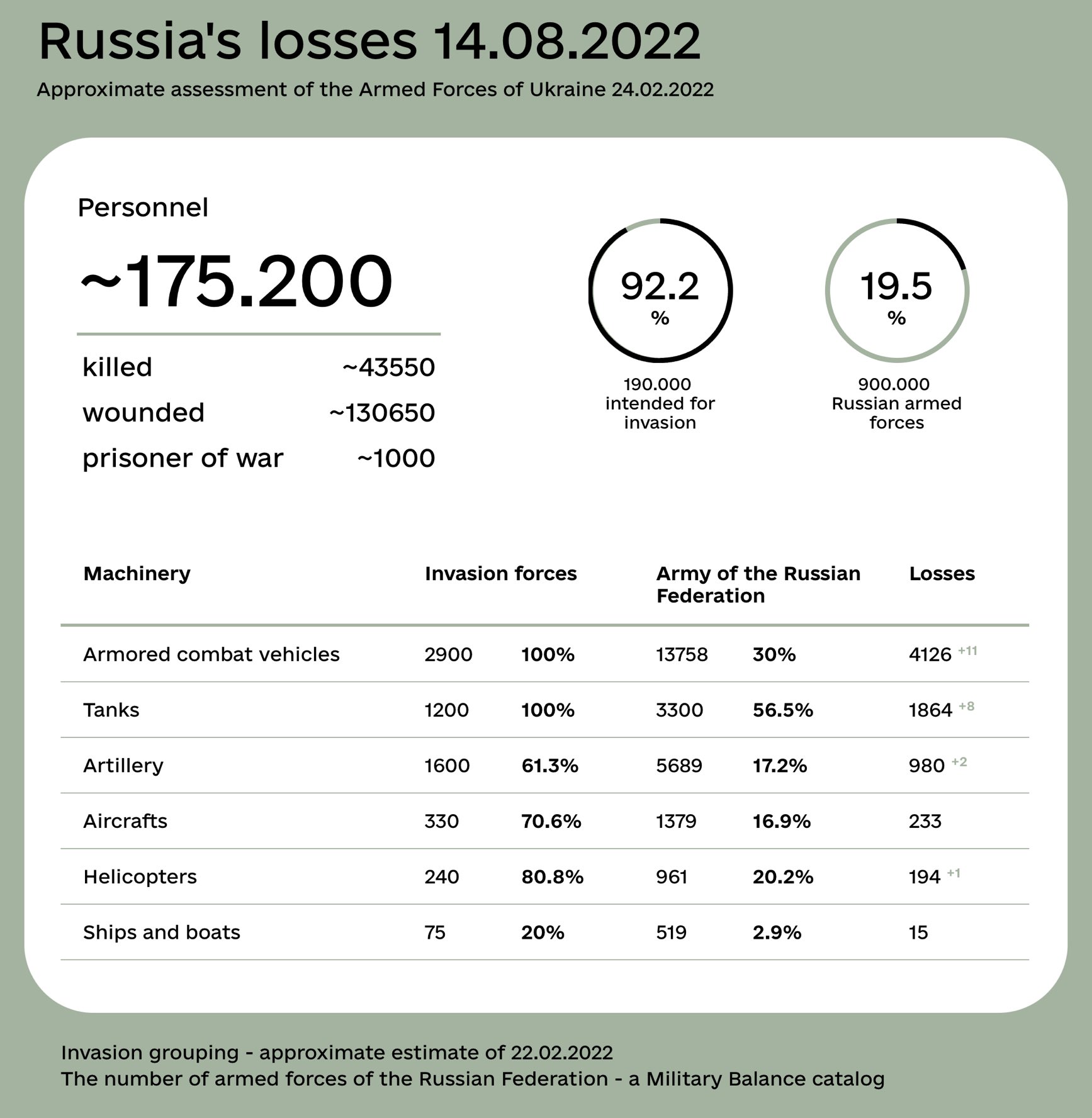 This is a Creative Commons article. The original version of this article appeared here.