All that paid pandering to Russia and plutocrats now yields some indeterminate results that could be dressed up as "stochastic" but after decades we know where Trump's narcissism leads. Trump's personality disorder becomes further operationalized as the administrative state gets further fractured. The 2020 media effect of authoritarianism expands. There's nothing "random" about it.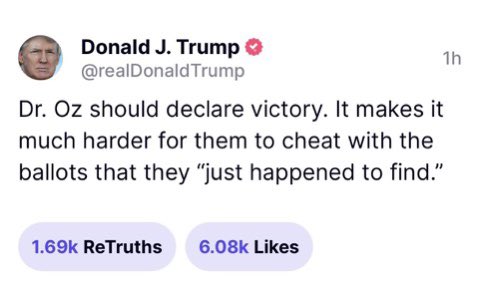 The monster of Trumpism runs amok as a remake of Aliens (the sequel to Ridley Scott's Alien) or like flying(sic) monkey's paw and monkey pox landing on the US shore. "Game over, man." For governance, elections, and the administrative state, it's game over when Sean Hannity is the wizard of OZ.
Michael Bender and Maggie Haberman revealed in a New York Times report that behind the scenes, former President Donald Trump was shocked that his endorsement didn't mean a blowout win for Mehmet Oz.

Trump infamously told a crowd of his supporters that Oz was going to win because he was on television.

"I've known him a long time. He's on that screen," Trump said. "He's in the bedrooms of all those women, telling them good and bad. And they love him."

Trump assumed Oz was going to win because his show was once a successful one and he got the Trump brand behind him. Yet, Trump has quickly realized that he can't control the MAGA world he created. At one point, Oz was even

booed by a Trump audience.

The tumultuous start to the Republican primary season, including a down-to-the-wire Senate race that divided conservatives in Pennsylvania on Tuesday, has shown how thoroughly Donald J. Trump has remade his party in his image — and the limits of his control over his creation.

In each of the most contentious primary races this month — including two closely watched contests next week in Alabama and Georgia — nearly every candidate has run a campaign modeled on the former president's. Their websites and advertisements are filled with his images. They promote his policies, and many repeat his false claims about election fraud in 2020.

But Mr. Trump's power over Republican voters has proved to be less commanding.

Candidates endorsed by Mr. Trump lost governor's races in Idaho and Nebraska, and a House race in North Carolina. In Senate contests in Ohio (where his pick won earlier this month) and Pennsylvania (which remained too close to call Wednesday morning), roughly 70 percent of Republicans voted against his endorsement. In contests next week, his chosen candidates for Georgia governor and Alabama senator are trailing in polls.

Long known for being dialed into his voters, Mr. Trump increasingly appears to be chasing his supporters as much as marshaling them. Republican voters' distrust of authority and appetite for hard-line politics — traits Mr. Trump once capitalized on — have worked against him. Some have come to see the president they elected to lead an insurgency as an establishment figure inside his own movement.

Trumpism is ascendant in the Republican Party, with or without Mr. Trump, said Ken Spain, a Republican strategist and former National Republican Congressional Committee official.

"The so-called MAGA movement is a bottom-up movement," Mr. Spain said, "not one to be dictated from the top down."

Shofar, so not-so-good

Along these lines, it is interesting that, as noted by the New York Times, win or lose, Trump endorsees tend to get around one third of the Republican vote in each primary. This seems to indicate that while Trump still leads a sizable portion of the party, he doesn't necessarily lead the majority of it. That being said, while November will be the true test, Republicans appear willing to fall in line behind Trumpism when it comes to general elections — after all, in 2020, 94 percent of Republicans voted for Trump. Given this, Trump can (and, to some extent, does) lead the party with a minority — while two thirds might support other wings of the party, they aren't so opposed to Trump that they won't fall in line behind him. Indeed, 60 percent of Republicans say they still view Trump as the leader of the party.
The 5th Circuit just dismantled the SEC's power to enforce securities law. This decision is beyond radical. It is nihilistic.
You need an administrative state to deal with things like pandemics, not 50 of them.
This is a Creative Commons article. The original version of this article appeared here.