It has come to this, despite complaints that it's all happening too fast while Trump refuses to follow the law. As Speaker Pelosi prays for Trump, so should we pray for the nation.
Two presidents have been impeached by the House: Andrew Johnson and Bill Clinton. No president has ever been convicted by the Senate, and so far there is no evidence that Republicans are willing to defect in large enough numbers to convict Trump. We're not even sure any House Republicans will vote to impeach him.
Republicans control the Senate and thus can shape the trial to Trump's political benefit. The trial is expected to start in January and could last anywhere from two weeks to two months.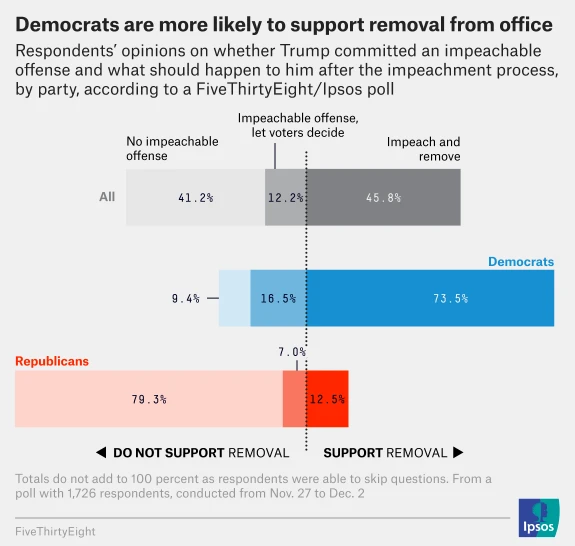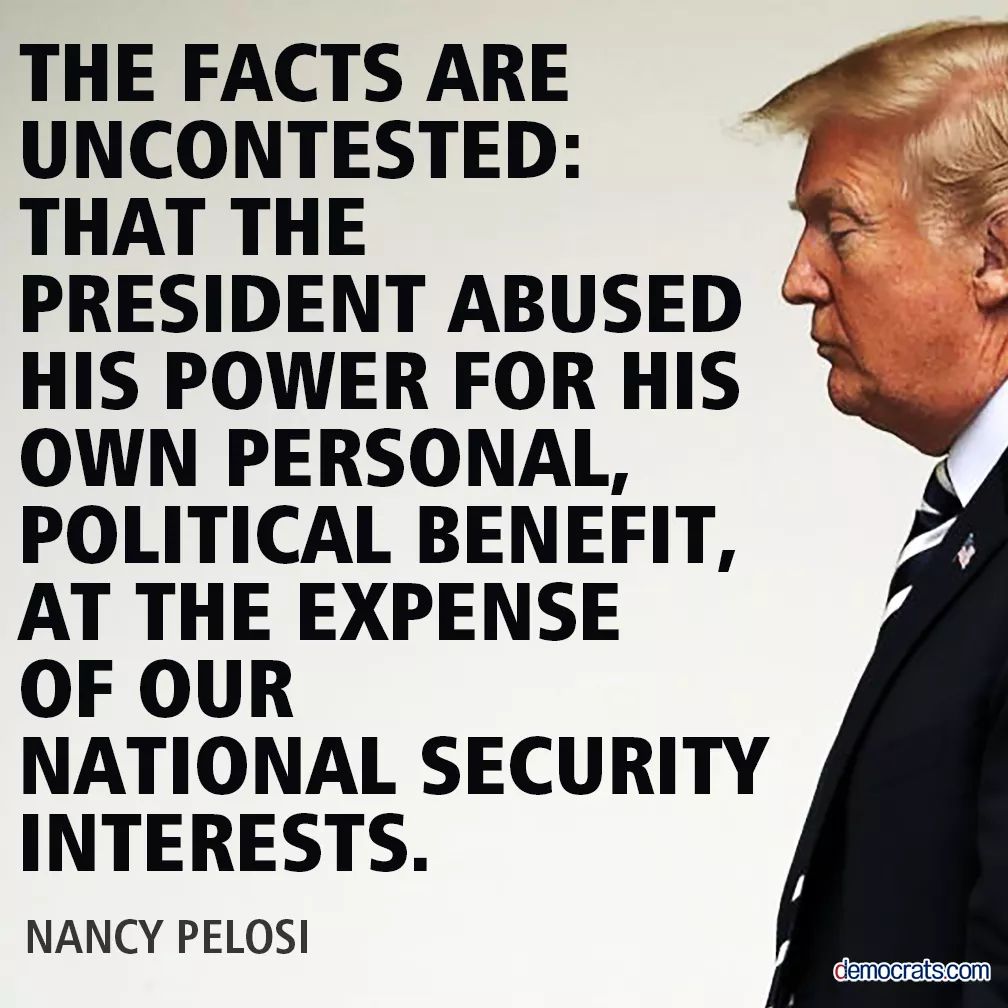 Memo to Dems:

Don't get skittish about articles of impeachment. At a minimum, include obstruction of justice — because that will *strengthen* the case against Trump's Ukraine extortion as well.

New piece, with reporting on what Dems are thinking now:https://t.co/fwVRriTmKC

— Greg Sargent (@ThePlumLineGS) December 5, 2019
Trump abused the power of his office to solicit foreign interference in our election and help his campaign.

He withheld millions in military assistance from an ally to pressure them to do so.

We must hold this president accountable. No one is above the law. https://t.co/AkGy29Qrny

— Adam Schiff (@RepAdamSchiff) December 5, 2019
The same James Rosen who quit his Fox News job in late 2017 amid reports he sexually harassed coworkers. He now works for Sinclair Broadcasting, which you may remember from the creepy Deadspin video of all the anchors reading the exact same pro-Trump script. https://t.co/97yXidfwnJ

— Bobby Lewis (@revrrlewis) December 5, 2019
This is the secret to Donald Trump's orange color https://t.co/s0T774OHys

— Mother Jones (@MotherJones) December 5, 2019
My bet is he leaves an hour earlier so Pence can pardon him before Pence leaves too

— Jennifer Rubin (@JRubinBlogger) December 5, 2019
KYIV, Ukraine (AP) — President Donald Trump's personal lawyer Rudy Giuliani was in Ukraine on Thursday, reviving the efforts that landed him and Trump in the impeachment inquiry now roiling Washington. https://t.co/7pCUW8fLCa

— Michael Tackett (@tackettdc) December 5, 2019
To be clear, as the House is set to impeach Trump for inviting foreign interference in 2020, his personal lawyer is in Ukraine attempting to dig up more political dirt. And note who he's meeting with. Do you think Russia might be fueling this fire? https://t.co/jqiyGdJbiS

— Jim Sciutto (@jimsciutto) December 5, 2019