Because that darn internet is like where the wind comes sweepin' down the plain, especially in the Norman, Oklahoma Public School District.
NPS, like many districts, is also making teachers review their classroom libraries and remove any titles that don't have 2 research articles demonstrating their value. Teachers were given virtually no time to accomplish this so students returned to classes with empty bookshelves.

All of this comes as staff members tell me they are still reeling from the firing of a teacher over the summer. They tell me the district is "extremely retaliatory." @OKCFOX will be following up with district officials asap.

I'm told it was sharing this resource that sparked recent action against the Norman High English teacher: Brooklyn Public Library is offering any American teen unlimited digital + audio access to banned + challenged books. Called Books UnBanned. @OKCFOX

🚨UPDATE 🧵 I just spoke with the Norman High English teacher. She confirms she shared the library QR code. "Immediately after I was removed from my position and placed on leave. Teachers across the district have been told by administration …"

(Continued below 👇)

@OKCFOX

"to either remove or restrict student access to classroom library texts for fear of a potential accreditation downgrade associated with any perceived violations of HB 1775.…" (continued 👇)

This teacher, now pulled from her a Norman High classroom, finished her comments- "Let me be absolutely clear: I place the primary responsibility for this chilling of free speech and free association at the feet of Ryan Walters, Governor Stitt, and their ilk at 23rd & Lincoln."

NEW🌟 Many of you have reached out asking how to best support this teacher. I've spoken with her again. Here's what I know- she has NOT been in contact with

@ACLUOK

. She IS a member of a teacher's association, meaning she does have access to legal rep. She meets today with NPS.

In the meantime, she's asking anyone who wants to help to donate to @ACLUOK as they are among those leading the fight against HB 1775, Oklahoma's "anti CRT law."

• • •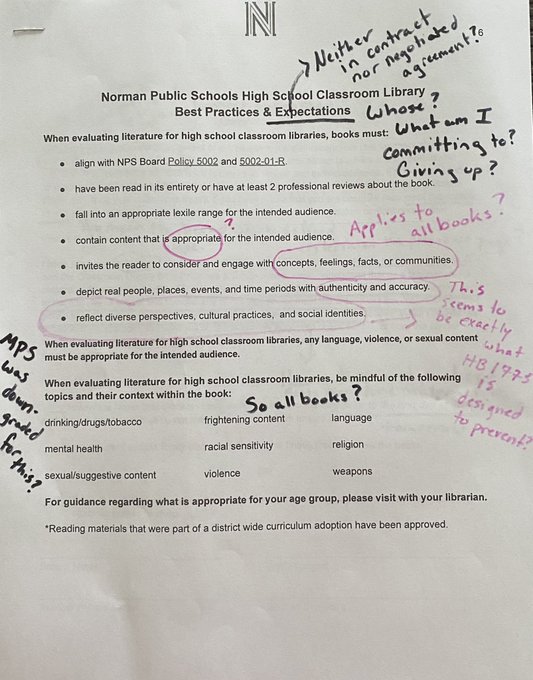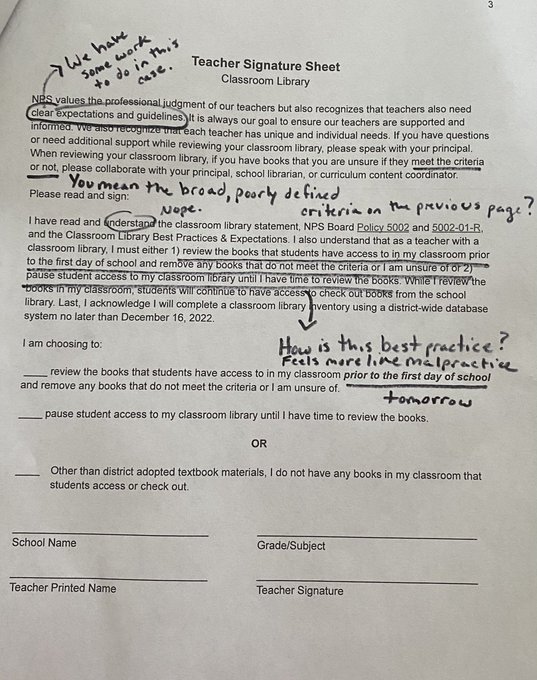 In July, Mustang and Tulsa Public Schools were penalized for violating HB 1775.

Ryan Walters supported the State School Board's decision to downgrade both district's accreditation.

"They were pushing an ideology rather than Oklahoma academic standards," said Walters. "It was telling students to feel a certain way and instructing faculty to tell students to feel a certain way."
This is a Creative Commons article. The original version of this article appeared here.