If 70 million voted for Trump, the GOP expects that number or more will rise up to nullify the 2020 election and overthrow the government. Just remember that Kimberly Guilfoyle Humiliated the Trump Campaign by Offering a Lap Dance to the Highest Donor. Expect more stunts that won't finance what they promise.
I'm told by a top Trump adviser, who thinks it's a terrible idea, that some aides are pushing Trump to hold a rally as soon as *tomorrow night*

When asked where, this person made it clear it would be out in deep red Trump country: "It's not like he's going to hold it BLM plaza." https://t.co/yxWcEiUjjU

— Ryan Lizza (@RyanLizza) November 9, 2020
The grift continues.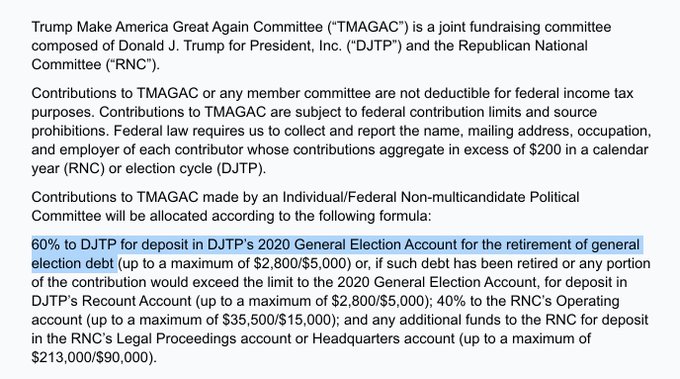 2/ To be clear, there is no credible strategy of recounts that result in anything other than Joe Biden as president-elect.

This is about appeasing the president's ego and currying favor with him, the sources say.

— Jake Tapper (@jaketapper) November 9, 2020
Donald Trump's waning days in the White House will include "meltdowns upon meltdowns," his niece warned. https://t.co/qvmEIdhIbJ

— HuffPost Politics (@HuffPostPol) November 9, 2020
My preliminary gut feeling (or hope?) is that Trumpism is all about Trump, and w/o him on the ballot the GOP loses the ability to get these disaffected deplorables to the polls. Maybe Trump will find a way to keep grifting off them! But that won't be to the GOP's benefit. 5/5

— Markos Moulitsas (@markos) November 4, 2020
I wrote about the 2020 presidential election, Rudy Guiliani, Four Seasons Total Landscaping, Fantasy Island Adult Bookstore and how the Trump presidency ended next door to a porno shop that Ed Rendell once tried to shutter. My report from Northeast Philly: https://t.co/anXLa1PNrQ

— dhm (@dhm) November 8, 2020
The suburbs did Trump in.

As of last night, Biden improved on Clinton's performance in 373 suburban counties by about 4.6 percentage points.https://t.co/wXQtD97id4

— Ben Swasey (@benswasey) November 9, 2020
There's still more rubes out there.

That's from Graham's interview today on @SundayFutures. He alleged pervasive cheating (fact check: it's partly bogus and mostly hype) and claimed that if Republicans didn't contest the results, they'd be permanently unable to win presidential elections. https://t.co/zZYpo5P0GN

— Will Saletan (@saletan) November 9, 2020
There won't be any confederate Trump statues, even if he promoted lost causes.
Always good to get their license plate numbers.

— Jeff Stein (@SpyTalker) November 9, 2020
Beware of what I call the dictator's treadmill. Leaders who fear prosecution, jail or a life in court will do anything, even stoke violence, to stay in power. Happens all the time. Dictator's treadmill, once you're on, hard to get off.

— Richard Engel (@RichardEngel) November 8, 2020
We watch this about ten times a day pic.twitter.com/Tl4G7NpxeC

— MeidasTouch.com (@MeidasTouch) November 9, 2020