There are roughly 332 million people in the United States today. I would say give or take, because we are about 600k short, as Covid has killed one in every 500 human beings in the country. That is sobering. I know hundreds of people, most of them, but not all, still alive after Covid. But I have never computed it until CNN did it for me.
Early on the mainstream media did a tremendous disservice by plastering headlines about how the disease was much less likely to affect the young. So the young, naturally, thought "So what?" This woman, a 29 year-old bride to be named Samantha Wendell, probably thought something similar. She probably thought she was young, so she was safe. But Delta is a game changer in that department.
Samantha Wendell could not wait for her wedding this summer. For nearly two years, the 29-year-old surgical technician had been meticulously planning every detail, from the seating chart to the Tiffany blue floral arrangements, her fiancé, Austin Eskew, said. Wendell and Eskew wanted to start a family as soon as they got married, Eskew, a correctional sergeant, said. The couple, of Grand Rivers, Kentucky, hoped to eventually have three, maybe four, children.

So when the Covid-19 vaccines came out, and some of Wendell's co-workers said the shots caused infertility — an unfounded claim that has gained ground despite top reproductive health groups refuting it — she "just kind of panicked," Eskew, 29, said.
Now here I will take a detour and skip to an ESPN reporter named Allison Williams, who is probably going to be mentioned more and more as we hear about the expectant moms and those trying to start a family suffering from Covid. Because you see, she is high profile, and woefully misinformed.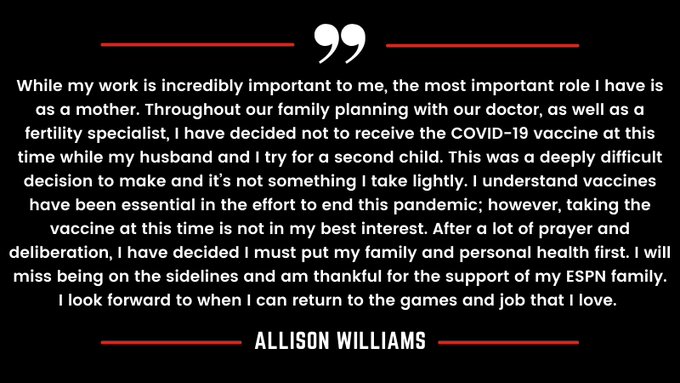 This woman said in public that she is putting her family and health first by not getting the vaccine, because she wants another child. (Yes my head hurts too) But there is zero evidence whatsoever to suggest that the vaccine would compromise any potential pregnancy.
So let's return to the story of Ms. Wendell. She had co-workers, that, and this is just a guess, had Doctorates in Biochemistry from Facebook University spout off in her ear about how vaccines are bad for fertility. She listened. She hesitated.
And then she was gone-just like that..
.."Misinformation killed her," said Maria Vibandor Hayes, 39, a cousin who lives in New Orleans and said goodbye over FaceTime before Wendell died on Sept. 10. "If we can save more lives and families' lives, then this is the gift that she left for us to deliver." Despite her initial hesitancy, Wendell herself had recently changed her stance on the vaccine. As the delta variant spread, causing cases to rise, and restrictions were instituted for those who were unvaccinated, she concluded in early July that it made sense to get vaccinated ahead of the couple's honeymoon to Mexico.

She and Eskew got vaccination appointments for the end of July. In the meantime, wedding preparations continued: dress fittings, menu tastings, and a bachelorette party in Nashville, Tennessee.
She would come back from Nashville sick. She began to uncontrollably cough. She got weaker. The disease took her over. Last Friday, after being informed that her situation was hopeless, her family disconnected life support. She was so close to getting the vaccine. She had put aside the rantings of her co-workers, and chose science over rumor. She was this close.
But thanks to rumor, and misinformation, and lies, and ignorance, she was influenced just enough, just long enough, to let Covid into her body and end her life.
How do those co-workers feel do you suppose? Do they understand that their mouths, and the spouting off of them, and likely, lets face it, their insidious addiction to social media and susceptibility to miscreants likely contributed to Samantha's death? Do they understand what they have done? Will anybody ever charge people with deliberate spreading of misinformation on social media with manslaughter?
And how many more families have to be destroyed, marriages cancelled, lives ended, tears shed, before the truth about the consequences, and the protection, finally seep in?
Or is it still just about the notifications button, and the temporary endorphin boost, the digital drug we call social media provides?
America is underdosing against Covid by overdosing on Facebook and the like.
And yes, it is deadly.
Samantha Wendell planned her whole future that never came, because the lies landed in her brain faster than the truth.
Then it was too late.
Social media misuse is undermining efforts to end this pandemic.
Like and share if you agree.
-ROC
I am weak, dealing with a stretch of fatigue I have been unable to pinpoint. We continue to monitor for cancer recurrence. This is the only living my health allows me to earn and I appreciate you. My newsletter is unaffected.

Sign up here to

subscribe! It publishes every Wednesday and is full of original reporting, laughs, and fun!
If you prefer to support but not subscribe you can help here-www.gofundme.com/…OR..do both! I really need your help!
Your support is appreciated and I promise you I will give you my best writing and do my best to constantly improve as a writer!
Love,
-ROC
This is a Creative Commons article. The original version of this article appeared here.