Donald Trump, Vladimir Putin and Angela Merkel have joined French President Emmanuel Macron and other world leaders at an Armistice ceremony at the Arc de Triomphe in Paris https://t.co/c05PtqPkl4 #ArmisticeDay100 pic.twitter.com/eyCp0AkHBm

— ITV News (@itvnews) November 11, 2018
As with other international visits, Trump can't handle that the world really can do without him as the Paris Peace Forum begins tomorrow and Trump will slink away, as if he could ignore the event, having made no indication he would attend for many weeks. Then again, he could be rushing back to thwart #TrumpRussia matters.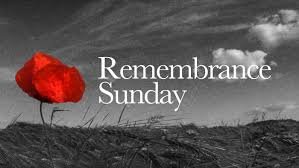 "French diplomats speculated sarcastically that the reason for the uncertainty is that no one in the Trump administration had dared mention the conference to the president."
This "low energy" resembles the obstinance Trump exhibited at the G-7 meeting in Canada. His absence from yesterday's event at a US cemetery outside Paris seemed to fit that behavior when things aren't celebrating his presence. Pouting is oh so presidential.
Was he afraid of encountering Merkel, Trudeau, and May? Everyone went in motorcades for the one hour trip from Paris to the Saturday ceremony. One assumes Chief of Staff Kelly made his trip the same way.
Trump apparently was at best willfully ignorant about the Paris Peace Forum organized for the days following the Armistice centennial, since he's incapable of handling non-binary alliances. Because when you're a star….
Trump ditched the WW1 commemoration and was over 2 hours late to the dinner of world leaders. What did he do all day? https://t.co/Bmakl3CTHv

— Scott Stedman (@ScottMStedman) November 11, 2018
"Trump will use the U.S. military for a pre-election political stunt but sits in his hotel instead of honoring those who fought and died for America."
It was not completely clear why the Trumps were unable to attend. The cemetery is 50 miles from Paris. Perhaps the president was planning to travel on Marine One, which is occasionally grounded by the Secret Service.
But the sight of dignitaries arriving at other sites outside Paris, including Canadian Prime Minister Justin Trudeau, German Chancellor Angela Merkel and French President Emmanuel Macron, led some foreign policy analysts to speculate the U.S. commander in chief just wasn't up for it.
Thomas Wright, a Europe expert at the Brookings Institution, noted Trump announced he was going to France on a whim in August after abruptly canceling his order for the Pentagon to stage a parade.
The Peace Forum was intended "a bit as a counterpoint to 'America First,' " Wright said, referring to Trump's nationalist foreign policy in which he has unsettled allies on trade and defense. "Now they have this weird situation of Trump being there [in Paris] but the forum going against everything he and [National Security Adviser John] Bolton stand for. . . . My impression is that he's going to pretend like it's not happening."
Rather than make the hour-long drive (Aisne-Marne is only 55 miles from Paris), the low-energy president remained behind at the U.S. ambassador's residence. It's not as if he didn't sacrifice anything, however. Odds are that his room didn't have Fox News. So he was probably reduced to watching CNN all afternoon. If the New York dating scene was Trump's personal Vietnam, this was his personal Verdun.
The irony is that Trump prides himself on being pro-military. When asked this week to comment on Michelle Obama's new memoir, in which she wrote that she could never forgive him for spreading the "crazy and mean-spirited" birtherism conspiracy theory, he replied that he could never forgive President Barack Obama for "what he did to our United States military." And what did Barack Obama do that was so awful? He spent a little less for defense than Trump is.
None of the excuses for his behavior make much sense unless he's been talking on his unsecured phone or having meetings with Russian intermediaries. Whatever deals he's made since Helsinki haven't seemed to help, and whatever help the Russians may have tried in the run-up to the election got eclipsed by White House incompetence and stunts.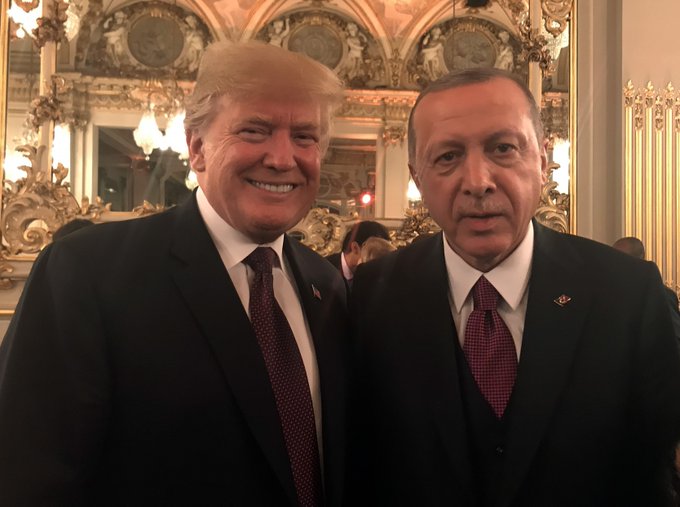 No amount of Bill Shiney objects can occlude the "optics" contrast between heads of state showing up on time and Trump opting out or showing up two hours late to a Saturday dinner.
OTOH Trump did make an effort to have a selfie taken with Erdogan, presumably to try to put himself on the better side of the Khashoggi matter.but also to suck up to Putin.
Trump did show up for Sunday's Remembrance Day ceremony and exchanged pleasantries with the boss:
Watch as Vladimir Putin gives Donald Trump a thumbs up at Armistice Day commemorations in Paris.

Live updates: https://t.co/DI2w7V7YqX#ArmisticeDay100 pic.twitter.com/FksAwkVXCn

— euronews (@euronews) November 11, 2018
and then there's the absurdity of topless protesters rushing Trump's motorcade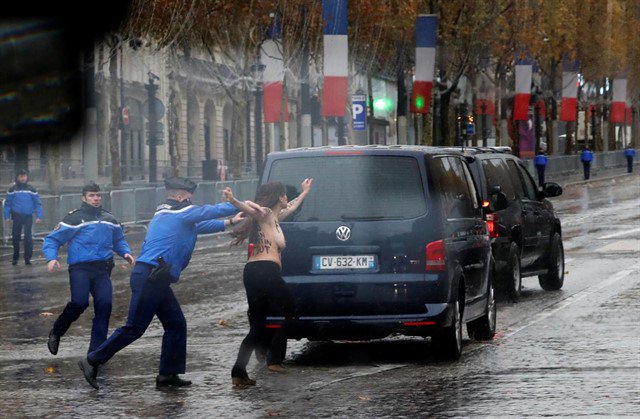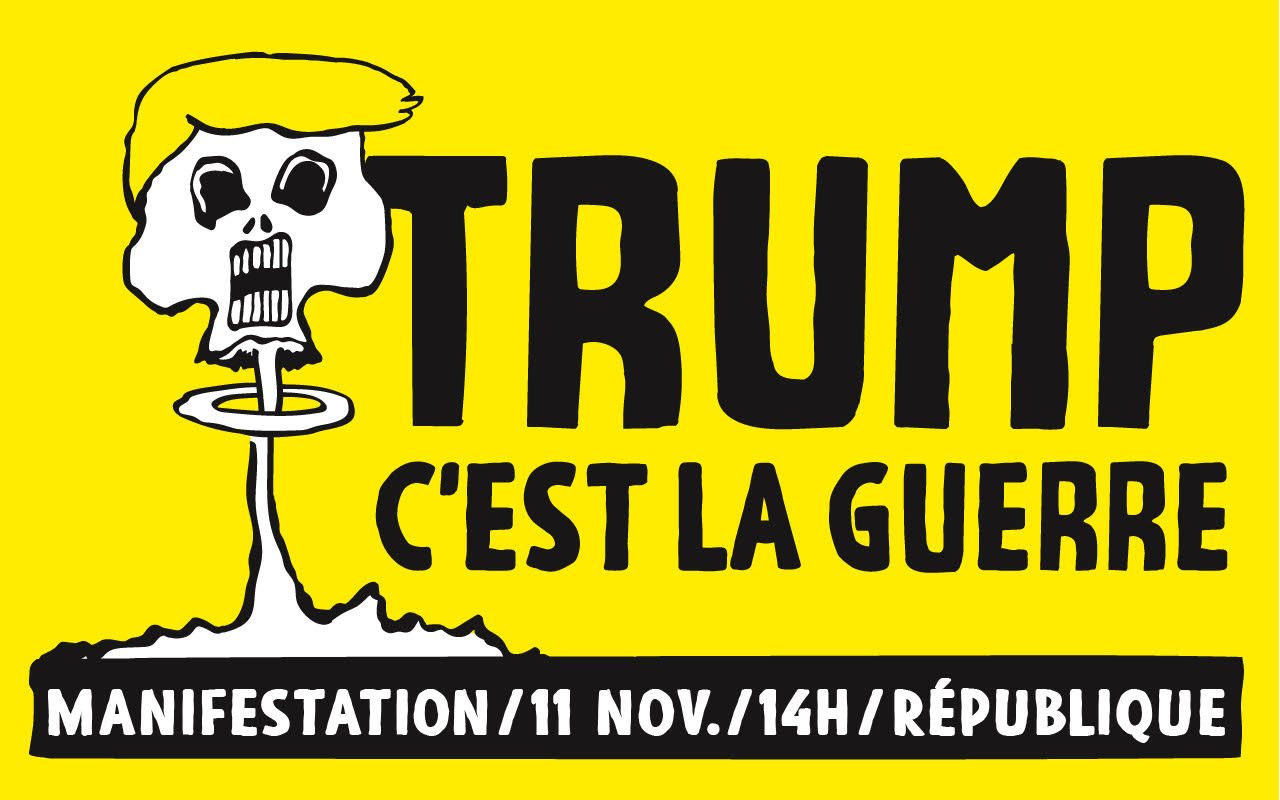 …Under Trump's "America First," the United States is self-isolating, and risks missing the opportunity to orient the rules of tomorrow, leaving others a chance to fill the vacuum.

Donald Trump needs to hear what the "good will powers," as French minister of foreign affairs calls them, and civil society from all over the world have to say.

At its heart, the Paris Peace Forum fundamentally aims to be a rejection of the world of Trump, Putin, and Xi, a "civil society" answer to the deficiencies of great powers, and a "populist" response to out-of-touch governments and sleepwalking institutions, in the hope of transcending the status quo and reviving multilateralism. American NGOs, think tanks, foundations and businesses are heavily invested in the project.

But the American president's absence at the forum reflects the American unmooring from the world of multilateralism and international institutions that it did much to shape since the armistice, from the Paris Peace Conference of 1919 to the Paris Climate Agreement of 2015, and a fundamental misunderstanding of the nature of power in the 21st century.

Once again isolating itself under President Trump, the United States is losing an opportunity for America to influence tomorrow's rules of engagement, and gifting others, including China and Russia, a chance to advance their competing visions.
But other stuff is happening in the background…
1/ Two nights ago, Rupert Murdoch called on Mitch McConnell, after hours. Since then, two Fox News-related Twitter accounts have not tweeted.
2/ Trump fired Sessions on Wednesday, replacing him with human dildo/Putin collaborator Matt Whitaker. Sessions had asked to stay until Friday and was told to leave immediately. So there was clearly some urgency to install the dildo…er, puppet.
3/ The Democrats won the SHIT out of the Midterms. Come January, the House check on Trump will leave him so hobbled, he'll be like the dude from Misery.
4/ Trump went to Paris, ostensibly for an Armistice Day centennial event. He skipped the event, and much of the dinner tonight, because of "weather," which everyone seems to agree is a bullshit excuse.
5/ Tomorrow, Trump is meeting with Putin, who pwns him.
There are reports of House Repubs in Paris, just there for no good reason.
6/ Whitaker has no authority as "acting AG." Also, he's been called "a crackpot" and "a fucking moron," and he was a key player in a company that bilked veterans out of their savings. Trump CLEARLY picked him b/c he thinks Whitaker will help him cashier Mueller. WRONG!
7/ Junior thinks he's going to be indicted any day now. With the election over, OSC is free to resume busting collaborators.
8/ Kushner is rumored to be cooperating with Mueller since last December.
9/ The WSJ broke a story saying Trump AUTHORIZED and DIRECTED the hush money payments to Stormy Daniels and the Playboy model he'd boinked.
That's a felony, all by itself.
10/ New York AG has Trump's longtime mob accountant under immunity, and the case will eventually take down ALL the Trumps, including Ivanka and Eric. Assets will be seized.
11/ Trump's usual deflections are not working. He's scared, literally holed up in a hotel room, waiting to meet with the man who pwns him…and could end him in the blink of an eye. 
The meeting will be recorded by every intel agency under the sun, BTW.
We are all impatient. We all want justice. We WILL get it. And then some. Soon. Be patient, stay frosty, and don't lose faith. Shit is about to get VERY real.
WE SHALL PREVAIL.
OTOH one needs to get a sense of the inside the Beltway problems that now will come post-election, from all the moving parts, as indicated by Jonathan Turley's piece for The Hill on how a magic trick could remove Mueller:
Now we move to the final stage of "prestige" when the magic occurs. The best legal argument in defense of Mueller's position was that he reported to Rosenstein, who is a confirmed official. Now that he reports to Whitaker, you have an unconfirmed individual exercising powers like a United States attorney and being overseen by an unconfirmed acting attorney general.
In other words, by appointing Whitaker, Trump has undermined the position of his own Justice Department in court in the aforementioned Miller case without directly firing Mueller. If Whitaker is left in place, and Trump has said there is "no rush" to fill the post permanently, the court could conclude that Mueller is now exercising powers reserved to confirmed "principal officers." He could be barred from exercising those powers until an attorney general is nominated and confirmed.
Making this situation all the more intriguing would be if Trump then appoints someone who Democrats would likely oppose, such as former New Jersey governor Chris Christie. Yet, if Democrats rejected such a nominee, they, rather than any direct action by Trump, would be the reason for keeping the Mueller investigation enjoined. That would be the ultimate "prestige" to this trick.
All of this depends, of course, on the court's interpretation of the appointments clause, which remains unresolved, as well as a delay in the confirmation of a permanent attorney general. Nevertheless, Whitaker's appointment could have significantly strengthened the challenge to Mueller. Indeed, this sequence of events could magnify the concern of judges about allowing special counsels to hold unconfirmed positions. What may have been seen as mere conjecture about reporting to another unconfirmed official is now the reality.
Whitaker could remove this threat to the position of his own department by simply recusing himself and leaving the supervision of Mueller to Rosenstein. Yet, given Trump's long fury over the recusal by Sessions, that likely would not go over well. Or Whitaker could presumably wait for a decision and recuse himself if the court considers his unconfirmed status to be a barrier to the completion of the Mueller investigation. However, this is why the ultimate trick about this appointment may not be Whitaker's views but Whitaker himself. Under this scenario, Trump appoints a chief of staff and abracadabra! Mueller disappears. It is admittedly unlikely, but that would be quite a trick.
Because innocent people always behave like they are obstructing investigations.