Irony could win the day if Russian president Putin experiences a medical complication as anomalous as Alexei Navalny's poisoned underpants.
Ukraine has seemed to have blunted most Russian advances. 25% of Russian forces have been made battle ineffective. 600 Russian tanks have been lost. 70 of 90 M777 US howitzers have arrived in country. Combat continues and disinformation abounds. Azovstal still occupies the attention of 3-5 BTGs that would normally be deployed to the east. Two Russian patrol boats have been destroyed by drone strikes. Casualty numbers are still far too inaccurate but using a variety of official reports, the Russians have definitely sustained much higher losses than the Ukrainians at a rate at least proportional to their depleted combat capacity.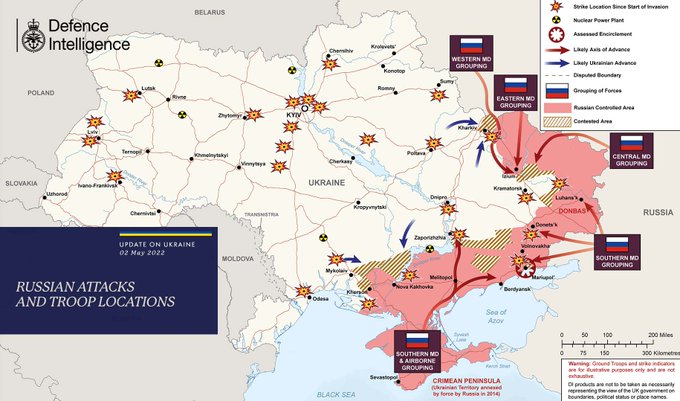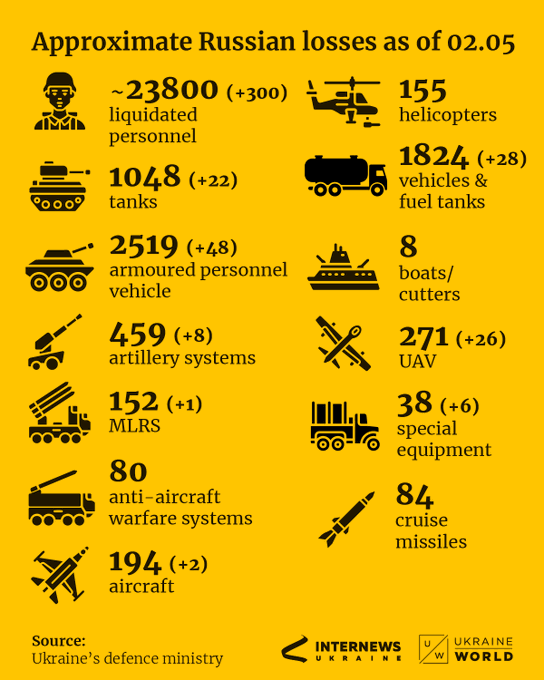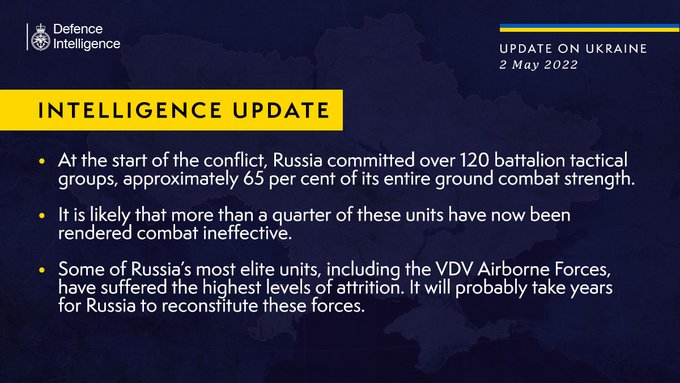 "Russia's offensive energy seems to be fading. Last week they lost at least 10 BTGs worth of equipment. That's really significant. More difficult to assess how many KIAs but it can't be good. Under these circumstances they can't retain the offensive pace."

"There are signs of Russian desperation. It's not adequate for a top commander such as Gen. Valery Gerasimov [Russia's chief of the general staff] to lead units on the ground himself. It is fairly certain that he stayed there last week, Thursday through Saturday…"

"This means he wasn't satisfied with the progress and went to take charge himself. This didn't help at all."

"Russia has had the most progress near Zaporizhzhia but Ukraine has now been able to stop that as well. Russian advances near Izyum, Severodonetsk and Slovyansk have been extremely minimal and have come with heavy losses."

"Ukraine has had success in Kharkiv. The north side has been deblocked. The Russians can still shell the city only from the east. It might still have hold of the Belgorod-Izyum highway but Ukraine has the highway on artillery range. The Russian supply line is not safe."

"Ten days ago there was a threat of the Russians' surrounding Severodonetsk. There is no sign of anything as such happening now."

"Russia's massive losses, such as 40 tanks a day, still allowed them to advance only 2-3 km a day. There is no sign that they're bringing in new units or equipment. There has been no such movement in several days."

"Expect Ukrainian counter-offensives to scale up but I don't want to speculate on when. In Kyiv it started 1.5 to 2 weeks after Russia's strong offense stopped. According to that logic, there are still 1.5 weeks to go."

"Ukrainian counter-offensives will not be so large-scale. They will need to go carefully so as not to weaken themselves so much that they'd need to retreat. We can expect counterattacks as in Kharkiv soon also in Izyum, Severodonetsk."

"Russia's main strength has been forcing Ukraine to leave ground with massive artillery fire. Ukraine has already received but maybe not deployed Western-supplied artillery that has a larger range than Russia's. Ukraine will soon be able to shell Russian artillery positions."

"Russian units in Moldova don't have capability to change the situation in Ukraine but the risk is related to them going against Moldova. Doubtful if they could succeed even against an extremely weak Moldovan army. Doubtful, too, if Ukraine and Romania would allow it to happen."

"It is also questionable if Transnistria's elite would allow this. They have been able to export to the EU through Moldova and there is a certain degree of economic integration between Transnistria and Moldova."

"Today is the anniversary of the 2014 Odessa Trade Union Building fire. No serious related provocations or terrorist acts have been recorded so far. The Ukrainian SBU has kept a close eye on this."

"Russia's targeting Ukraine's infrastructure, supply lines has had an effect but the railway network in Central Ukraine is so dense, it allows rerouting. The Zatoka bridge (bombed 2 or 3 times now) isn't important militarily but it breaks Ukraine's trade line to Romanian ports."

"It's noteworthy that there have been increased attacks on infrastructure and military objects inside Russia. It's fairly certain that at least in Kursk, Belgorod and Bryansk that has been Ukraine's work. War is reaching Russia's homes, it's no longer just a TV war for them."

"Also noteworthy is Russia's childish mistakes such as leaving the Snake Island patrol boats as open targets or Lavrov's statement on Jews. Israel has kept a very low profile until now but such statements didn't leave them an option but to react."

"Russia will not get a notable win before May 9. A theoretical chance that there could be an agreement that Ukrainian troops leave Mariupol before that. They would need to be able to leave with guns in hands…"

"Can Putin show this as a win if they've already long ago declared conquering the city?"

"It would be emotionally important for Ukraine not to let the troops still in Azovstal die in the end of hunger. Such an agreement would allow Russia to move around 3-5 BTGs. Such agreement is possible but unlikely before May 9."

"Putin has a few very bad hands to play. He can't afford losing the war. One option is general mobilization which would be a blow to the economy. The reserve units would need training and equipment that they don't have. Takes a lot of time."

"I can't exclude that he will use a tactical nuclear weapon. The risk for him: Russia's General Staff will tell him to fuck off. Then he'd be a dictator without an instrument of power. It would be the end for him…"

"Militarily neither of the options would make sense but would hasten the end of the war."

"It's unclear how bad the losses for Ukraine have been. Earlier estimates said 2,500-3,000 men. By now this can be doubled. Such losses should still be manageable for Kyiv."

"The thing to watch out for: talks in the West about the importance of peace while not saying anything about the aggressor. Considering what Russia is doing in Ukraine, such talk is a cynical crime…"

"Peace is not the most important thing right now but chasing the aggressor out of the country is."

/END

• • •

www.understandingwar.org/…

Russian forces did not conduct any confirmed ground attacks in Ukraine on May 2. The April 30 Ukrainian artillery strike on the Russian command post in Izyum may be continuing to disrupt Russian efforts on the Izyum axis. Russian troops on the Donetsk-Luhansk frontline and Southern Axis continued to regroup, likely in preparation for renewed offensives or to resist or reverse Ukrainian counter-offensives.

Russian forces did not conduct any confirmed ground attacks along any axes of advance and instead shelled Ukrainian positions on the frontlines.
The April 30 Ukrainian artillery strike on Russian command headquarters near Izyum likely disrupted Russian operations on the Izyum axis and may hinder Russian offensives from Izyum for the next few days.
Russian forces on the Southern Axis continued to regroup and reconnoiter likely in preparation for ground assaults in the direction of Kryvyi Rih, Mykolaiv, and Zaporizhia.

Main effort—Eastern Ukraine (comprised of two subordinate supporting efforts);
Supporting effort 1—Kharkiv and Izyum;
Supporting effort 2—Southern axis;
Supporting effort 3—Sumy and northeastern Ukraine.

Supporting Effort #1—Kharkiv and Izyum: (Russian objective: Advance southeast to support Russian operations in Luhansk Oblast; defend ground lines of communication (GLOCs) to the Izyum axis)
Russian forces continued to regroup and conduct unspecified offensive operations in the Izyum area, but did not make any confirmed advances on May 2.[10] The April 30 Ukrainian rocket artillery strike on the Russian Airborne (VDV) and 2nd Combined Arms Army command post in the Izyum area may be continuing to disrupt Russian operations along the Izyum axis.
Russian troops, including elements of the 6th Combined Arms Army and Baltic and Pacific Fleet coastal troops, continued to shell Kharkiv City and surrounding settlements.[11] Ukrainian Deputy Defense Minister Hanna Malyar notably stated that Ukrainian forces suffered significant losses when they took control of Ruska Lozova (less than 10 kilometers north of Kharkiv City), suggesting that Russian troops saw sufficient value in this location to fight hard to hold it.[12] www.understandingwar.org/…

Subordinate Main Effort—Donetsk and Luhansk Oblasts (Russian objective: Capture the entirety of Donetsk and Luhansk Oblasts, the claimed territory of Russia's proxies in Donbas)
Russian forces shelled along the Donetsk-Luhansk frontline and did not conduct any confirmed ground attacks on May 2.[4] Russian troops continued to focus on completing the seizure of Rubizhne and Popasna.[5] The Ukrainian General Staff forecasts that Russian troops will likely attempt to use these points to launch an offensive in the direction of Severodonetsk.[6] The Ukrainian General Staff also stated that Russian forces moved one battalion tactical group (BTG) to the Popasna area to improve their tactical position and prepare to advance toward Severodonetsk.[7] The Ukrainian General Staff observed that Russian troops are setting conditions to advance on Slovyansk from the Lyman-Siversk frontline, which lies within 25 km to the east of Slovyansk.[8] This observation is consistent with ISW's previous reporting of Russian troops making marginal southwestward advances around the Yampil area over the last few days.[9] www.understandingwar.org/…

Supporting Effort #2—Southern Axis (Objective: Defend Kherson against Ukrainian counterattacks)
Russian forces continued to regroup, reconnoiter, and concentrate logistics on May 2, likely in preparation for ground assaults on Ukrainian position in the directions of Mykolaiv, Kryvyi Rih, and Zaporizhia.[13] The Ukrainian General Staff reported that Russian forces deployed an unspecified artillery unit to Tokmak that will likely support Russian attempts to seize Orihiv, Zaporizhia Oblast.[14] Orihiv is on the intersection of several major highways, and its seizure could allow Russian forces to push toward Zaporizhia city as well as Donetsk. Russian forces also reportedly established an equipment repair shop in an occupied Zaporizhia Oblast settlement.[15]
Ukraine's Operational Command "South" said that Russian forces did not attempt ground offensives in southern Ukraine on May 2 but conducted periodic artillery and mortar shelling and reportedly launched a third rocket strike on the bridge leading over the Dniester Estuary to Romania.[16] Ukrainian forces claimed to have struck Russian ammunition depots in Chornobaivka, Kherson Oblast, on May 2; a video post on social media may corroborate that claim, but ISW cannot verify it with greater confidence.[17] Ukrainian forces also destroyed two Russian Raptor-class patrol boats that reconnoitered the Danube River delta on May 2.[18] There were no significant situational changes in Transnistria.[19] www.understandingwar.org/…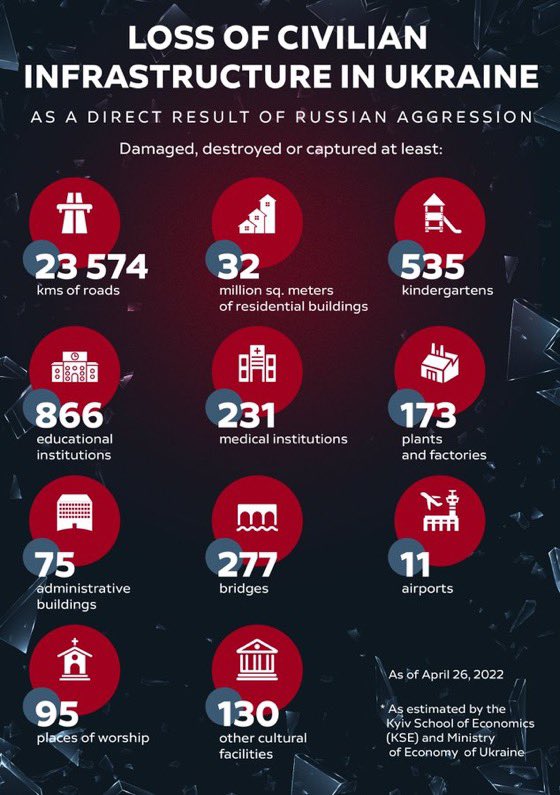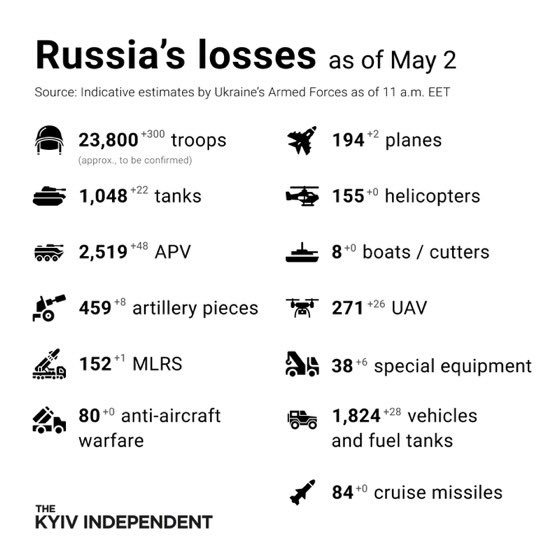 • • •
2/20 It was a fascinating week for those who analyse the war in

#Ukraine

. First, President Biden sent a request to Congress for US$33 billion dollars in military, economic and humanitarian aid for Ukraine. Then, the US Congress approved new Lend Lease legislation.

3/20 Additionally, US Secretary of Defense Austin described how "we want to see Russia weakened to the degree that it can't do the kinds of things that it has done in invading Ukraine. They can win if they have the right equipment, and the right support."

4/20 The Russians are now struggling to make a breakthrough in their 'anaemic' eastern offensive. Given this, the battlefield effectiveness of the Ukrainians and the huge flow of western aid, a Ukrainian counter offensive to retake their territory is a near certainty.

5/20 This is a nightmare scenario for the Russian military high command. Ukrainian success on the battlefield in the east and the south could mean that Russia may have to request an immediate ceasefire or withdraw its forces to its early February positions.

6/20 Russia's conventional forces have been found wanting in the north, and on the eastern plains of Ukraine. Henceforth, they will have little credibility as a tool of international influence (or bullying) for Russia.

7/20 Another option to avoid total Russian failure on the battlefield is the use of chemical, biological or even nuclear weapons. These might be used to stem Russian loses by destroying concentrations of Ukrainian soldiers or perhaps to force a rapid ceasefire.

8/20 Either way, Russia still 'loses'. The use of weapons of mass destruction, if Russia's generals don't remove Putin first, would mean that Russia would be a pariah state for years, if not decades, into the future.

9/20 But, we should also remember that in the past half century, both Russia (Afghanistan) and the United States (Vietnam, Afghanistan) have lost wars without resorting to nuclear weapons.

10/20 What of the geopolitical impacts of a Russian loss? Perhaps the biggest loser would be China.

11/20 The Russia-China 'friendship' over the past several years has been constructed on a shared world view that the West is in decline & the need for a different world order than the post-World War 2 system built by the victors (which included Russia & China).

12/20 A Russian loss would upset President Xi's efforts to persuade other nations that there are other forms of governance that work besides Western democratic models.

13/20 It would be a blow to Xi's personal credibility – at home and abroad – because he invested in a relationship with a Russian President who is now a proven loser.

14/20 And it would also have an impact on Chinese aspirations for Taiwan – Ukraine's tenacious defence has inspired the Taiwanese, and re-energised international support for the small island democracy.

15/20 Finally, the unity achieved in Europe and many other western nations in supporting Ukraine is a setback to Xi's narrative about the decline of the west. It has sidelined Chinese influence.

16/20 As Craig Singleton has written recently, "Chinese President Xi Jinping has been reduced to a bystander seemingly at the mercy of decisions made not in Beijing but in Washington, Brussels, and, more importantly, Moscow."

17/20 Even if the war ended tomorrow, Russia would be a much weaker and poorer nation than it was on 24 February. The magnitude of its losses in Ukraine – physical, moral and reputational – will take years to overcome.

18/20 It is likely, regardless of the outcome, to be a much more embittered nation, fuelled with narratives of NATO predations on Russia, while struggling to juggle the impacts of western sanctions. This makes it weak but also dangerous.

19/20 While the intention of the US administration may be to weaken Russia so that it can no longer threaten its neighbours, this must be a very carefully calibrated victory. The twentieth century has examples of the right ways and wrong ways to treat defeated nations.

20/20 We must learn from these examples. Because, if Russia (which retains nuclear weapons) is weakened too much in defeat, they may become a much more dangerous nation. And that is in none of our interests. End

• • •
This is a Creative Commons article. The original version of this article appeared here.