There was an expectation that Individual-1 may yet flee to Mar-a-Lago for a golf weekend over Xmas. He canceled the scheduled flight on Friday and now there's an update at half past 5pm today —  Trump will stay in DC through Xmas:
"Due to the shutdown, President Trump will remain in Washington, D.C. and the First Lady will return from Florida so they can spend Christmas together." Sarah Sanders
Golfing while the government gets partially shutdown, so very Trump, but bad optics while he pimps for $5 billion for his border "wall" shake-down, even as the stunt won't stop so many things in #TrumpRussia.
Senate adjourns until December 27th.

— Donald J. Trump (@realDonaldTrump) December 22, 2018
You said it yourself- our border is fine. https://t.co/fBGblGtJlE

— Stephanie (@slyn102) December 22, 2018
There is still no guidance for anything on the president's schedule.

A VP-sized motorcade went past your pooler at 10:25 on Pennsylvania Avenue at 18th heading toward the White House.

There is no Marine posted outside the West Wing.

GSA janitorial service proceeded as usual in the press area this morning.

It is a brisk 50 or so degrees and sunny in Washington. Colleagues standing by in West Palm Beach report perfect golf weather that the president is missing. Low 60s and sunny.
Is it a case that optics will out for New Years festivities, since Trump really wants to bask in the sycophancy of his private club. The oiriginal schedule was to be the longest ever of his presidency*.
Will he actually stay away from Mar-a-Lago until the #TrumpShutdown ends.
Although the president's schedule is not yet known, he will likely continue two family traditions: Christmas Eve service at Bethesda-by-the-Sea church and his annual New Years Eve party at Mar-a-Lago.

Ticket prices for dues-paying club members are $650, up from $600 last year and $525 the year before, according to Palm Beach sources. Club guests will pay a hefty $1,000 to ring in the New Year with the president, up from $750 last year and $575 the year before, according to sources.

Party-goers at last year's event included Treasury Secretary Steven Mnuchin, Fox News host Lou Dobbs, the parents of first lady Melania Trump and former billionaire casino owner Steve Wynn, who stepped down as finance chairman of the Republican National Committee amid allegations of sexual misconduct several weeks after the Mar-a-Lago party.
Because of Trump's temper tantrum, Americans will not be getting paid during the holidays. His irresponsible and reckless actions demonstrate he has no regard for hard-working families. #TrumpShutdown https://t.co/r0yVSdJ58W

— Nancy Pelosi (@TeamPelosi) December 22, 2018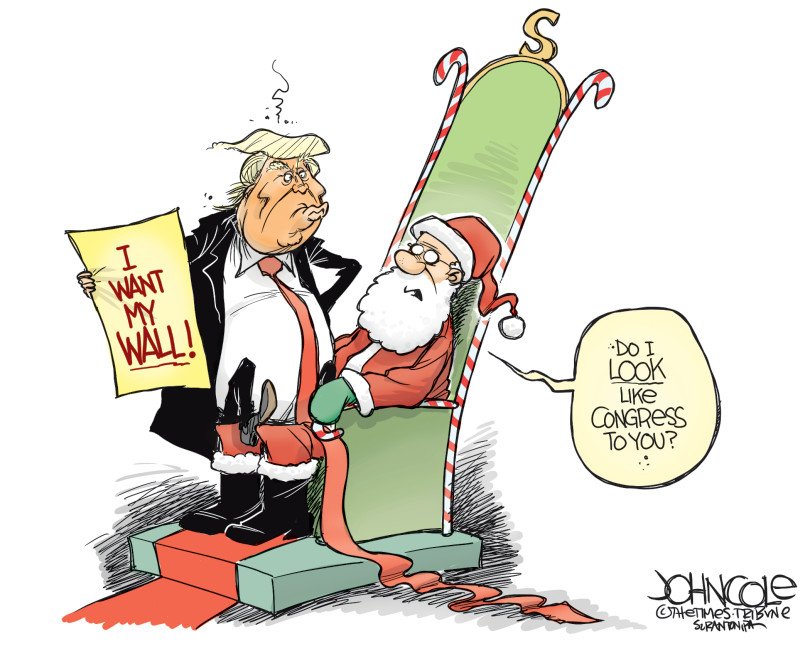 We can all see Trump is falling to pieces and ready to take everyone down with him. History will remember all the Republicans who refused to stand up & put this to a stop or, worse, egged him on. History will remember and so will we.

— Steven Beschloss (@StevenBeschloss) December 22, 2018
This is a Creative Commons article. The original version of this article appeared here.