Mother Jones starts to look at what others considered an entirely hinky path though Trump's Chicago investments.
Donald Trump's massive debts—he owes hundreds of millions of dollars—are the subject of continuous congressional and journalistic scrutiny. But for years, one Trump loan has been particularly mystifying: a debt of more than $50 million that Trump claims he owes to one of his own companies. According to tax and financial experts, the loan, which Trump has never fully explained, might be part of a controversial tax avoidance scheme known as debt parking. Yet a Mother Jones investigation has uncovered information that raises questions about the very existence of this loan, presenting the possibility that this debt was concocted as a ploy to evade income taxes—a move that could constitute tax fraud.
Here's what is publicly known about this mystery debt: On the personal financial disclosure forms that Trump must file each year as president, he has divulged that he owes "over $50 million" to a company called Chicago Unit Acquisition LLC. The forms note that this entity is fully owned by Trump. In other words, Trump owes a large chunk of money to a company he controls.

[…]

To recap: Trump claims he bought a debt related to his Chicago venture, but neither of the two loans associated with this property appear to have been purchased. The Deutsche Bank loan was refinanced. The Fortress debt, according to sources with knowledge of the transaction, was canceled. And this raises a question: Did Trump create a bogus loan to evade a whopping tax bill on about $48 million of income?
NY Times: Trump got $413M from his dad, much from tax fraud #TrumpCrimeFamilyForPrison #TrumpRally https://t.co/eKLPqtvkiX

— ❤️???????????????????? #Resist ????????️‍????⚖️❄️ (@PattiWolf) August 14, 2019
And Deutsche Bank — even if President Trump thinks of it as one of the "largest and most prestigious banks in the world" — isn't a happy or unblemished story for POTUS: https://t.co/q4Ln8tNr6u

— Tim O'Brien (@TimOBrien) July 11, 2019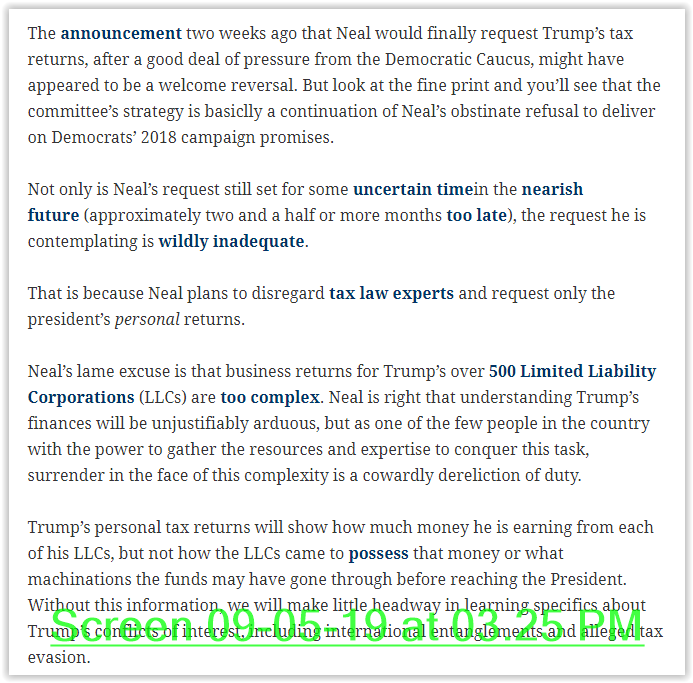 This is a Creative Commons article. The original version of this article appeared here.