The "spy" meme is pushed by Individual-1 and his stooges to discredit the fact that the US intel community was doing one of its jobs, namely counterintelligence (CI).
Whenever "spying" is uttered from the WH in reference to the Mueller report, they signal that they are trying to disinform and distract.
Ben Wittes demonstrates that Mueller made a clear distinction in focusing on the criminal rather than the CI component, perhaps because so much could be rendered classified. This shows how Mueller designed the investigation to be sustainable in the face of WH resistance and interference.
"It was a criminal probe only. It had embedded FBI personnel sending back to the FBI material germane to the FBI's CI mission. But Mueller does not appear to have taken on any CI investigative function. The report is purely an account through the lens of the criminal law." https://t.co/JWWBxepGDr

— Rachel Maddow MSNBC (@maddow) April 20, 2019
The first notable thing about this section is that it very clearly lays out how Mueller understood and operationalized his jurisdiction—which was both quite limited and which Mueller largely did not seek to expand. This makes the Mueller investigation highly unusual in the history of special counsel investigations, which we normally think of as hoarding jurisdiction and as ever-expanding in their scope.
Mueller, by contrast, makes clear that his jurisdiction was narrow. It was defined by a series of orders and clarifications from Rod Rosenstein, the first of which defined three elements:
(1) "any links and/or coordination between the Russian government and individuals associated with the campaign of President Donald Trump,"
(2) any matters that arose or may arise directly from the investigation, and
(3) "any other matters within the scope of 28 C.F.R. § 600.4(a)"—which covers efforts to obstruct special counsel investigations.
[…]
Mueller has hewed closely to this original mandate. Unlike prior special counsel's offices, as matters came to him that pushed the edges of his jurisdiction, he referred them to other Justice Department components. He also referred matters at the end of his investigation that were ongoing. 
[…]
It was not a counterintelligence probe. Mueller both says this directly in this section and also says what happened to the counterintelligence investigation. Here's how Mueller describes his investigation: "The Special Counsel structured the investigation in view of his power and authority 'to exercise all investigative and prosecutorial functions of any United States Attorney.' 28 C.F.R, § 600.6. Like a U.S. Attorney's Office, the Special Counsel's Office considered a range of classified and unclassified information available to the FBI in the course of the Office's Russia investigation, and the Office structured that work around evidence for possible use in prosecutions of federal crimes . . ." (emphasis added).
At the bottom of page 13, Mueller then answers the question of what happened to the counterintelligence components of the investigation. They stayed in the FBI:
From its inception, the Office recognized that its investigation could identify foreign intelligence and counterintelligence information relevant to the FBI's broader national security mission. FBI personnel who assisted the Office established procedures to identify and convey such information to the FBI. The FBI's Counterintelligence Division met with the Office regularly for that purpose for most of the Office's tenure. For more than the past year, the FBI also embedded personnel at the Office who did not work on the Special Counsel's investigation, but whose purpose was to review the results of the investigation and to send—in writing—summaries of foreign intelligence and counterintelligence information to FBIHQ and FBI Field Offices. Those communications and other correspondence between the Office and the FBI contain information derived from the investigation, not all of which is contained in this Volume. This Volume is a summary. It contains, in the Office's judgment, that information necessary to account for the Special Counsel's prosecution and declination decisions and to describe the investigation's main factual results.
This "no russian collusion" meme will change as the Roger Stone prosecution continues, and the financial prosecutions proceed to identify the implications of those Russian contacts.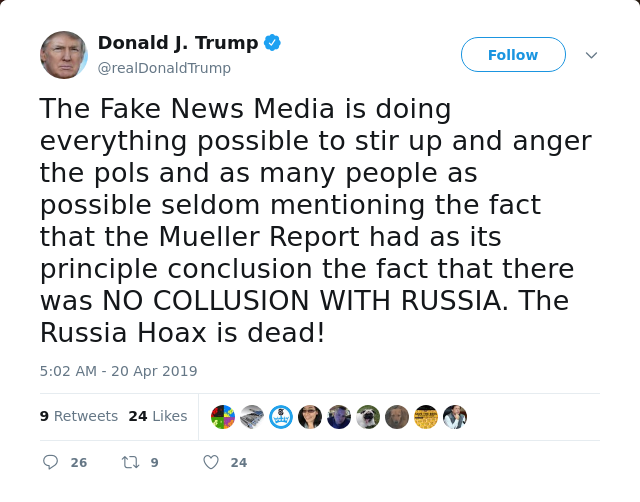 Compare $30m spent on the Mueller Investigation:
– Starr investigation into Bill Clinton: $57 million
– Walsh investigation into Reagan: $75 million
– Watergate investigation: $26 million
– TRUMP GOLF OUTINGS TO DATE: $97 million*

*from trumpgolfcount com

— Brooksie (@allatti2d) April 20, 2019
Date: April 20, 2019 at 9:09:04 AM EDT
Subject: Travel pool 2 — Arrival at Trump International Golf Club
POTUS' motorcade arrived at Trump International Golf Club at 9:04 a.m.
Some onlookers waved American flags and gave thumbs up; others held signs that appeared to reference obstruction, though pooler couldn't catch verbatim.
Will inquire about POTUS activities at club. Pool is holding at nearby library.