Aside from the apologia aspect of the Kavanaugh op-ed in the Wall Street Journal there appears a phrase "on the sunrise side of the mountain" that may simply be the repetitive evocation of personal faith. But it could be a sign thrown to the GOP faithful.

The op-ed does nothing to actually apologize for perjury or any actual crimes, he's just sorry he went berserk and paranoid during the SJC hearing. That lie about not watching Dr. Blasey Ford's testimony may have been that last straw.
Not a neutral party in the current disinformation battle, Molly McKew decided to look at the sunrise phrase more closely and it seems like another of those RW memes referencing perhaps religious resurrection with reference to the born-again GW Bush. Darn those secret handshakes… Hail Hydra. Like Zina Bash, they really aren't very subtle when they display their allegiance.
The Boofster may have needed to reassure his mob that he's still their "boy".
But here, Bush references artist Tom Lea as the inspiration for this phrase, saying it is intended to mean optimism, he coming day, not the ending one /4
southwestart.com/articles-inter…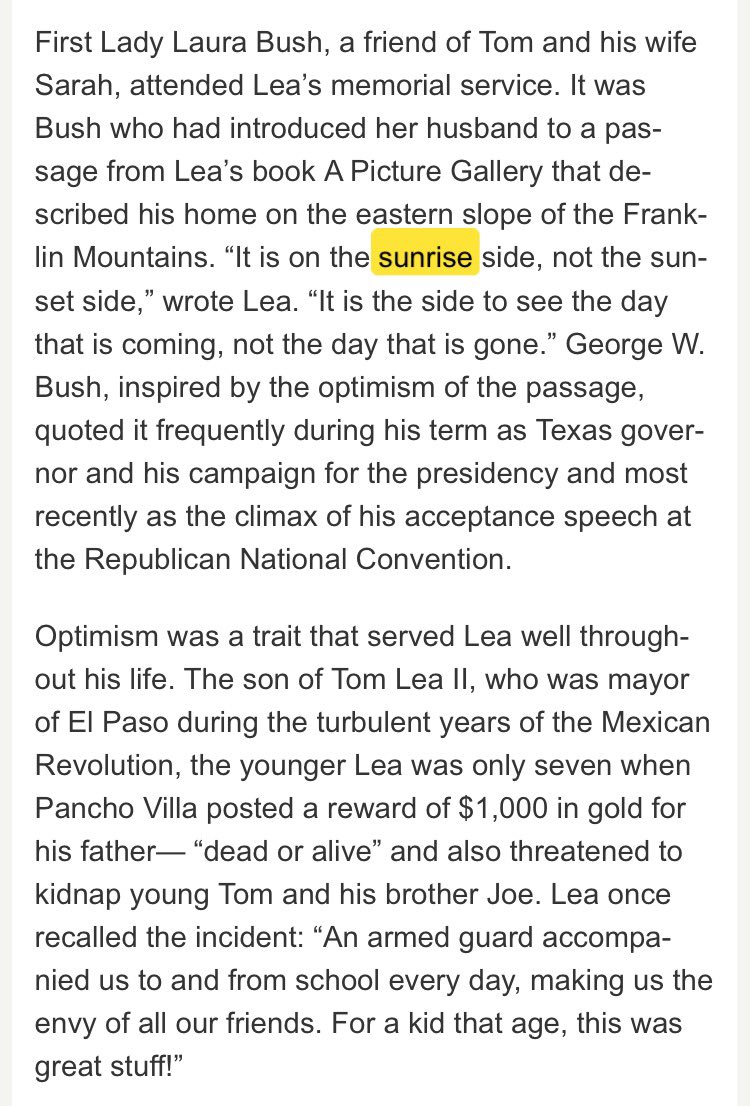 Btw — Tom Lea — pretty badass.
It's pretty clear this was the meaning for Bush — derived from the landscape and beauty he lived in. So it's interesting that it was nonetheless seen as signaling for a specific crowd that he was "one of them" /5
I really don't know. Kavanaugh could just use it because he lifted it from Bush. But it's interesting how often he uses this — almost compulsively. /7
So Kavanaugh was reminding his supporters what was at stake in terms of the continuing dominionist agenda. Darn that pesky church/state separation.
Having read it a few times, I've concluded it's not an apology, or even an expression of regret. It's a careful explanation of his behavior. https://t.co/iipAU6IPfd

— Michael Barbaro (@mikiebarb) October 5, 2018
Doubt that Kavanaugh actually wrote this. In phrasing and tone, it's strikingly similar to the anonymous NYT Op-Ed: faux confessional, tepidly admitting some bad facts and then getting downright spunky and reassuring. Bet it's another CRC Public Relations special. https://t.co/hemugdlukQ

— Elizabeth de la Vega (@Delavegalaw) October 5, 2018
Judge Brett Kavanaugh's op-ed in The Wall Street Journal appeared to be aimed at a handful of lawmakers who remained publicly undecided about his confirmation https://t.co/zXhdCyogwz

— The New York Times (@nytimes) October 5, 2018
What images from Thursday do you think will linger?
I'm going to watch the news carefully to see what clips get played. But I suspect it'll be the clip of Blasey Ford saying she's 100 percent sure it's Kavanaugh; the clip in which she talks about remembering Kavanaugh and (Mark) Judge laughing [while Kavanaugh pinned her down]; the clip of Kavanaugh breaking down and saying "You won't ruin me," portraying himself as a victim; and the clip in which Kavanaugh was unable to answer Senator [Patrick] Leahy's question about whether he would personally welcome an FBI investigation. And then Lindsay Graham's histrionics.
I just reviewed the FBI's #Kavanaugh report. The FBI never interviewed many relevant witnesses. There are also thousands of pages of leads from the tip line that received no follow up. It's clear the White House only wanted the FBI to go through the motions & that's what it did.

— Ed Markey (@SenMarkey) October 4, 2018
This is a Creative Commons article. The original version of this article appeared here.