The lawfare against the ACA now being heard in SCOTUS now resembles the attempts to reverse the results of the 2020 election. Scorched earth and total lawfare, total landscaping. Schrödinger's ballots.
Sources close to Trump described his unsupported accusations as a desperate way to save face
President Trump is trying to steal the election, but he couldn't get far if it weren't for his enablers. There's Attorney General William P. Barr, who has granted prosecutors approval to pursue fake voter fraud cases to make them appear real. There's Senate Majority Leader Mitch McConnell (R-Ky.), who is lending validity to Trump's big lie that the outcome remains unknown.
And then there's Jones Day, the big law firm 
that is representing Trump
 as his campaign prepares to unleash a legal war designed to overturn the election results. The firm's role is drawing new scrutiny, and it's making lawyers at the firm 
mighty uncomfortable
.
The Lincoln Project is set to launch a multiplatform campaign hammering Jones Day and other firms for their role in facilitating Trump's efforts, I'm told. It includes TV and digital ads and social media highlighting the damage that enabling Trump threatens to our democracy and to the success of the presidential transition.
[…]
The New York Times reports that Jones Day and a second firm, Porter Wright Morris & Arthur, are expected to play a central role in representing Trump and Republicans in lawsuits challenging the votes in numerous states.
Concerns inside Jones Day are "taking on new urgency as the president seeks to raise doubts about the election results," the Times says. Senior lawyers worry they're helping Trump and his allies "undermine the integrity of American elections."
Meanwhile, at Porter Wright — which just filed a lawsuit alleging irregularities in Pennsylvania — lawyers have internally voiced similar concerns, with one quitting in protest, the Times reports.
Trump wants to overturn the election
The Trump campaign's lawsuits are not designed to seriously contest any actual large-scale cases of voter fraud that could have impacted the results, since no such thing has happened. Instead, the goal at best is to feed the falsehood that the outcome remains in doubt.
THE "RE-COUNTS"? THE "VOTER FRAUD DEFENSE FUND?" The bid to not count PA at all? The Barr ploy? Relax! It's all just another Trump SCAM! He and the GOP keep all the $! Rudy's Fraud Witness/Convicted Sex Offender was the apex.

Full video: https://t.co/geEwigzdxt
2 Minute Version: pic.twitter.com/D468roFceb

— Keith Olbermann (@KeithOlbermann) November 10, 2020
Darn court packing…. was Amy Coney Barrett appointed in time.
California's solicitor general opens by arguing that Obamacare's zero-dollar penalty for not buying insurance "doesn't harm anyone and it doesn't violate the Constitution."
Oh wow, Clarence Thomas, who *never* talks during oral arguments, compares the Obamacare's individual mandate to face mask mandates during Covid, says that even if they carry no penalty they can have a "chilling effect."
This is related to the question of whether the plaintiffs even have legal standing to challenge the ACA's constitutionality. If they can't prove they've been harmed by the law, they can't sue.
Justice Alito jumps in to ask about a completely different part of the ACA (the formula for calculating Medicaid eligibility) harming Texas, potentially giving them standing. California's lawyer says the lawsuit isn't making that argument, is only about the mandate.
Sotomayor stresses this same point, saying that if Texas had wanted to make the "Medicaid is harming us!" argument, they could have. But they didn't.
Don Verrilli, now arguing on behalf of the House of Representatives, says that when it comes to Obamacare, "the carrots work without the stick." Basically, people are buying insurance bc of subsidies and, y'know, wanting insurance, not bc of a now-toothless penalty.
A lot of back and forth about what Congress intended to do when they repealed the mandate. Defenders of Obamacare argue that there were years of attempts to repeal the whole law that failed, so clearly the change to the mandate penalty was not intended to be a backdoor repeal.
Conservatives argue the mandate is so central to Obamacare that the law can't survive without it (Justice Thomas referenced this).
Verrilli argues that Congress in 2010 and Congress in 2017 had different views and were confronting very different situations. In 2010 they thought the mandate was the lynchpin of the ACA. By 2017, the health markets were strong enough to survive w/o it.
Kavanaugh seems to endorse argument that the mandate is no longer constitutional bc it can't be a tax if it raises no revenue, but he adds there's a "very straightforward argument for severability." Basically, even if the court kills the mandate, the rest of the law can be saved.
Barrett also endorses the "mandate can't be a tax" argument. Verrilli closing statement stresses how millions of people now depend on the ACA & Congress never intended to leave them vulnerable when they zeroed out the mandate.
Chief Justice Roberts delivers what could be a death blow to Texas' argument against the ACA: "It's hard for you to argue Congress intended the entire act to fall."
Let's do the time warp again:
The Trump administration's current strategy is to go to court to try and get votes for Biden ruled illegitimate, and that strategy explicitly rests on Trump's appointees honoring a debt the administration, at least, believes they owe. One of his legal advisers said, "We're waiting for the United States Supreme Court — of which the President has nominated three justices — to step in and do something. And hopefully Amy Coney Barrett will come through."
If that fails, and it will, Mark Levin, one of the nation's most popular conservative radio hosts, is explicitly calling on Republican legislatures to reject the election results and seat Donald Trump as president anyway. After Twitter tagged the tweet as contested, Trump's press secretary weighed in furiously on Levin's behalf.
That this coup probably will not work — that it is being carried out farcically, erratically, ineffectively — does not mean it is not happening, or that it will not have consequences. Millions will believe Trump, will see the election as stolen. The Trump family's Twitter feeds, and those of associated outlets and allies, are filled with allegations of fraud and lies about the process (reporter Isaac Saul has been doing yeoman's work tracking these arguments, and his thread is worth reading). It's the construction of a confusing, but immersive, alternative reality in which the election has been stolen from Trump and weak-kneed Republicans are letting the thieves escape.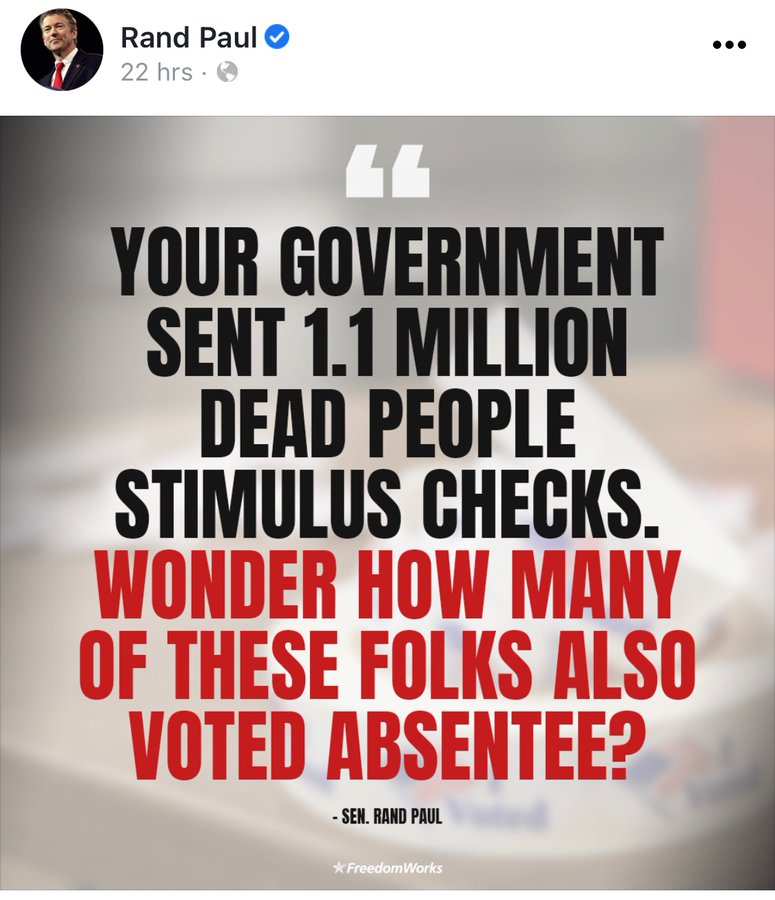 This is a Creative Commons article. The original version of this article appeared here.