Trump's first tweets, after only producing three yesterday, claim innocence because he says so, and NAFTA 2.0 is his new media framing of Mexico paying for his "border wall".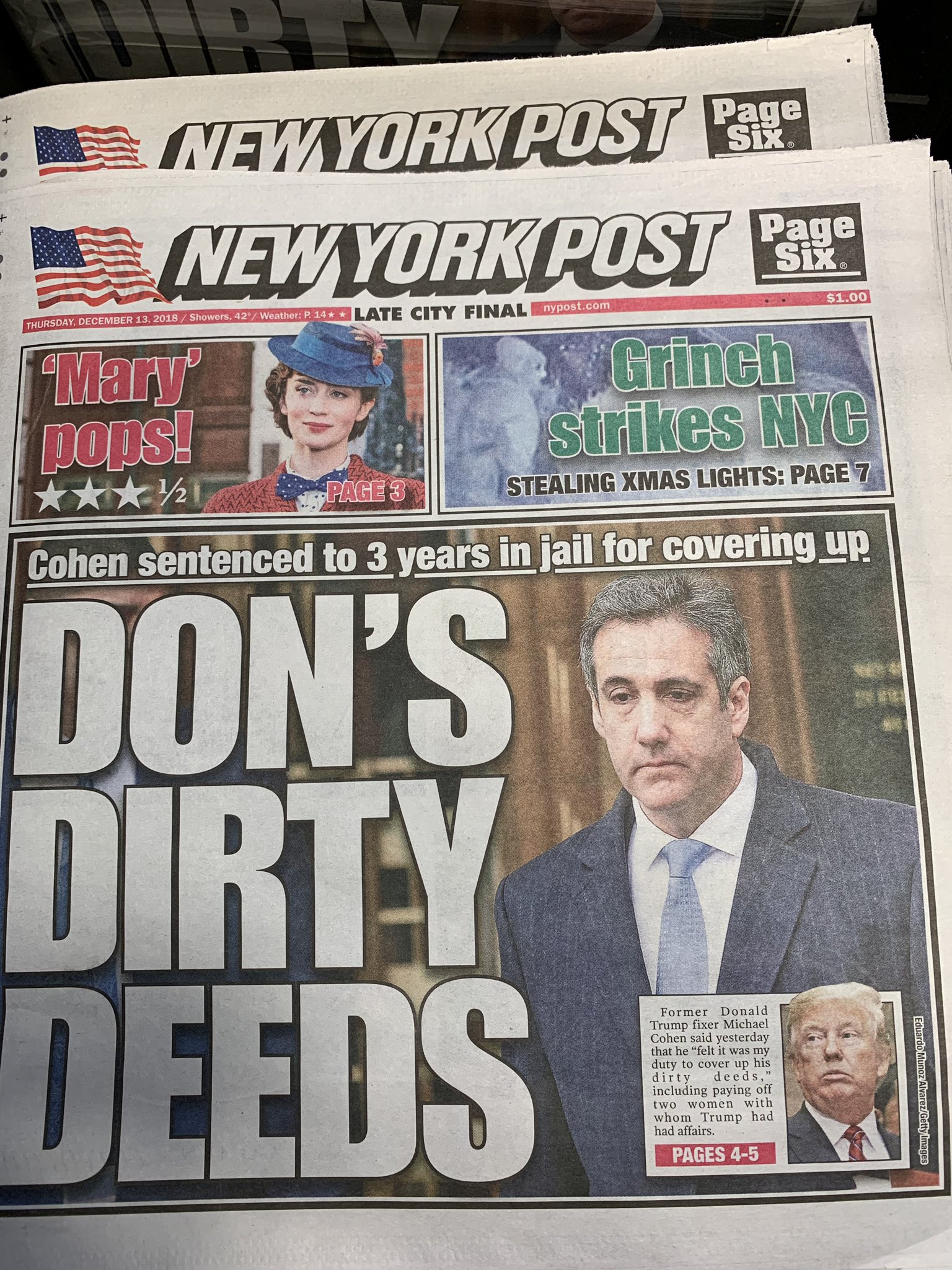 The real deflection is from the National Enquirer vault revelations (Mueller's folks have access to the whole trove of Trump dirt), and that there are more Cohen recordings. And he's still burnt by his tiff with Nancy Pelosi and Chuck Schumer.
So much TV watching and probably jabbering on the phone, perhaps binging on junk food, Trump spent a lot of yesterday on "executive time". Like Reagan, he was "up at the crack of noon".
Wouldn't it be great if, instead of calculating the political cost of impeachment to the Dems, the GOP would join with them, saying, enough is enough. We made a mistake. It's time to restore the rule of law & put country over party. https://t.co/PsBcX8NBPl

— Joyce Alene (@JoyceWhiteVance) December 13, 2018
Trump aides have maintained the McDougal/Daniels allegations were false. But Trump is not in the habit of parting with his money if he doesn't have https://t.co/eGZD67x3x7 he trying to suggest he was duped into paying money to women he didn't know?

— Maggie Haberman (@maggieNYT) December 13, 2018
My favorite episode of Law & Order was when Sam Waterston passionately explained to the jury (over stirring music) that "I'm dumb and listened to my lawyer" is no defense to a crime.

— Kevin (@mcnamee_kevin) December 13, 2018
There is already a line outside the courtroom where alleged Russian agent Maria Butina will appear for a hearing at 10:30 a.m. Meanwhile, there is a man wearing a shirt that's says "SPY" in big letters and he is trying to talk to everyone on the line.

— Marshall Cohen (@MarshallCohen) December 13, 2018
Lol right on cue, the right-o-verse spins up the narrative of Flynn "entrapment"

He took money from an adversary of America and lied about it. He plotted to kidnap a US resident for money. He is a disgrace. This WSJ editorial is also a disgrace. pic.twitter.com/21qzs5Sv1d

— Molly McKew (@MollyMcKew) December 13, 2018
Boyfriend of alleged Russian spy Maria Butina (who agreed to plead guilty to conspiracy charges Monday) claimed to have set up a "very private line of communication" between Russia and the #Trump campaign using the #NRA https://t.co/fjxVu1iy6S

— OpenSecrets.org (@OpenSecretsDC) December 12, 2018
Awwww…. poor Sean…

Sean Hannity busted for deleting tweets praising Michael Cohenhttps://t.co/O5YCpVjK2H pic.twitter.com/NZV81TlzJk

— Raw Story (@RawStory) December 13, 2018
This is a Creative Commons article. The original version of this article appeared here.