Short tweets this morning, probably because Trump is focused on traveling to El Paso in order to monger fear with another fly-by lie-fest.
Expect a flurry of idiocy while he's in the air disinforming about the ongoing Congressional negotiations to avoid another shutdown. Recent reports indicate disagreement on the number of beds available to hold detainees because concentration camps can't concentrate without enough prisoners.
6:15PM THE PRESIDENT departs El Paso International Airport en route to El Paso County Coliseum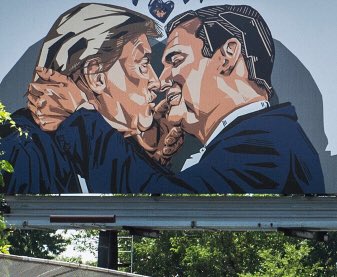 6:30PM THE PRESIDENT arrives at El Paso County Coliseum
7:00PM THE PRESIDENT delivers remarks at a Make America Great Again rally El Paso, TX
8:40PM THE PRESIDENT departs El Paso, TX, en route to Washington, D.C.
(CNN) Beto O'Rourke is set to counter President Donald Trump's visit to El Paso, Texas, on Monday by joining a one-mile march past Trump's rally and giving a speech across the street at about the same time the President plans to take the stage.
As the former congressman from Texas weighs a bid for the 2020 Democratic presidential nomination — he told Oprah Winfrey this week that he'll decide by the end of the month — he is participating in a protest against Trump's push for a wall along the southern border.
The march, organized by Women's March El Paso, is being billed as a "March for Truth: Stop the Wall, Stop the Lies."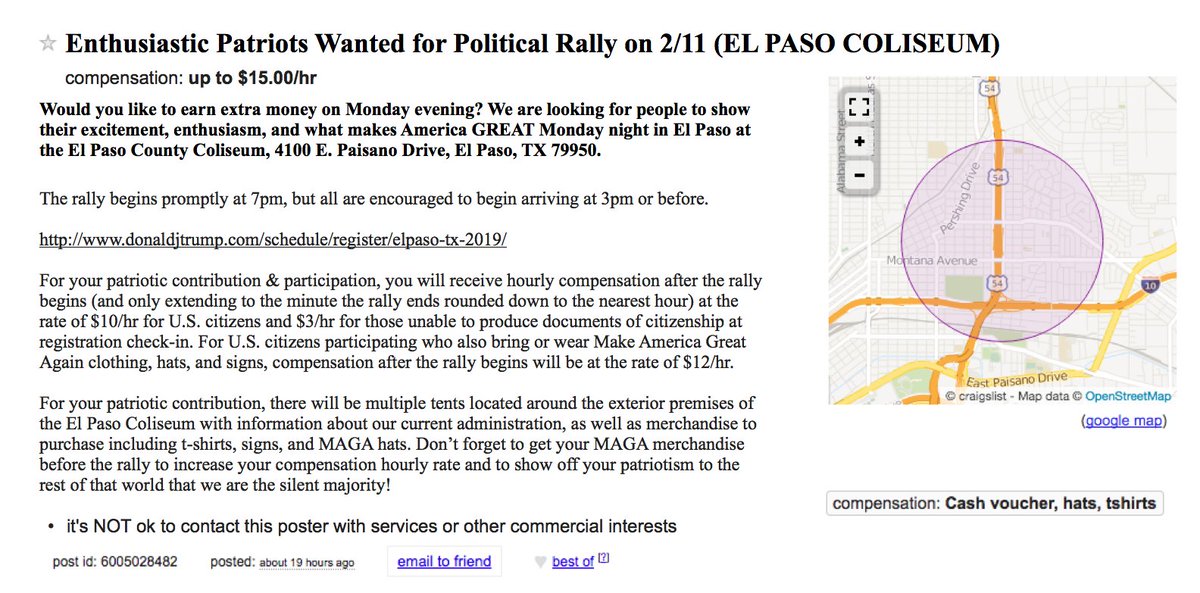 Somebody leaked your #ElPaso #rally speech pic.twitter.com/hnmjuAKrB9

— cassandracarolina (@cassandra17lina) February 11, 2019
Still waiting for Melania's press conference on how she got citizenship

— Roland Scahill (@rolandscahill) February 11, 2019
Than "I." Work harder on grammar.

— Mimi Rocah (@Mimirocah1) February 11, 2019
News isn't fake just because it's critical of you. Alternative facts are not real unless supported by evidence. Trump's war isn't with the MSM, it's with the facts. Fox News is the fake news you seek. It rots your brain. Shut it off. Ask public businesses to switch the channel

— ♻️🇺🇸 Christopher Zullo (@ChrisJZullo) February 11, 2019
Donald Trump is heading to El Paso, Texas today to pull yet another political stunt. To justify his ineffective, unnecessary and unwanted border wall, Trump will continue to lie about crime in El Paso. Here's the truth: https://t.co/i4fVRdwcYl

— DNC Press (@dncpress) February 11, 2019
Local officials have not been pleased with Trump's interest in their city. "What he's saying and doing is extremely insulting," says Peter Svarzbein, one of El Paso's eight district representatives. He adds that Trump's message is also damaging to El Paso's economy at a time when the city is trying to attract professionals and students.
Alexsandra Annello, another district representative, says it was disappointing to hear Trump continuing to mislead Americans. "El Paso has been a diverse, binational, bilingual community," she says. "And it has been safe long before the fence was put up."
Trump's claim that El Paso went from being one of America's most dangerous cities to one of its safest because of a border fence is entirely false. El Paso's violent crime rate peaked in 1993 and fell by more than a third by 2006. The El Paso Times reported in January, "From 2006 to 2011—two years before the fence was built to two years after—the violent crime rate in El Paso increased by 17 percent." El Paso is now one of the safest cities in America.
In a sharp rebuke of President Trump, California's governor is expected on Monday to withdraw nearly 400 of his state's National Guard troops from deployment along the border with Mexico https://t.co/LOCLla2ikc

— The New York Times (@nytimes) February 11, 2019
Vicki Ibarra has worked at the IRS for 16-years, making $35,000/year. The shutdown sent her deep into debt. She even sold her bed. Now she wonders what'll happen if the government shuts down again.

"This is like disappearing into quicksand."https://t.co/LOIqXz8BEg

— Kyle Griffin (@kylegriffin1) February 11, 2019
That high bar may be one reason Congress hasn't been more active in pushing back on emergencies in the past. Another reason is presidents have typically used emergencies in line with congressional intent, said Russell Riley, a presidential scholar at the Miller Center at the University of Virginia. But what Trump is contemplating would be different, he says.
"Having gone to Congress repeatedly having not gotten his way with them … you can't simply throw your hands up and say, 'Ah, you know my commander in chief powers now will be invoked' to declare an emergency, said Riley.
For a president whose time in office has been defined by busting norms, and who relishes being different from his predecessors, it would be fitting that Trump could become the first president to have Congress actually vote to terminate an emergency declaration.
Trump's New Tariffs Could Result In Nearly 1M Lost Jobs@highbrow_nobrow https://t.co/lP3z3STCy2

— Cheri Jacobus (@CheriJacobus) February 11, 2019
A Pennsylvania newspaper said it would stop publishing a popular cartoon after the f-word directed at President Donald Trump appeared in its latest issue.
"Non Sequitur" is a syndicated cartoon by Wiley Miller and is a regular feature of the Pennsylvania publication The Butler Eagle.
Readers were are encouraged to color in the three-panel, black-and-white cartoon, which this week featured a "Bearaissance" character named "Leonardo Bear Vinci."
But on Sunday, readers spotted a small scribbled message appeared in one of the panels, which said: "We fondly say go f*** yourself…Trump."
Bezos just needs to buy the National Enquirer, and either fold it or make all its "catch and kill" information public.
"For the richest man in the world to acknowledge that this has affected him, too, has expressive power … At the same time, sextortion is often successful precisely because victims lack Bezos's resources," argues @qjurecic: https://t.co/RAmbGTTM0l

— The Atlantic (@TheAtlantic) February 11, 2019