Not much original this morning as Individual-1 tries to sound enthusiastic about his "run to the border" stunt today in McAllen, Texas.
Ahead of President Trump's visit today to the southern border, people in the border town of McAllen, Texas, tell @PoloSandovalCNN how they feel about a border wall. https://t.co/YNi28cM2Co pic.twitter.com/IU5Mo02id7

— New Day (@NewDay) January 10, 2019
Last night's late night tweets were probably more important because he was reacting to MSNBC's reporting on his using the Oval Office speech stunt as a "fundraiser".
Yes, very interesting that @Lawrence O'Donnell on MSNBC broke the news that Trump's Oval Office address was primarily a fund raising stunt; the donors thought they were giving money to build "The Wall" but their donations really went directly to Trump's re-election campaign. https://t.co/KAiC1ShtKe

— Brad DeLong (@wbdelong) January 10, 2019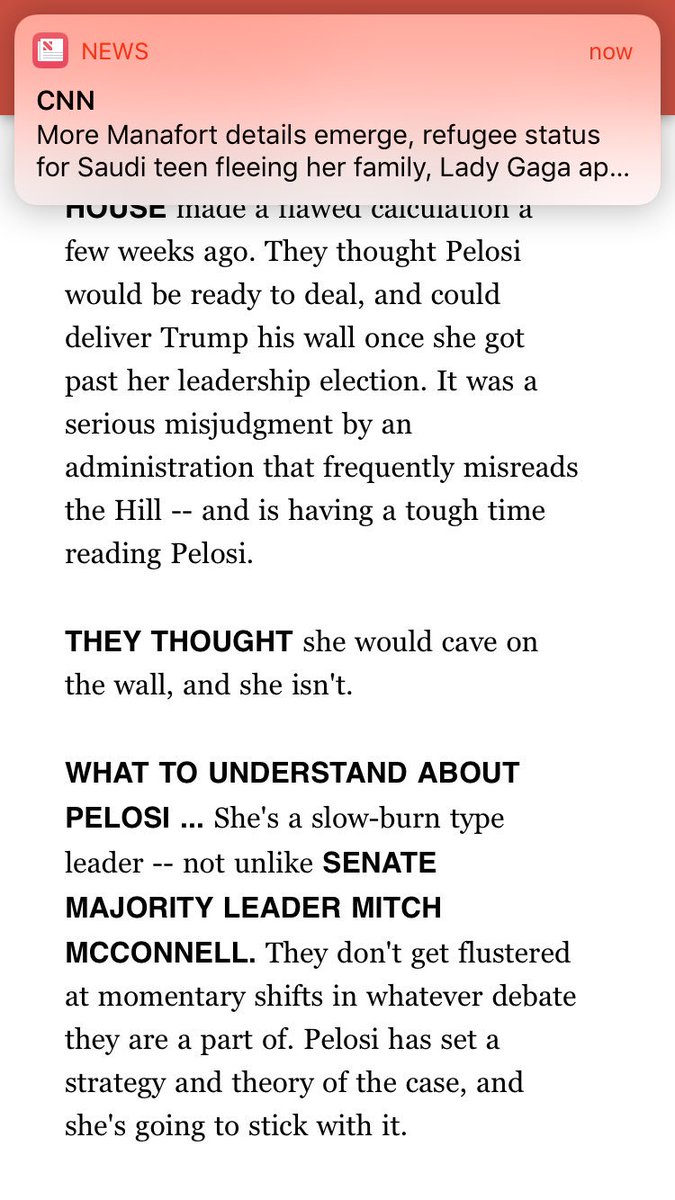 President Trump enjoyed unified control of the entire federal government for two years. He forgot to get his wall funded during those two years. Now he's taken the entire federal government hostage at the point at which he probably can't any longer get it.
Not only do no Democrats support any version of the President's wall fantasy. They don't fear his supporters or his bully pulpit. They just concluded an election in which Trump made border paranoia and race baiting the central campaign issue. They won a resounding victory. Democrats have no incentive to give him anything to encourage his reckless behavior and they are in fact offering nothing. Republican leaders today were verging on apoplectic because Democrats were refusing to negotiate in response to Trump's hostage taking.
Now Trump would certainly say that despite Republican control of Congress he needed to meet the 60 vote threshold in the Senate. But that's not really the point. That only means he wasn't able to dictate on this issue during those first two years. There would people he had to persuade or entice who weren't loyalists. He had to … for lack of anything better let's use that most trite and overused word, lead. Presidents are leaders of their party. They use the copious tools at their disposal to make deals. They have to offer something or meaningfully threaten something to get their way. He failed at both.
Asked if Manafort sharing polling data w/person connected to Russian intel during campaign is "collusion," @RepAdamSchiff says "I think we need to know more about what this data was used for.

"There is clear evidence on the issue of collusion. This adds to that body of evidence" pic.twitter.com/6OSuVjLJWF

— Aaron Rupar (@atrupar) January 10, 2019
Reality begins to actually solidify, even at Fox news as #TrumpRussia closes in.
It's official: Fox News' Shep Smith and Andrew Napolitano agree: The Trump campaign colluded with Russia https://t.co/SzrwN21gCt

— Raw Story (@RawStory) January 10, 2019
In better news…
Sen. Kamala Harris has decided to seek the 2020 Democratic nomination for president, sources close to her told KCBS Radio. https://t.co/g9JUNfMQMT

— CBS This Morning (@CBSThisMorning) January 10, 2019
This is a Creative Commons article. The original version of this article appeared here.