Another FB side-show story that shows how social media will get worse before it gets better in this election. Apparently Trumpist supporters engaged in disinformation onshoring are no different that the crowds who promote the Trump campaign rallies and swarm new objects of scorn like the "liberal hack" fundraising for Senator McSally using Manu Raju. In other Robert Hyde information coordination, there is now a name for the mysterious Belgian number that he was texting for the location of Ambassador Marie Yovanovitch.
WASHINGTON— Facebook Inc. late Friday took down a network of several dozen Facebook pages that were coordinating posts defending Robert F. Hyde, a figure who has become embroiled in the impeachment investigation.
The pages described themselves as representing groups of supporters of President Trump from different states, and several of them had the same contact information and other details as Mr. Hyde's Republican campaign for a House seat in Connecticut.
Facebook's move was one of its most high-profile attempts to combat coordinated behavior by domestic actors on its platform, which is a violation of its policies. The apparent coordination of the pages was uncovered in an analysis conducted by the social-media intelligence company Storyful and included in an article published earlier on Friday in The Wall Street Journal.
"When we find networks of Pages misleading people by concealing who controls them, we require those owners to show additional information. In this case, the necessary disclosure was not made, so per our policy, the Pages have been removed," a Facebook spokeswoman said.
After House Democrats released text messages this week in which Mr. Hyde told Lev Parnas, an associate of Rudy Giuliani, that suggested he was monitoring the movements of the then-U.S. ambassador to Ukraine, the Facebook pages began sharing posts from Mr. Hyde's campaign page in which he defended his actions, the analysis showed.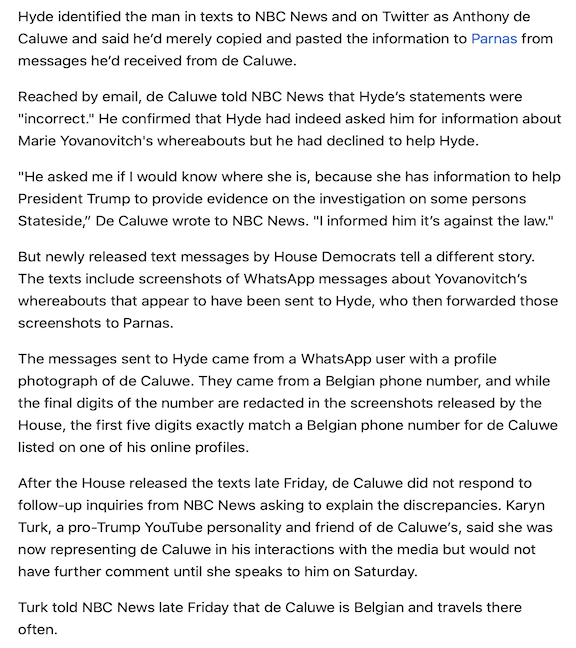 When Manu Raju, a well-respected reporter at CNN, posed an impeachment question to Senator Martha McSally, an Arizona Republican, she replied: "I'm not talking to you. You're a liberal hack." https://t.co/MODLvbp93b

— The New York Times (@nytimes) January 17, 2020
LOL. McSally launched a bogus Trump-esque attack on the press and then set up "liberalhack dot com" to raise money off it. So we bought https://t.co/SL0cq7KTXO to fundraise for her defeat. https://t.co/9h7uRmyeTZ

— Ezra Levin (@ezralevin) January 18, 2020