Are we not distracted enough by bombing targets in Syria to know that the White House will do better than the "best path forward".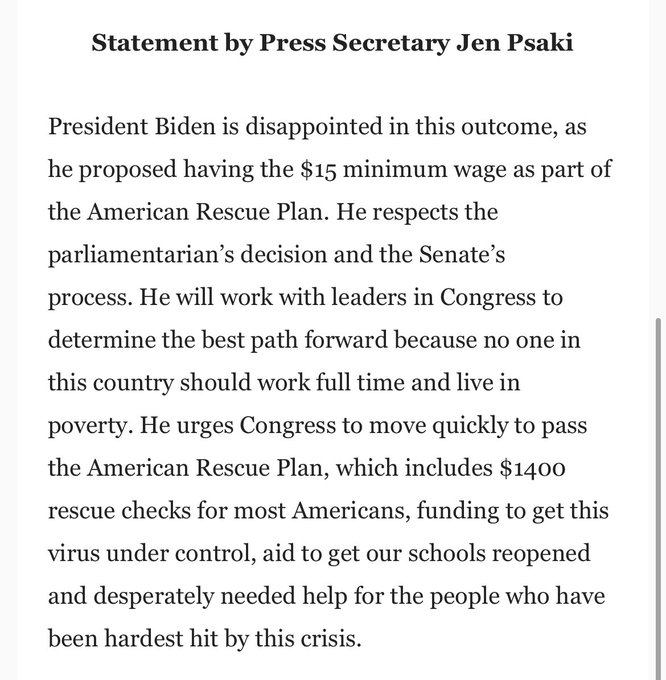 x
Pelosi indicates bill expected to pass House Friday will include wage hike. Then that means the Senate will strip it out next week. And assuming Senate passes the underlying $1.9 trillion relief bill, then it will go back to House for final passage – likely the week of March 8.

— Manu Raju (@mkraju) February 26, 2021
x
The Senate parliamentarian issues an advisory opinion. The VP can overrule them—as has been done before.

We should do EVERYTHING we can to keep our promise, deliver a $15 minimum wage, and give 27 million workers a raise.

— Pramila Jayapal (@PramilaJayapal) February 25, 2021
x
Their book about the Biden campaign, "Lucky," includes details about how Buttigieg came to endorse Biden. (Hint: There were conversations with Barack Obama and Jimmy Carter.) https://t.co/SPEe7y766a

— Anita Kumar (@anitakumar01) February 26, 2021
x
BREAKING: U.S. military carries out airstrike in Syria against facilities used by Iranian-backed militia, defense official tells @NBCNews, marking the first military response from the Biden admin. after a series of rocket attacks on U.S. targets in Iraq.

— MSNBC (@MSNBC) February 26, 2021
Marjorie Taylor Potato Head attention-seeker also distracts from the approaching prosecution of Trump.
"There are only 2 potato genders, trust the agricultural science."

x

Anybody who thinks Potato Head wasn't already gender neutral has never played with one or watched a kid play with one. (Spoiler alert: it is a POTATO and the whole point is making weird decisions about where its eyeballs should go)

— Kathleen Belew (@kathleen_belew) February 25, 2021

x

How long before Marjorie Taylor Greene announces a boycott of Hasbro until the "Mr." is restored to Potato Head, preferably with a tiny plastic uncircumcised penis? https://t.co/x3OmG1M82x

— David Rothkopf (@djrothkopf) February 25, 2021

x

GOP Rep. Marjorie Taylor Greene is drawing bipartisan condemnation for putting up a poster stating that "there are two genders" after Democratic Rep. Marie Newman installed a trans pride flag outside of her Capitol Hill office. https://t.co/O11oquq6oG

— The Hill (@thehill) February 26, 2021
x
WOW: Rep. Al Green (D-TX)amazing response to GOP Rep Greg Steube who said God opposes transgender rights: "You used God to enslave my foreparents. You used God to segregate me in schools. You used God to put me in the back of he bus. Have you no shame?" pic.twitter.com/nrjVAgg6t3

— (((DeanObeidallah))) (@DeanObeidallah) February 25, 2021
x
Amazing that Jewish space lasers and Satan-worshipping, child-abusing Democratic cabals and 9/11 hoax drivel could strike a person as more believable than gender fluidity.

— Heidi Stevens (@HeidiStevens13) February 25, 2021
Liked it? Take a second to support Community on Patreon!