Rolling Stone seems to concern itself with peripheral scoops these days, telling us how tense FoxNews is with Tucker Carlson and now the wine-ordering habits of insurrection rally organizers. The Select Committee now has a target-rich environment: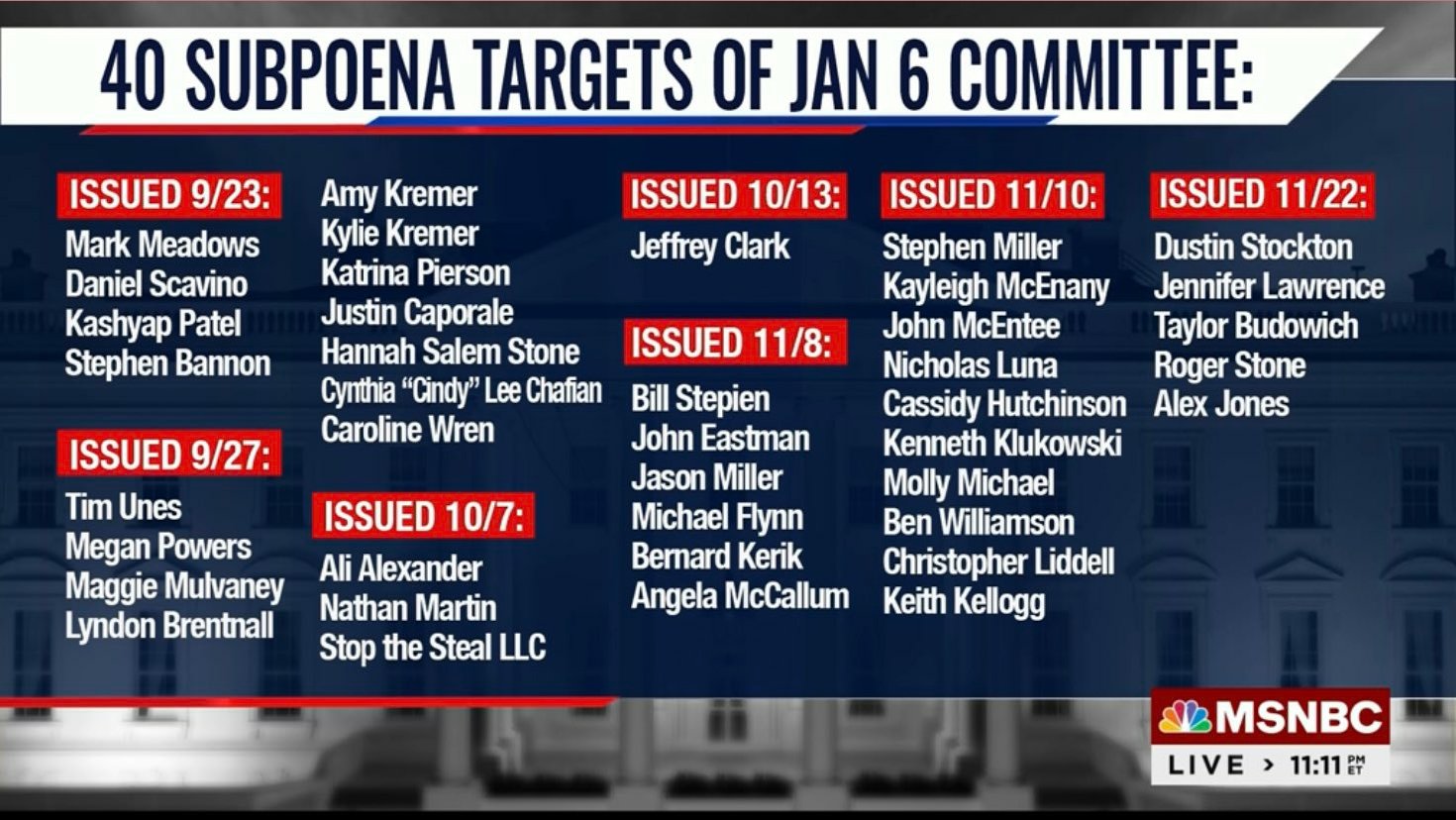 Some of the organizers who planned the rally that took place on the White House Ellipse on

Jan. 6

allegedly used difficult to trace burner phones for their most "high level" communications with former President Trump's team.

Kylie Kremer, a top official in the "March for Trump" group that helped plan the Ellipse rally, directed an aide to pick up three burner phones days before Jan. 6, according to three sources who were involved in the event. One of the sources, a member of the "March for Trump" team, says Kremer insisted the phones be purchased using cash and described this as being "of the utmost importance."

The three sources said Kylie Kremer took one of the phones and used it to

communicate with top White House and Trump campaign officials, including Eric Trump, the president's second-oldest son, who leads the

family's real-estate business; Lara Trump, Eric's wife and a former senior Trump campaign consultant; Mark Meadows, the former White House chief of staff; and Katrina Pierson, a Trump surrogate and campaign consultant.

[…]

Kylie and Amy Kremer did not immediately respond to a request for comment on record.

According to the three sources, some of the most crucial planning conversations between top rally organizers and Trump's inner circle took place on those burner phones. "They were planning all kinds of stuff, marches and rallies. Any conversation she had with the White House or Trump family took place on those phones," the team member said of Kylie Kremer.

Spokespeople for President Trump and Meadows also did not respond to a request for comment. Eric Trump, Lara Trump, and Pierson did not respond to requests for comment.

Burner phones — cheap, prepaid cells designed for temporary usage — do not require users to have an account. This makes them hard to trace and ideal for those who are seeking anonymity — particularly if they are purchased with cash. The use of burner phones could make it more difficult for congressional investigators to find evidence of coordination between Trump's team and rally planners.

Two sources who were involved in planning the Ellipse rally previously told Rolling Stone they had extensive interactions with members of Trump's team, including former White House Chief of Staff Mark Meadows. The text messages provide a deeper understanding of what that cooperation entailed, including an in-person meeting at the White House. Rally organizers also described working with Trump's team to announce the event, promote it, and grant access to VIP guests. A spokesperson for the former president did not respond to a request for comment on the record.

Group chats also provided a glimpse of tensions between rally planners. And the conversations showed how their core group reacted to the chaos that erupted that day in real time, including Kremer rejecting calls to hold a press conference denouncing the violence.

[…]

Amy Kremer, who began her political career as a Tea Party activist, is the chairwoman of Women For America First, the pro-Trump organization that obtained the permit for the Ellipse rally. Kylie is the group's executive director.

Along with Women For America First, Amy Kremer was also a leader of March For Trump, a group that was launched in 2019 to protest against Trump's first impeachment. In late November of 2020, after Trump's loss to President Joe Biden, March For Trump began a bus tour with events around the country, where Kremer and other conservative activists promoted false conspiracy theories about the election and called for the results to be overturned. On Nov. 28, 2020, the day before the bus tour began, Kremer texted fellow activists in a group chat.

"​​Welcome to the March for Trump bus tour," Kremer wrote. "We are going to save the world!"

Kylie Jane Kremer, who worked as an intern for one of her mother's Tea Party groups in 2009, became an integral part of the Kremer political machine. In 2011, an Internet radio host gushed about her work as the Twitter point person for Tea Party Express bus tours, where she kept her mom company and helped wherever she could. news.yahoo.com/…
This is a Creative Commons article. The original version of this article appeared here.