Trump decided he'd wave a mushroom at Iran. Iran decided it would hollaback. Tit for Taunt.  And FYI: "Warning is the equivalent to a threat. You're itchin' for war, anything to distract from your much-celebrated IMPEACHMENT!"
That guy has tweeted that we see Iran responsible for the events in Baghdad & we will respond to Iran.
1st: You can't do anything.
2nd: If you were logical —which you're not— you'd see that your crimes in Iraq, Afghanistan… have made nations hate you. https://t.co/hMGOEDwHuY

— Khamenei.ir (@khamenei_ir) January 1, 2020
(CNN)
President Donald Trump threatened Iran Tuesday, warning the country's leaders they will be held responsible for any death or destruction after protestors attacked the US embassy in Baghdad.
"Iran will be held fully responsible for lives lost, or damage incurred, at any of our facilities," Trump tweeted from Florida. "They will pay a very BIG PRICE! This is not a Warning, it is a Threat."
And later Tuesday, while speaking with reporters as he entered a New Year's Eve gala at Mar-a-Lago, the President said he doesn't want war but that if it comes to conflict, Iran wouldn't last long.
"I don't think that would be a good idea for Iran," Trump said, adding later that a potential conflict "would go very quickly."
Productive conversation with #Saudi Crown Prince Mohammed bin Salman to discuss the attacks against Coalition Forces on Friday. The U.S. will respond decisively to Iranian attacks. The U.S. and #SaudiArabia will continue to work together to counter Iran's malign behavior.

— Secretary Pompeo (@SecPompeo) December 31, 2019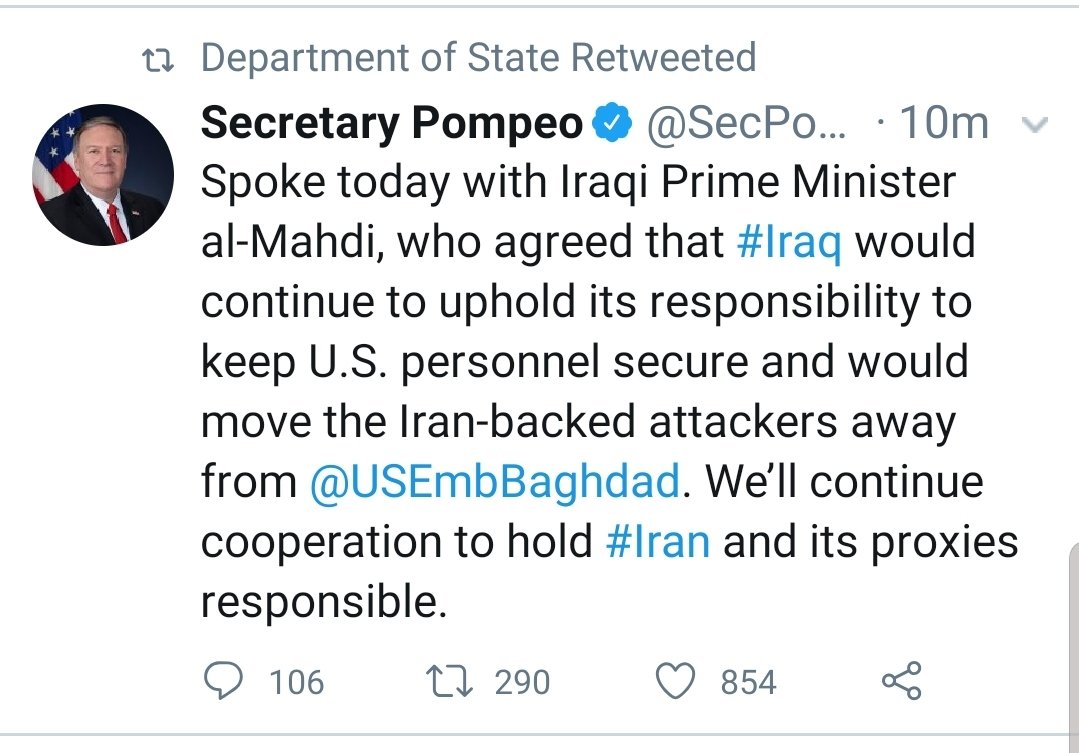 Pompeo just canceled his Ukraine trip w/ the cover story- to focus on Iraq. Don't believe a word of it. He can't go to Ukraine bc news broke in the NYT a/b his being part of Trump's extortion. More news is coming & the fake trial is crumbling. They are getting their lies straight

— Tom Joseph (@TomJChicago) January 1, 2020
Trump sanctions on Iran have done nothing to change Iranian behavior except make it worse. This is what happens when your foreign policy is based on Obama envy, domestic politics, Saudi interests, and magical right wing thinking. https://t.co/HDn0ywZnHu

— Ben Rhodes (@brhodes) December 31, 2019