Australian Senator Fraser Anning released a statement blaming Muslim immigration for the New Zealand terror attack and at a presser got an egg for his trouble the next day. Anning struck the boy, 17 year old Will Connolly, who was not charged in the egging. Anning's minions jumped the kid and held him down until the cops took him away.
A teen smashed an egg on the back of an Australian senator's head over his comments on the New Zealand attacks https://t.co/fIoFf7I6g8 pic.twitter.com/k2LruwDvuv

— CNN (@CNN) March 16, 2019
Local coverage:
Controversial Independent Senator Fraser Anning has been caught on camera punching a young protester after the boy cracked an egg on the back of his head at an event in Moorabbin. A 17-year-old boy was arrested and released without charge pending investigation. #auspol #7News pic.twitter.com/lbXLDwfS96

— 7 News Melbourne (@7NewsMelbourne) March 16, 2019
WATCH: This is the moment Senator Fraser Anning was egged by a teenage boy during a press conference in Melbourne. #9News pic.twitter.com/oePwz3pPH2

— Nine News Melbourne (@9NewsMelb) March 16, 2019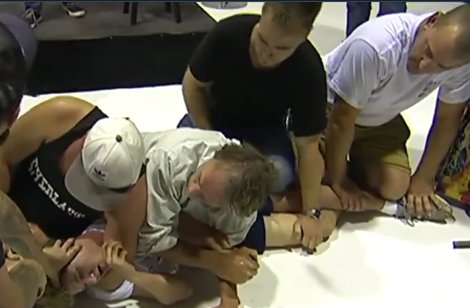 Yes, the police got him checked out and were great. When the cops turned up and he was being held to the ground, he said, "here comes the bacon for the egg." Cops laughed, Anning's thugs didn't.

— Kate Forster (@kateforster) March 16, 2019
#eggboy is following in a fine tradition of egg-related civil disobedience. In November 1917, PM 'Billy' Hughes was egged at the Warwick railway station while speaking in favour of military conscription.
Source: R Allen and C Forrester, From Strength to Strength (2015), p. 14. pic.twitter.com/gn3ocBny6w

— Robert Allen (@RobertA85684641) March 16, 2019
In other RWNJ news
Australia said conservative commentator Milo Yiannopoulos won't be allowed to enter the country for a tour this year after his comments on the mass shooting in New Zealand.
The alt-right provocateur and former Breitbart journalist said on Facebook that attacks such as the one in Christchurch happened "because the establishment panders to and mollycoddles extremist leftism and barbaric, alien religious cultures."
A shooter walked into a packed mosque in the South Island city of Christchurch on Friday afternoon and opened fire on worshipers, filming and live-streaming the act to social media. He drove to another mosque and continued the massacre, killing 49 people and leaving several still fighting for their lives.