The Arms for Dirt whistleblower has, like Christopher Steele and his dossier, yet to be proven wrong, and yet considerable effort has been spent on trying to discredit them. Several times during today's hearings attempts were made to try to insert the whistleblower into the proceedings. The reasons are mainly punitive, considering how the laws have been written, but the GOP and the WH have been looking for any distraction. As if finding the complaint's origin and treating it like a leak got anyone closer to what is now possibly criminal and impeachable.
Rep. Jordan's mantra that Amb. Taylor has to be wrong because the aid was in fact released without Zelinski ever making a public announcement is absurd. What happened in-between to release the aid was that Trump was caught red-handed when the whistleblower spoke up!

— Laurence Tribe (@tribelaw) November 13, 2019
If Republicans want get beyond hearsay, they should state publicly that they want Mulvaney, Pence, Pompeo, and Bolton to testify. Easy day.

— Michael McFaul (@McFaul) November 13, 2019
Republicans keep saying these witnesses have no direct knowledge, without acknowledging the White House has blocked those who have such knowledge from testifying.
Democrats have not made that point during their own time.

— Maggie Haberman (@maggieNYT) November 13, 2019
And now there will be a new witness who will give a deposition on Friday.
Sondland told reporters in Ukraine on July 27 that he spoke to Trump after the Zelensky call, but it is unclear if he was referring to the same conversation that Taylor described.
Sondland attorney Robert Luskin said in an email to The Washington Post that his client "will address any issues that arise from this in his testimony next week," when he is scheduled to testify in another open hearing.
Taylor's account of the call undercuts Trump's recent claims that he doesn't know Sondland, whom he called a "really good man and great American" in a tweet last month.
But last week, Trump told reporters at the White House, "Let me just tell you: I hardly know the gentleman." The president's comment came after Sondland reversed his previous testimony in the impeachment inquiry, acknowledging that he told a Ukrainian official in September that U.S. military aid probably would resume only if the Kyiv government opened Trump's desired investigations.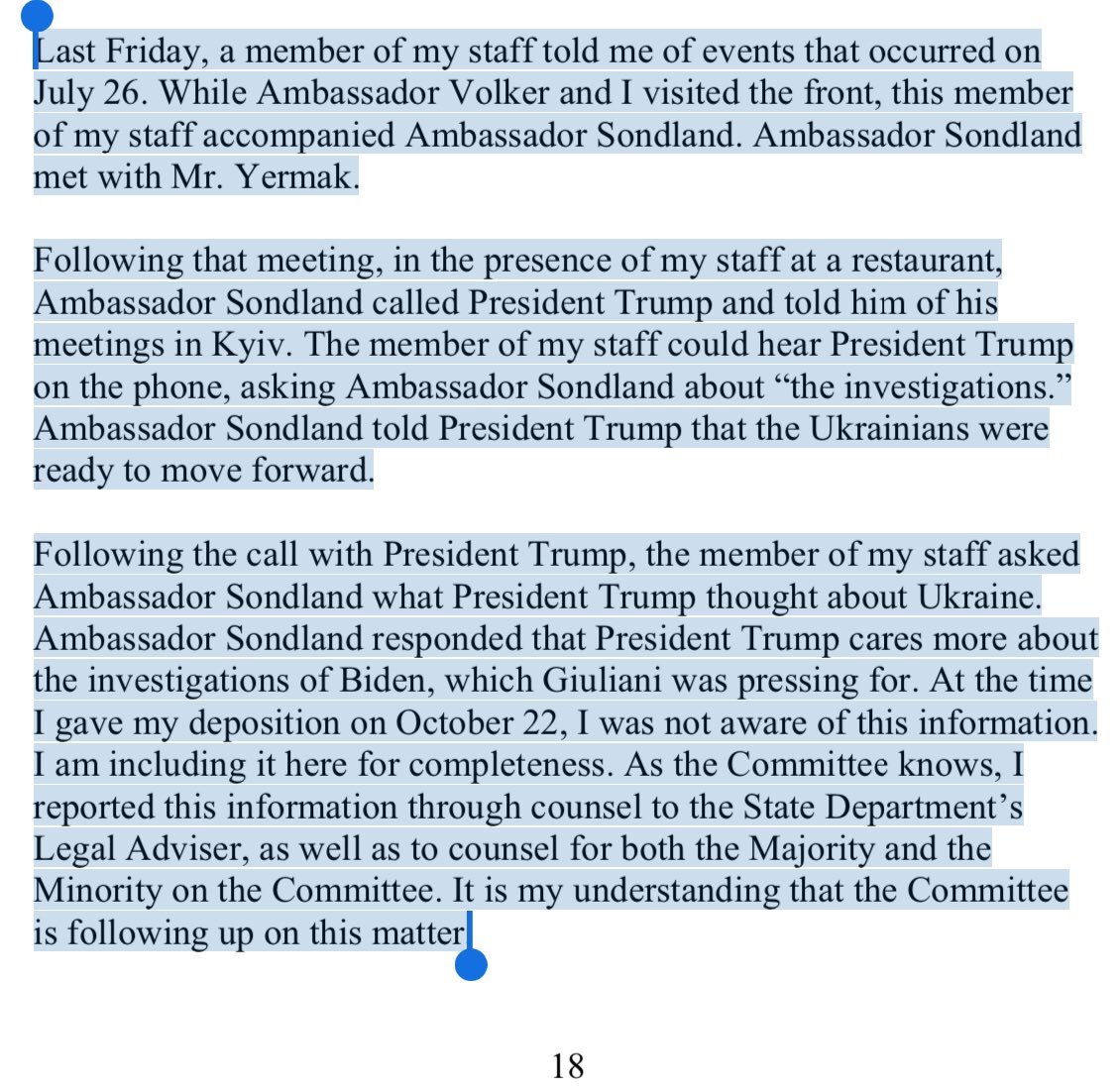 Has any GOP member explained why — if as Jim Jordan says Ukraine is "one of the three most corrupt countries on the planet" — Trump trusted them to investigate two U.S. citizens for…corruption? 🤔

— Asha Rangappa (@AshaRangappa_) November 13, 2019
Trump didn't care about Ukraine corruption for 3 years, until Joe Biden announced he was running for President in 2020 https://t.co/aUKb2MxC25

— KD (@Fly_Sistah) November 13, 2019
Russia, if you're listening, can you please release your recording of Sondland's Jul 26 call to Trump, which Sondland made from an unsecured cellphone while in Kyiv? Thanks. https://t.co/uBXXSQGbiB

— Polly Sigh (@dcpoll) November 13, 2019
To recap, Lindsey Graham insists that Trump is too incompetent to engage in a quid pro quo and Tucker Carlson says that Russia is too inept to pose a threat to the United States. This is the dumb hill the GOP chose to die on. pic.twitter.com/fDwngGNr1L

— Julia Davis (@JuliaDavisNews) November 14, 2019
Trump's request for a re-hearing on the demand by House Democrats for records from Trump's accountants was denied by a federal appeals court https://t.co/L4iGElhkja

— Bloomberg Politics (@bpolitics) November 14, 2019
Next stop: SCOTUS. No way the Supreme Court will reverse this ironclad ruling. It's conservative, even reactionary, but not crazy. https://t.co/wnfzDBB3wh

— Laurence Tribe (@tribelaw) November 14, 2019