We are learning more about Jeffrey Epstein's sex recruiting network, including underage females trafficked internationally. The associated fallout on Alex Acosta gets worse with the prospects for his exit looking less dim. Now the press is beginning to ask about facts SDNY may have in hand about the money trails.
When prosecutors gave Jeffrey Epstein a sweetheart plea deal in 2007, they agreed not to charge four women allegedly involved in recruiting dozens of underage girls for abuse.
In Epstein's controversial 2008 plea deal in Florida—which was granted by then-prosecutor and now-Secretary of Labor Alexander Acosta and other DOJ attorneys, without informing the billionaire's alleged victims—four women are named as possible accomplices. Epstein's non-prosecution agreement, which sentenced him to 18 months in prison, also granted immunity to the four women and any other "potential co-conspirators," identified in the document as "including but not limited to Sarah Kellen, Adriana Ross, Lesley Groff, or Nadia Marcinkova."
[…]
According to the 14-page indictment filed in Manhattan federal court on Monday, the 66-year-old hedge-fund manager/convicted sex offender "worked and conspired with others, including employees and associates" to run a sex-trafficking enterprise between 2002 and 2005, preying on "dozens" of girls as young as 14 at his mansions in New York and Palm Beach, Florida.
During each encounter listed in the indictment—which charges Epstein with one count of sex trafficking and one count of sex-trafficking conspiracy—girls were taken to a room to perform "massages" nude or partially nude before Epstein would escalate the encounter to "include one or more sex acts."
"Epstein typically would also masturbate during these sexualized encounters, ask victims to touch him while he masturbated, and touch victims' genitals with his hands or with sex toys," the indictment states, adding the money man knew that the girls were minors.
After the assault, prosecutors allege, Epstein or his associates would pay each girl hundreds of dollars in cash and often would turn the victim into a recruiter of new girls to abuse.
"In this way, Epstein created a vast network of underage victims for him to sexually exploit," the indictment said. The indictment goes on to detail three anonymous victims and refers to three unnamed employees who allegedly assisted Epstein in the enterprise, including by making calls to arrange for "massages" for Epstein.
Over the past few days I've spoken to seven prominent money managers, three of whom are billionaires, and asked them if they have any idea how Epstein made money or who his clients are

All of them said they had no idea and have never been able to figure out the answers https://t.co/TgBh4JtPUO

— Yashar Ali 🐘 (@yashar) July 9, 2019
Banks of a feather:
New: Deutsche Bank provided Epstein significant financial loans to launch his investment firm, according to his former mentor. https://t.co/8DjfUxJ6cv

— Davis Richardson (@DavisOliverR) July 10, 2019
Busy week ahead
The Justice Department is seeking to discourage Robert Mueller's deputies from testifying before Congress https://t.co/TBknpvIz6P

— The New York Times (@nytimes) July 10, 2019
Pass. I prefer this take better, primarily because Steele is respected by his peers:

'The DOJ grilled Trump dossier author Christopher Steele for two days. What they reportedly heard was 'credible' and 'surprising.'' https://t.co/tbtMzq0OMX

— RynheartTheReluctant (@TheRynheart) July 10, 2019
Trump's Twitter disparagement of the British ambassador included an unusual trifecta.https://t.co/U5Pr9DzQbm pic.twitter.com/hnrnlyJazw

— Philip Bump (@pbump) July 10, 2019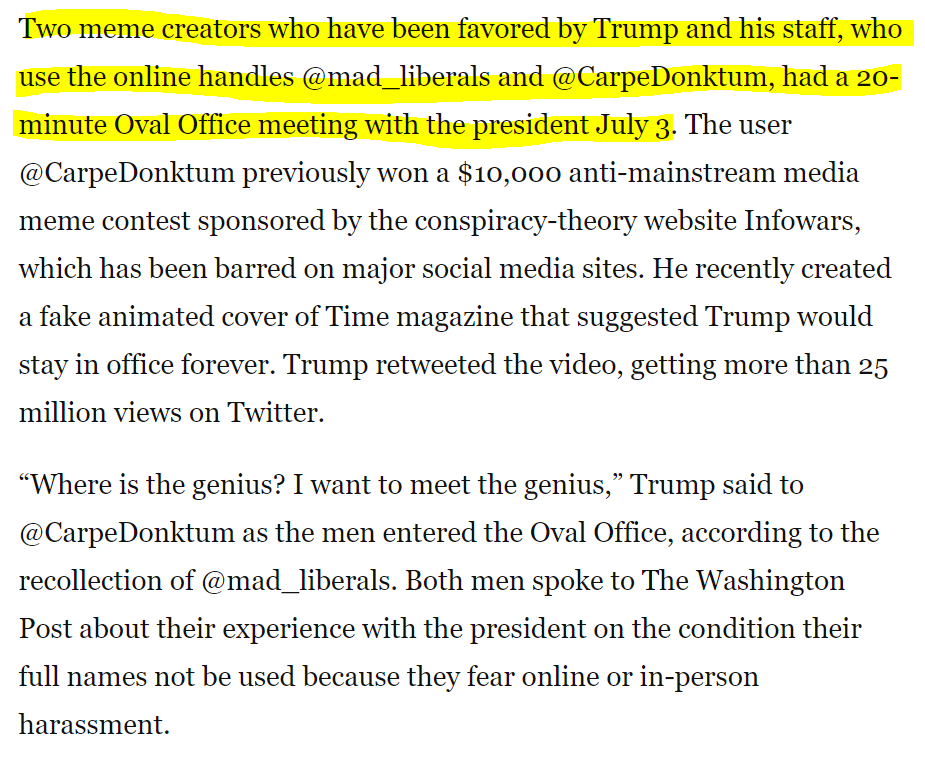 Trump's threat of mass #deportations is designed to create terror and transform immigrant communities into a permanent, hyper-exploited underclass https://t.co/sfWwLvbUd7 #immigration

— Critical Reading (@CriticalReading) July 10, 2019
This is just hysterical. @DavidBrodyCBN is retweeting the White House tweet citing a poll claiming that a majority of "Hispanic voters" favor a citizenship question.

The poll asked 156 Latinos. https://t.co/NlUDkbrrp0

— Bill Prady (@billprady) July 10, 2019
Protection racket:
Trump has made a regular habit of using the power of the presidency to attack private companies to stifle dissent. Then his former aides—like @CLewandowski_ —have charged companies extortion through their lobbying firms to make it stop. https://t.co/JaJmWOmvDp https://t.co/hFjES1AuvU

— Jesse Lee (@JesseCharlesLee) July 10, 2019
In March, as Perot battled leukemia, in the last documented political act of his life, he wrote two checks for the legal maximum amount to Trump's campaign for president, including for the general election next year. https://t.co/p8aEL4MMRM

— James Pindell (@JamesPindell) July 9, 2019
---