Trump is doing PR for Antifa in his speeches and makes tweets that only draw attention from the reality of 105,000 COVID deaths. More insidiously, it promotes the agenda of white nationalist groups like Identity Evropa.
Identity Evropa, rebranded as American Identity Movement in March 2019, is an American neo-Nazi and white supremacist organization established in March 2016. The group is identified as a white supremacist organization by the Anti-Defamation League and is designated by the Southern Poverty Law Center as a hate group
Black Lives mothers, #BlackLivesMaters?
Trump as well as Matt Gaetz are somehow coordinating to disinform the public by citing a group, Antifa, that is not a group that can be designated a terror organization. What's worse is that a real group, Identity Evropa, is behind the 2017 "Unite the Right" event in Charlottesville has spoofed a threat using Twitter.
There are in fact, 400+ fake "antifa" accounts created on Twitter. My favorite is the one that Anthony Scaramucci subscribed to: Beverly Hills Antifa @BevHillsAntifa7 — Created in April 2018.
A Twitter account claiming to belong to a national "antifa" organization and pushing violent rhetoric related to ongoing protests has been linked to the white nationalist group Identity Evropa, according to a Twitter spokesperson.

[…]

As protests were taking place in multiple states across the U.S. Sunday night, the newly created account, @ANTIFA_US, tweeted, "Tonight's the night, Comrades," with a brown raised fist emoji and "Tonight we say 'F— The City' and we move into the residential areas… the white hoods…. and we take what's ours …"

This isn't the first time Twitter has taken action against fake accounts engaged in hateful conduct linked to Identity Evropa, according to the spokesperson.

Matt Gaetz, scion of Identity Evropa? Hello FBI?

The antifa movement — a network of loosely organized radical groups who use direct action to fight the far-right and fascism — has been targeted by President Donald Trump as the force behind some of the violence and property destruction seen at some protests, though little evidence has been provided for such claims.

[…]

Josh Russell, an independent bot researcher who identifies foreign and domestic hacking and trolling operations, said events like the weekend's protests are ripe for this kind of platform manipulation.

"Any large 'online' event is going to have these types of things happen. Every bad actor that sees the opportunity to create some panic is going to leverage the situation to do so. It's nothing new," Russell said.

Off Twitter, viral text messages of screenshots of doctored tweets have circulated throughout the country. Some of the false text messages claim that extremist groups are plotting to move into residential areas this week.

Bot researchers call this kind of disinformation distribution "hidden viral" text messages, which go undetected on mainstream platforms like Facebook and Twitter and can spread like wildfire without moderation.

"This is a common thing for foreign disinformation agents…They would be trying to get people to believe that things are much worse on the ground than they are."
The United States of America will be designating ANTIFA as a Terrorist Organization.

— Donald J. Trump (@realDonaldTrump) May 31, 2020
It is quite the projection, using Anifa as some monolithic threat to the state, when the greater threat now comes from common criminals including white nationalists. Only Trumpists could make up this kind of disinformation. More troubling is that syncretic support for right-wing groups is a common practice for Russian intelligence groups, aside from the support it demonstrated in 2016.
Not all its self-identifying "members" subscribe to the same specific ideologies, and not all condone all of the same radical tactics. And yet, the idea that the movement is a fully integrated, structured political organisation has stuck in the popular imagination, especially in certain quarters of the right, where the name "Antifa" is used to invoke the image of an organised, violent far-left threat to social order and security.
One of Antifa's first conspicuous appearances during the Trump era was at the 2017 "Unite the Right" rally in Charlottesville, Virginia, where a large turnout of far-right and racist protesters were confronted by left-wing and anti-racist counter-protesters.
Antifa-identified activists have mounted conspicuous demonstrations many times since then, including against right-wing speakers on college campuses, and certain of the movement's tactics have become familiar features of large left-wing protests – dressing entirely in black, for instance.
They're not, it's a right-wing false flag. Antifa only shows up if literal Nazis & Fascists march on the streets, in order to protect their communities.
But to Trump or Fox News, any POC wearing a mask is Antifa.

— James McAlc (@JamesMcAlc) June 2, 2020
THE PRESIDENT: Thank you very much. My fellow Americans: My first and highest duty as President is to defend our great country and the American people. I swore an oath to uphold the laws of our nation, and that is exactly what I will do.

All Americans were rightly sickened and revolted by the brutal death of George Floyd. My administration is fully committed that, for George and his family, justice will be served. He will not have died in vain. But we cannot allow the righteous cries and peaceful protesters to be drowned out by an angry mob. The biggest victims of the rioting are peace-loving citizens in our poorest communities, and as their President, I will fight to keep them safe. I will fight to protect you. I am your President of law and order, and an ally of all peaceful protesters.

But in recent days, our nation has been gripped by professional anarchists, violent mobs, arsonists, looters, criminals, rioters, Antifa, and others. A number of state and local governments have failed to take necessary action to safeguard their residence. Innocent people have been savagely beaten, like the young man in Dallas, Texas, who was left dying on the street, or the woman in Upstate New York viciously attacked by dangerous thugs.

Small-business owners have seen their dreams utterly destroyed. New York's Finest have been hit in the face with bricks. Brave nurses, who have battled the virus, are afraid to leave their homes. A police precinct station has been overrun. Here in the nation's capital, the Lincoln Memorial and the World War Two Memorial have been vandalized. One of our most historic churches was set ablaze. A federal officer in California, an African American enforcement hero, was shot and killed.

These are not acts of peaceful protest. These are acts of domestic terror. The destruction of innocent life and the spilling of innocent blood is an offense to humanity and a crime against God.

America needs creation, not destruction; cooperation, not contempt; security, not anarchy; healing, not hatred; justice, not chaos. This is our mission, and we will succeed. One hundred percent, we will succeed. Our country always wins.

That is why I am taking immediate presidential action to stop the violence and restore security and safety in America. I am mobilizing all available federal resources — civilian and military — to stop the rioting and looting, to end the destruction and arson, and to protect the rights of law-abiding Americans, including your Second Amendment rights. Therefore, the following measures are going into effect immediately:

First, we are ending the riots and lawlessness that has spread throughout our country. We will end it now. Today, I have strongly recommended to every governor to deploy the National Guard in sufficient numbers that we dominate the streets. Mayors and governors must establish an overwhelming law enforcement presence until the violence has been quelled.

If a city or a state refuses to take the actions that are necessary to defend the life and property of their residents, then I will deploy the United States military and quickly solve the problem for them.

I am also taking swift and decisive action to protect our great capital, Washington, D.C. What happened in this city last night was a total disgrace. As we speak, I am dispatching thousands and thousands of heavily armed soldiers, military personnel, and law enforcement officers to stop the rioting, looting, vandalism, assaults, and the wanton destruction of property.

We are putting everybody on warning: Our seven o'clock curfew will be strictly enforced. Those who threaten innocent life and property will be arrested, detained, and prosecuted to the fullest extent of the law.

I want the organizers of this terror to be on notice that you will face severe criminal penalties and lengthy sentences in jail. This includes Antifa and others who are leading instigators of this violence.

One law and order — and that is what it is: one law. We have one beautiful law. And once that is restored and fully restored, we will help you, we will help your business, and we will help your family.

America is founded upon the rule of law. It is the foundation of our prosperity, our freedom, and our very way of life. But where there is no law, there is no opportunity. Where there is no justice, there is no liberty. Where there is no safety, there is no future.

We must never give in to anger or hatred. If malice or violence reigns, then none of us is free.

I take these actions today with firm resolve and with a true and passionate love for our country. By far, our greatest days lie ahead.

Thank you very much. And now I'm going to pay my respects to a very, very special place. Thank you very much.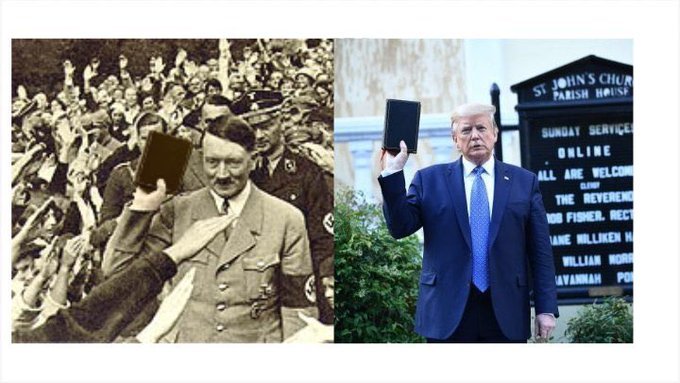 Want to clarify something: The @WhiteHouse said protestors were given three verbal warnings before they released tear gas. I was standing at the metal barriers with rows of other protestors behind me and did not hear a single warning. https://t.co/972ZohDANK

— Rebecca Tan (@rebtanhs) June 2, 2020