More interesting will be whether Kushner will give up Lord Dampnut … because final shots, and it's a golf day tomorrow for sure? Will he show up in Utah on Monday?
The plea deal of Michael Flynn — who, by the way, was a low-level volunteer covfefe boy planted by Obama — is Hillary's desperate attempt to distract investigative journalist Sean Hannity from the Pizzagate.

— Steve Bannon (@PRESlDENTBANNON) December 1, 2017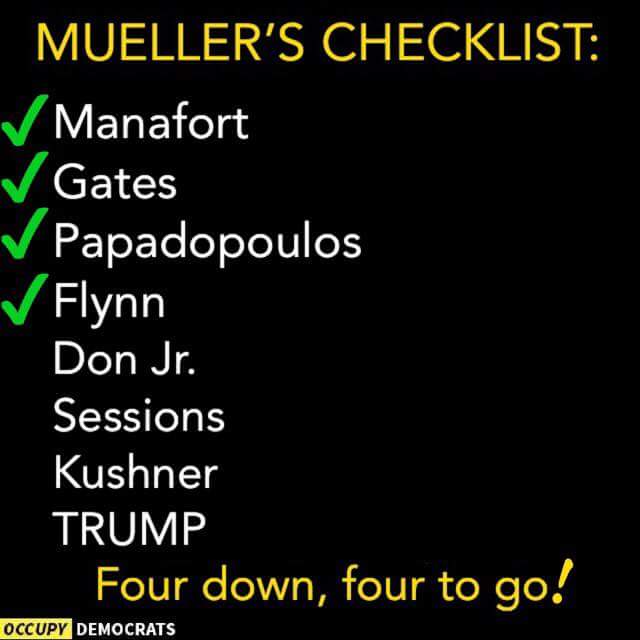 The indictment released today from the office of special prosecutor Robert Mueller describes this lie: "On or about December 22, 2016, Flynn did not ask the Russian Ambassador to delay the vote on or defeat a pending United Nations Security Council resolution."
At the time, the U.N. Security Council resolution on Israeli settlements was a big deal. Even though the Obama administration had less than a month left in office, the president instructed his ambassador to the United Nations to abstain from a resolution, breaking a precedent that went back to 1980 when it came to one-sided anti-Israel resolutions at the U.N.
This was the context of Kushner's instruction to Flynn last December. One transition official at the time said Kushner called Flynn to tell him he needed to get every foreign minister or ambassador from a country on the U.N. Security Council to delay or vote against the resolution. Much of this appeared to be coordinated also with Israeli prime minister Benjamin Netanyahu, whose envoys shared their own intelligence about the Obama administration's lobbying efforts to get member states to support the resolution with the Trump transition team.  
*Sent:* Friday, December 1, 2017 12:11 PM
*Subject:* WH In Town Pool Report #2

The pool gathered and walked on to the colonnade at 12:01 for the scheduled pool spray with the Libyan prime minister where we held, waiting to be let into the Oval Office.

At 12:04, we were taken back to the briefing room.

At 12:08, WH spokesperson Lindsey Walters said "There is no pool spray."

---

*Sent:* Friday, December 1, 2017 11:39 AM
*Subject:* WH In Town Pool Report 1

Pool has been given this statement from Ty Cobb about Mike Flynn

Statement from Ty Cobb:

Today, Michael Flynn, a former National Security Advisor at the White House for 25 days during the Trump Administration, and a former Obama administration official, entered a guilty plea to a single count of making a false statement to the FBI.

The false statements involved mirror the false statements to White House officials which resulted in his resignation in February of this year. Nothing about the guilty plea or the charge implicates anyone other than Mr. Flynn. The conclusion of this phase of the Special Counsel's work demonstrates again that the Special Counsel is moving with all deliberate speed and clears the way for a prompt and reasonable conclusion.
Don't forget Flynn may well have highly incriminating evidence about VPOTUS Mike Pence, who claimed that Flynn misled him about Kislyak. Perhaps Pence wasn't as clueless as he claims. And we know a sitting VP can be indicted and convicted. Recall Agnew.

— Laurence Tribe (@tribelaw) December 1, 2017