The media circus continues, where Ed Whelan has now tweeted a classic example of modern non-Russian disinformation, after first tweeting a theory worthy of Alex Jones: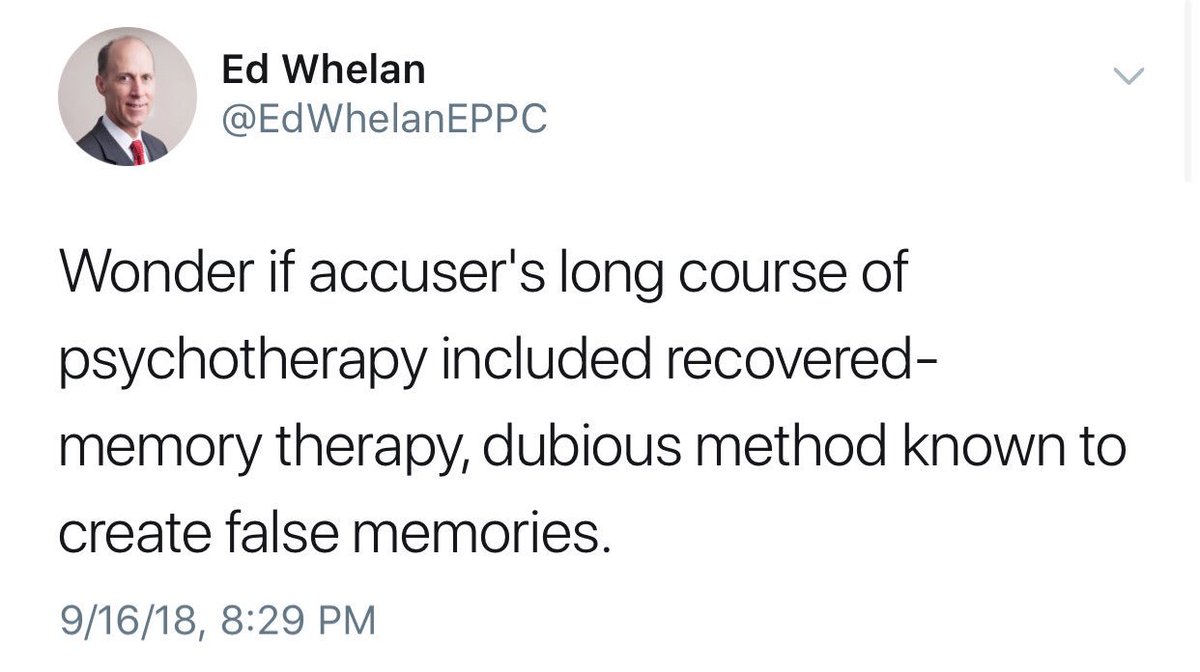 Here's hoping Chris Garrett has lawyers on speed-dial, because unless Ed Whelan's middle name is Zapruder or Holliday, he's in for a heap of legal trouble by producing a Twitter version of a false memory.
For those questioning whether Ed Whelan may not be acting in good faith in his current role, here's my own unrelated interaction with him. The "Whelan Way:" Ed Whelan's Bad Faith and Nasty Attack on My Book on Justice Scalia's Legacy" https://t.co/p5mHBt8fdC

— Rick Hasen (@rickhasen) September 20, 2018
Because all white folks must look alike, especially when they sexually assault 15-year-olds, and Ed Whelan probably has a power-point as well. Pro-tip: get better photos to prove resemblance.
Dr. Ford may well have been the victim of a severe sexual assault by someone 36 years ago. Her allegations are so vague as to such basic matters as when and where that it is impossible for Judge Kavanaugh to *prove* his innocence.
But there are compelling reasons to believe his categorical denial. Let's look at one set of reasons.
According to Ford's letter, the assault occurred "in a suburban Maryland area home at a gathering that included me and four others." Her WaPo account adds that the house was "not far from" the Columbia Country Club.
The "four others" that she and her lawyer have identified are Kavanaugh, Mark Judge, P.J. Smyth, and a female classmate of Ford's. None of the four lived in the vicinity of the Columbia Country Club.
Kavanaugh's home was 3.6 miles away; Smyth's 4.3 miles; Judge's 10 miles; and the female classmate's 7 miles.
Folks who knew both Kavanaugh and Garrett in high school have commented on how much they resembled each other in appearance. Here are Kavanaugh and Garrett in their senior yearbook photos.
Here are Kavanaugh and Garrett in their senior yearbook photos.
Here are Kavanaugh and Garrett in their senior yearbook photos.
If you're at a gathering of "four others" in someone's home, you'd ordinarily think that the four others include the host who lives in the home. And that host would be the person least likely to act like a guest and most likely to use private areas of the house.
If the gathering was at Garrett's house and Garrett was there, then one of the "four others" wasn't there.
Kavanaugh categorically denies being at the gathering and committing the assault. Beyond his countless character witnesses from then and now, Judge and Smyth have informed the Senate Judiciary Committee that they recall no such gathering *at which Kavanaugh was present*.
The female classmate has not been heard from.
To be clear, I have no idea what, if anything, did or did not happen in that bedroom at the top of the stairs, and I therefore do not state, imply or insinuate that Garrett or anyone else committed the sexual assault that Ford alleges.
Further, if Ford is now mistakenly remembering Garrett to be Kavanaugh, I offer no view whether that mistaken remembrance dates from the gathering or developed at some point in the intervening years.
It is regrettable that private citizens are being drawn into this. But that is the product of Senator Feinstein's shockingly shoddy handling of the whole matter.
If the matter had been handled as it should have been, the Committee would have investigated the matter over the summer and resolved it privately to everyone's satisfaction without the smearing of Kavanaugh and the dragging of the names of others into the public eye.
Bottom line: I believe that a fair assessment of this evidence powerfully supports Judge Kavanaugh's categorical denial.
OK, I'll begin laying out some information concerning Ed Whelan and the allegations that he is conspiring with Hydra against America from his base in French Polynesia.

— Jeffrey Sachs (@JeffreyASachs) September 20, 2018
I know nothing about who Ed Whelan is, but news flash in DMV metro area: anything under 25 miles is near, and 3 miles is downright on top of it. https://t.co/Rls3TNXIJA

— julesdc (@julesdc) September 20, 2018
There are more men in this picture than women. pic.twitter.com/VuInJKtPkX

— Dan Lavoie (@djlavoie) September 20, 2018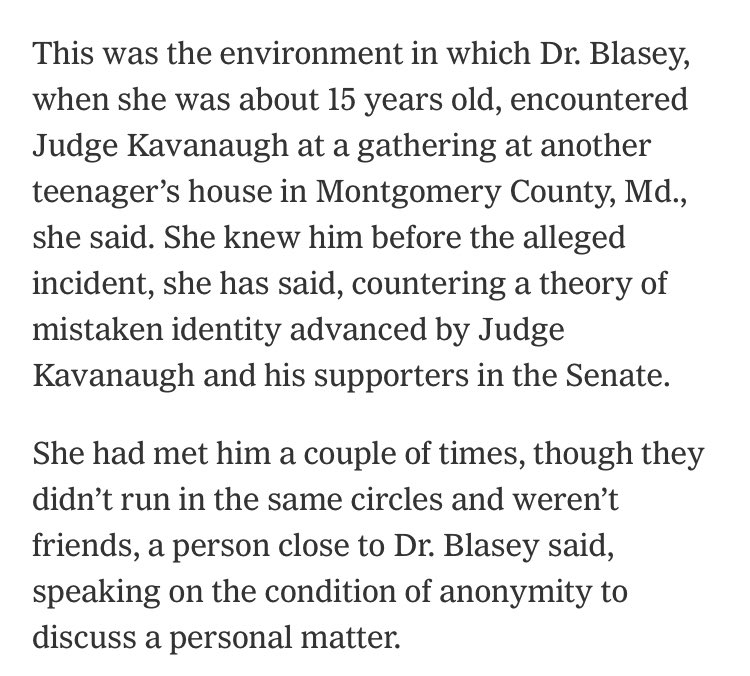 This is a Creative Commons article. The original version of this article appeared here.