Lloyd Green's review in The Guardian gives us a preview of what is now widely available today in Bob Woodward's latest book Fear, as a million copies have been ordered printed. The audio book does not disappoint, and one can see that Trump if he listened to it rather than the book reading he never does, he'd pitch himself to play the lead for the full-length movie project. He's that clueless.
 "Trump had one overriding problem" that his personal lawyer, John Dowd, an ex-marine, "knew but could not bring himself to say to the president: 'You're a fucking liar.'"
Fear, the latest chronicle of a president from Bob Woodward, who with Carl Bernstein did so much to bring down Richard Nixon, only reinforces this dismal picture. From beginning to end, Woodward treats us to a portrait of an occupant of the Oval Office who sucks the life out of his subordinates.

Trump is continually reminded of the legal constraints that encumber the presidency, that dyspeptic diktats are not substitutes for legislation or even executive orders, and that the White House counsel and attorney general ultimately owe duties to their country and offices, not reflexively to the guy who hired them.

And he hates all of it.

Fear depicts a White House awash in dysfunction, where the Lord of the Flies is the closest thing to an owner's manual. Woodward is not describing the usual flavors of palace intrigue that come with the turf.
When he did stop beating his spouses, Rob Porter is currently continuing to court Hope Hicks.
Woodward notes that Trump's former top economic adviser Gary Cohn lamented Porter's fall from grace, writing that "Cohn saw that one of the main restraining influences on Trump was now gone."
The president, according to Fear, took a strong liking to Porter, even asking if he was interested in being White House counsel and telling him, "You've got a better resume than Neil Gorsuch," referring to Trump's first pick for the Supreme Court.
Throughout most of the book, Porter is shown to use that influence with the president to moderate his positions inside the White House.
For example, during the efforts to clean up Trump's initial remarks about a violent white-nationalist rally in Charlottesville, Porter tells the president he needs to fix the situation.
"You don't want to be perceived the way in which you're being perceived now. You need to bring the country together," Porter said, according to Woodward's telling.
In another scene, Cohn and Porter are working closely together to "derail what they believed were Trump's most impulsive and dangerous orders."
This culminates with Cohn swiping official documents, including a notification letter to withdraw from the North American Free Trade Agreement (NAFTA), off of Trump's desk in the Oval Office, in the hopes the the president would forget about them. (Cohn was terrified of the potential economic repercussions of Trump pulling out of NAFTA.)
"The new book out (tomorrow) by legendary journalist Bob Woodward describes Donald Trump as a threat to national security… it's clearly getting under the Trump's skin, inspiring multiple tweets and a parade of advisors…to respond".
Wait, so we are going with Woodward is credible now? https://t.co/UwcP8FpI0X

— Rep. Eric Swalwell (@RepSwalwell) September 11, 2018
"Let the silence suck out the truth."
After The White House claimed for more than a year that Bob Woodward and Carl Bernstein were making up stories and creating fictional sources, here they are watching President Richard Nixon resign on television.

God bless great journalism and great journalists. pic.twitter.com/OyVXH5j6wM

— Don Winslow (@donwinslow) September 11, 2018
Bob Woodward's publisher says it's already printing 1,000,000 copies of 'Fear,' making it one of the biggest publishing success stories of the year.

"We have reprinted six times for a total of seven to meet extraordinary demand."https://t.co/imaRcvHp9D

— Kyle Griffin (@kylegriffin1) September 10, 2018
On #LSSC tonight: @StephenAtHome asks @realBobWoodward "WHAT MAKES YOU AFRAID" in terms of things he observed at The White House while researching his book #Fear.

Watch tonight at 11:35/10:35c on @CBS! pic.twitter.com/MGfLBE1yYe

— The Late Show (@colbertlateshow) September 11, 2018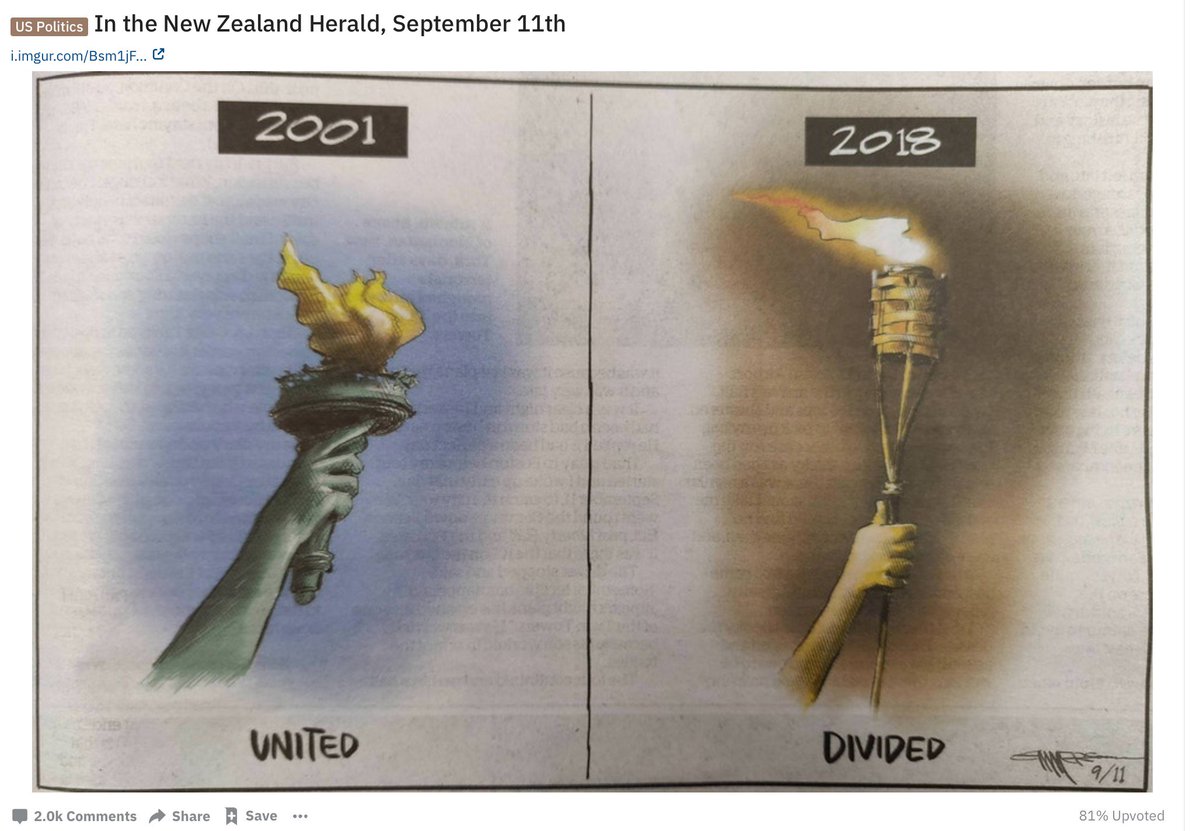 17 years ago, today, Donald Trump bragged about how his building was now the tallest one in downtown Manhattan since the Twin Towers fell. pic.twitter.com/XOQxAVAoL5

— Brian Klaas (@brianklaas) September 11, 2018