Trump indulged some idle tweets declaring his dictatorial powers over Congress and NAFTA while on his way to the golf course and while being eviscerated by Meghan McCain
First tweets were otherwise cribbed from the usual RW outlets with his usual flair(sic) added, as well as some idle blurting to hate on Canada.
Trump Score: 73
Trump likely wrote it
Probabilities (Trump/Staff):
Words: 50/49, Time: 88/11
Tweet source: Twitter for iPhone pic.twitter.com/uGCIzmilmV

— Trump Tweet Track (@trumptweettrac) September 1, 2018
*Date:* September 1, 2018 at 11:19:18 EDT
*Subject:* *In-town pool #3 at Trump National*
After an uneventful ride, the presidents motorcade pulled into Trump National Golf Club in Loudoun County, Virginia, at 11:16 a.m.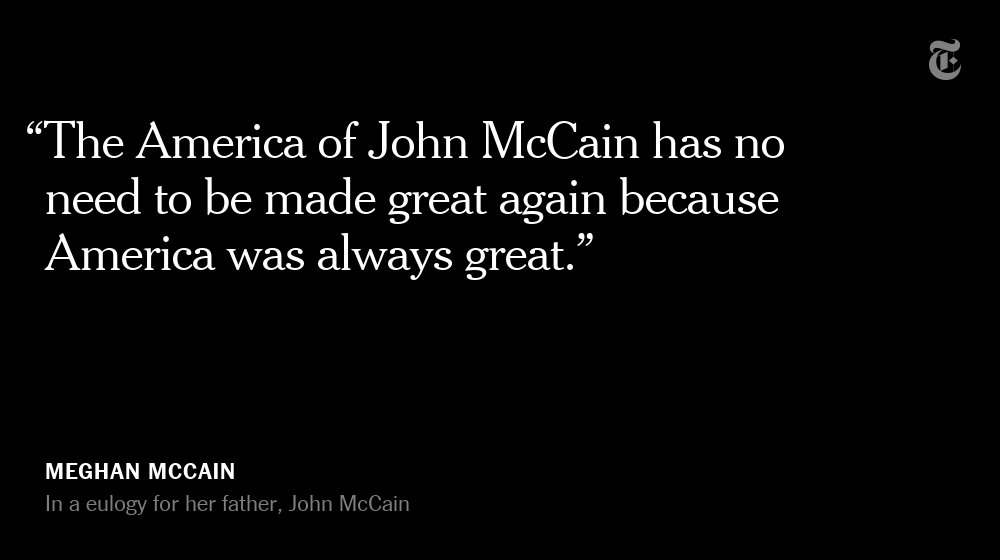 Make no mistake: the applause ringing out at the Cathedral when Meghan McCain says 'America has no need to be made great again because America was always great' is not standard. Never heard applause at a funeral here before.

— Susan Glasser (@sbg1) September 1, 2018
https://twitter.com/cspan/status/1035894842289737729 https://twitter.com/mikiebarb/status/1035907224499978241 https://twitter.com/PhilipRucker/status/1035879334781878273 https://twitter.com/JohnJHarwood/status/1035928301104189440
When Trump  misspelled PBO's name in one of this morning's tweets, he may have been thinking about the crimes he'll be charged with when Tom Barrack gives him up.
Meghan McCain: "We gather here to mourn the passing of American greatness — the real thing, not cheap rhetoric from men who will never come near the sacrifice he gave so willingly," or those who lived lives of comfort as he served. https://t.co/eDA5Qofe9O

— ℭ𝔞𝔯𝔬𝔩 𝔦𝔫 𝔱𝔥𝔢 𝔑ℭ (@carol_NC66) September 1, 2018
John understood, as JFK understood, as Ronald Reagan understood, that part of what makes our country great is that our membership is based not on our bloodline, not on what we look like, what our last names are, it's not based on where our parents or grandparents came from, or how recently they arrived, but on adherence to a common creed: that all of us are created equal, endowed by our creator with certain inalienable rights. It has been mentioned today, and we've seen footage this week John pushing back against supporters who challenged my patriotism during the 2008 campaign. I was grateful, but I wasn't surprised. As Joe Lieberman said, that was John's instinct. I never saw John treat anyone differently because of their race or religion or gender. And I'm certain that in those moments that have been referred to during the campaign, he saw himself as defending America's character, not just mine. For he considered it the imperative of every citizen who loves this country to treat all people fairly.
And then there were the three who spoke on Friday. You had to control your gag reflex watching Vice President Pence, Senate Majority Leader Mitch McConnell (R-Ky.) and House Speaker Paul D. Ryan (R-Wis.) extol McCain's greatness as he was accorded the honor of lying in state.
Consider Pence for a moment. He began with a ludicrous declaration that broke all records for disingenuousness: "The president asked me to be here on behalf of a grateful nation, to pay a debt of honor and respect to a man who served our country throughout his life, in uniform and in public office. It's my great honor to be here." President Trump despised McCain and routinely mocked him. Suggesting that Pence was there to represent Trump would require him to insult and mock McCain. Pence accepted the vice presidency and stuck with Trump despite the "Access Hollywood" tape, despite Trump's denigration of McCain's service, despite overt racism and contempt for human rights. He has not batted an eye over the hush-money payments to women, the attacks on the rule of law, the evisceration of decorum. Only in Washington could such a spineless creature sally forth to declare McCain a hero.
To call McCain a hero is to recognize his heroic qualities, of which Trump has none. You can worship Trump or admire McCain; it's metaphysically impossible to do both. Meghan McCain's glare was an appropriate reaction to Pence's hypocrisy.
Trump held an official W.H. event (paid for by taxpyers) today in NC. In touting how he travels for free for official events, Trump said, "it's like a political event and you don't even have to pay for it." He also referenced his nearby golf course.https://t.co/MNM4RQiaDS

— Kyle Griffin (@kylegriffin1) August 31, 2018
---