Trump links yanking ex-CIA chief John Brennan's security clearance to Russia probe https://t.co/O0PXMw8GGf pic.twitter.com/5ZkyX6wHJf

— CBS News (@CBSNews) August 16, 2018
POTUS admits the Russia probe was the reason Brennan's security clearance got pulled.
He claimed that the date discrepency in the revocation order was because it was"too hectic" during his golf vacation. 
Donald Trump's list of accusations about John Brennan today:
– "Erratic conduct and behaviour"
– "Frenzied commentary"
– "Wild outbursts on the internet and television"
– Monetizing his official position
– Told lies

— Daniel Dale (@ddale8) August 15, 2018
So if you clear away 45*''s prevarications, the stripping of Brennan's security clearance may be a trial run for taking Mueller's security clearance, which might have negligible effect.
In a subsequent interview with the Wall Street Journal, Trump made that crystal clear, saying he had to move against Brennan and others he holds responsible for the Russia probe.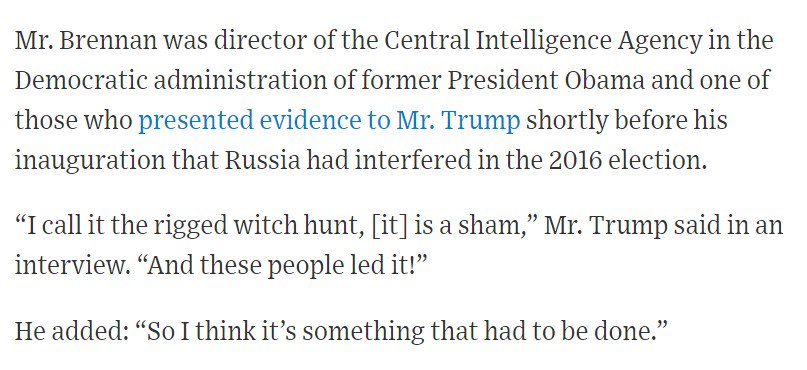 Trump then pointed to other investigators who worked on the Russia probe and the investigation of Hillary Clinton's private email server.
"You look at any of them and you see the things they've done," Trump said. "In some cases, they've lied before Congress. The Hillary Clinton whole investigation was a total sham."
He went on to suggest he's reviewing the security clearance of other critics – James Clapper, James Comey, Michael Hayden, Sally Yates, Susan Rice, Andrew McCabe, Peter Strzok, Lisa Page, and Bruce Ohr – simply because he's decided that they're bad people.
"I don't trust many of those people on that list," Trump said. "I think that they're very duplicitous. I think they're not good people."
Trump's comments are reminiscent of when he claimed he was firing Comey over mishandling the Clinton probe, then admitted in a TV interview days later that he was thinking "this Russia thing with Trump and Russia is a made-up story."
It was clear from the start that Trump's move was about punishing his critics and threatening other intelligence officials to watch what they say. But Trump's comments to the Journal underscore that the specific goal was undermining the Russia probe.
Best part of the WSJ story: "Several times Mr. Trump interrupted the conversation to summon aides to the Oval Office to share charts showing his endorsement record and to discuss the size of his following on social media."

— Daniel Dale (@ddale8) August 16, 2018
Trump is all about the vindictive reprisals because "Brennan has indeed been deeply critical of Mr. Trump's conduct, calling his performance at a news conference last month with Russian President Vladimir Putin in Finland 'nothing short of treasonous.'"
Brennan continued that criticism on Wednesday. "I've seen this type of behavior and actions on the part of foreign tyrants and despots and autocrats for many, many years during my CIA and national security career. I never, ever thought that I would see it here in the United States," he said.