So the guy who was so submissive standing right next to Putin wants to start a war with a tweet….because ALL CAPS always lets your followers know you mean business, and makes your enemies laugh.
To Iranian President Rouhani: NEVER, EVER THREATEN THE UNITED STATES AGAIN OR YOU WILL SUFFER CONSEQUENCES THE LIKES OF WHICH FEW THROUGHOUT HISTORY HAVE EVER SUFFERED BEFORE. WE ARE NO LONGER A COUNTRY THAT WILL STAND FOR YOUR DEMENTED WORDS OF VIOLENCE & DEATH. BE CAUTIOUS!

— Donald J. Trump (@realDonaldTrump) July 23, 2018
Presto! we've all instantly forgotten about Putin and Helsinki, because Trump decided to squeeze off a tweet before bed.
"Manafort's trial starts this week."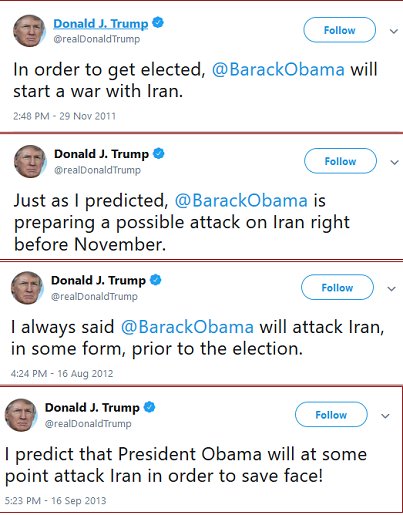 ---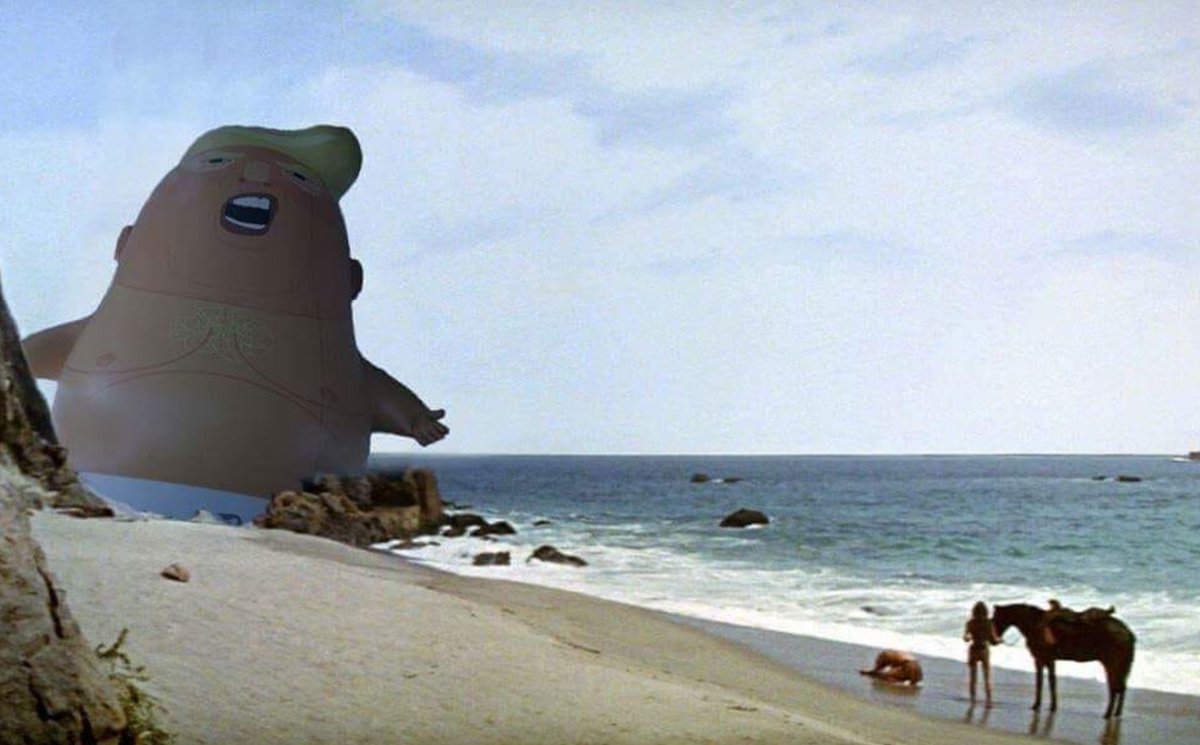 "The level of corruption and wealth among regime leaders shows that Iran The US is run by something that resembles the mafia more than a government," (Mike Pompeo) …There, fixed.
Trump, who is still reeling from domestic criticism over his handling of a summit with Russian president Vladimir Putin and the continued fallout of the ongoing investigation into Russian interference in the 2016 election, withdrew the US from the Iran nuclear deal earlier in the year. The move unraveled a signature foreign policy achievement of the Obama administration and threatened to destabilize Iran's denuclearisation program.
On Sunday, president Rouhani had addressed Trump directly during his reported remarks: "Mr Trump, don't play with the lion's tail, this would only lead to regret."
He went on: "America should know that peace with Iran is the mother of all peace, and war with Iran is the mother of all wars."
(June 2018) Donald Trump's personal lawyer, Rudy Giuliani, addressed a rally staged by an extreme Iranian opposition group in Paris on Saturday, calling for regime change in Tehran.
Giuliani spoke to the National Council of Resistance of Iran (NCRI), an umbrella coalition largely controlled by the Mujahedin-e-Khalq (MeK), which was once listed as a terrorist organisation in the US and Europe.
This reminds me of the time Trump threatened North Korea with "fire and fury" and went all the way to Singapore to meet with Kim Jong Un and came back with nothing but a piece of paper and a broken promise. pic.twitter.com/NgROiDFUOb

— Keith Boykin (@keithboykin) July 23, 2018
Well, that's a pretty abrupt way to change the narrative away from weak w/ Putin.

45's used all caps before, says Shadow Chief of Staff @markjgreen, but when its ALL all caps in the context of war-mongering, only George C.Scott in Strangelove comes to mind.

Scary or looney? https://t.co/uEvTK6bfvI

— Shadow Cabinet (@ShadowingTrump) July 23, 2018
More interesting will be if some MSM reporter asks whether this was one of the the things from the 2-hour secret meeting that Trump promised Putin he'd do.
Reminder that Trump admin changed the nuclear posture review so that nukes are a recommended response to cyberattacks.

* Iranian cyberattacks now allegedly increasing
* Bolton wants to nuke Iran

I wrote an article in March worrying about this scenario: https://t.co/m9k6qVKYRA pic.twitter.com/IpNpXoSXhw

— Sarah Kendzior (@sarahkendzior) May 12, 2018
NEVER, EVER THREATEN THE UNITED STATES AGAIN OR YOU WILL SUFFER CONSEQUENCES THE LIKES OF WHICH FEW THROUGHOUT HISTORY HAVE EVER SUFFERED BEFORE. WE ARE NO LONGER A COUNTRY THAT WILL STAND FOR YOUR DEMENTED WORDS OF VIOLENCE & DEATH. BE CAUTIOUS! pic.twitter.com/RekljFvbch

— Philippe Reines (@PhilippeReines) July 23, 2018