Trump tweeting in golf course travel mode about #TrumpRussia while en route to Belgium includes the near-daily invocation of "witch hunt" and more importantly "disgrace", symptomatic of his nervousness much like when he crosses his arms over his belly.
I am on Air Force One flying to NATO and hear reports that the FBI lovers, Peter Strzok and Lisa Page are getting cold feet on testifying about the Rigged Witch Hunt headed by 13 Angry Democrats and people that worked for Obama for 8 years. Total disgrace!

— Donald J. Trump (@realDonaldTrump) July 10, 2018
Or is Cohen more like Kato Kaelin?
This means Trump's attempts to get a SCOTUS justice to protect him will fail, because all that evidence already examined by the Senate committees and the Gang of Eight but not made public, could make his removal more likely.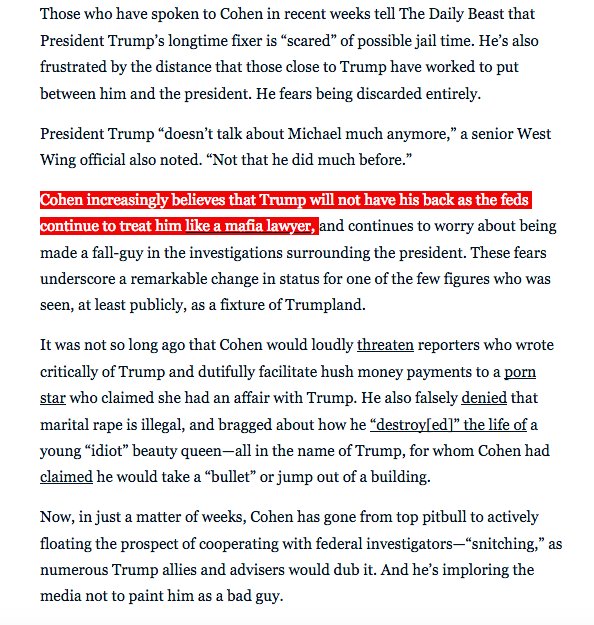 I would never compare John Dean to Donald Trump's former attorney, Michael Cohen, in terms of legal skill or intellect. But it's interesting that here we are, 45 years later, and once again we see the president's lawyer as a possible star witness against him. Cohen gave an interview to ABC News' George Stephanopoulos over the weekend in which he strongly implied that he was prepared to cooperate with prosecutors if, as expected, he is indicted on federal charges.
Obviously, the situation is different in numerous ways, not the least of which is that Cohen was the president's personal and business attorney, not the White House counsel. So his potential testimony involving President Trump is more likely to pertain to personal business than to the investigation into the 2016 presidential campaign. But there is no doubt that Cohen, like Dean, was involved in a cover-up. In Cohen's case it has to do with paying hush money to porn actresses and centerfolds. There is also suspicion that he was involved in covering up some aspects of Russian collusion. He does not appear willing to take the fall for any of it.
Hah. CNN is reporting that Cohen wants to be John Dean.  He must read Salon!https://t.co/YKVA3kakk8

— digby (@digby56) July 10, 2018
<>
This idea isn't coming out of thin air. Emily Jane Fox of Vanity Fair reports that Cohen has finally accepted that Trump never had any loyalty to him and that he's on his own. Friends are telling Cohen, Fox writes, that he could change the course of history, sending messages like this: "Please let him know that he could go down in history as the man that saved this country. I think his family would be so proud of him. Even people like me that were disgusted with the things we heard on those audio recordings, would totally forgive him." She also reports that Cohen has been planning a big media push for some time — this is just the beginning.
Interviewed @MichaelCohen212 lawyer @LannyDavis today with @BuckSexton. Lanny made it totally clear, Cohen's days of @realDonaldTrump loyalty are officially over. Watch the full interview tomorrow 8 am on #rising https://t.co/fSJMehK6Qg https://t.co/sTtV73ZwSL

— Krystal Ball (@krystalball) July 10, 2018
Twist: Paul Manafort does not want to be transferred from Northern Neck Regional Jail to the Alexandria jail closer to DC (the problem with getting ready for trial is the fact of his incarceration, not really the distance, he says) pic.twitter.com/6h13zz7gIL

— Zoe Tillman (@ZoeTillman) July 10, 2018
Who can remember talking to the son of a Russian oligarch? A man who helped Trump and Jr. bring a beauty pageant to Moscow and were helping to bring a Trump Tower to Moscow? Who could remember talking to that guy? https://t.co/nYvgUlyhcU

— Jennifer Hayden (@Scout_Finch) July 10, 2018